The Library and Learning Resources team has a motto.
It's quite simple… you may have seen it on signs in our libraries.
It's…. Just ASK!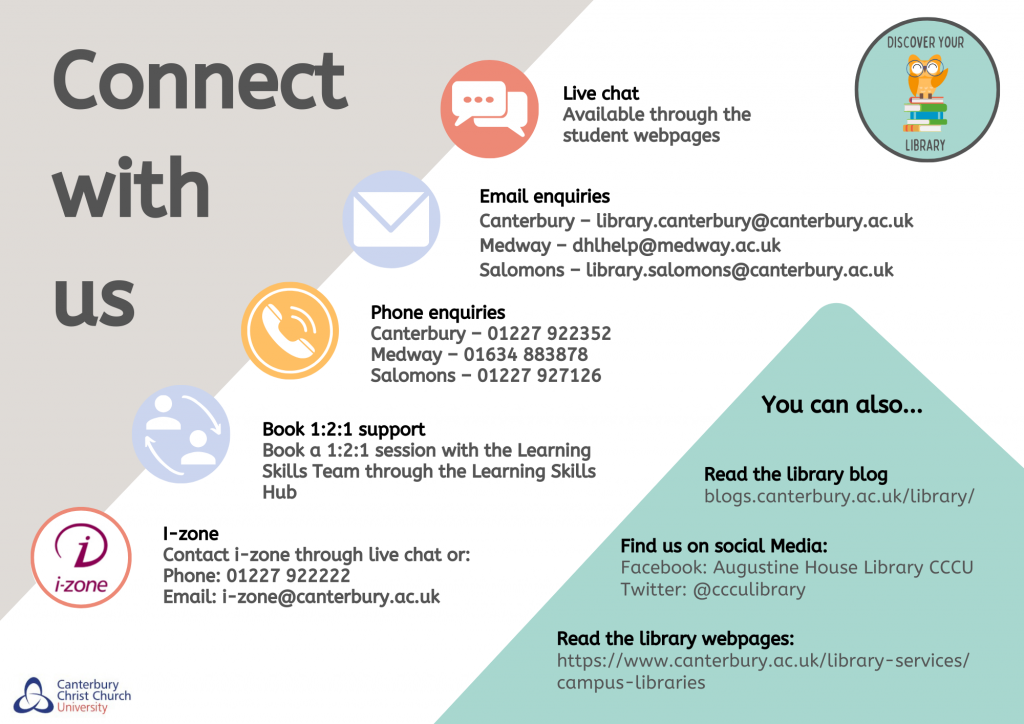 Library desks
Our staffed library desks on the ground floor of Augustine House and at the Drill Hall and Salomons Libraries are a great place to find help. You'll find friendly staff, who are looking forward to helping you. We can help you with borrowing, renewing and returning books. We'll show you how to find items on the shelves or how to place a reservation for an item that's out on loan. We'll help you manage your library account and make a start with electronic resources.
i-Zone
The i-zone is your student information help desk – if we do not know the answer to your question, we will know who to ask. Our experienced and dedicated team provides quality information and advice on the process and procedures that support your student life. We answer around 80% of all the queries we get. If we can't answer your query directly, we liaise with the other University departments to ensure your enquiry is answered by the right team. We understand that the transition into University life is important and we're here to help you every step of the way from before you start right up until your graduation.
You can visit the i-zone desks at Augustine House or Verena Holmes in Canterbury or in Cathedral Court at Medway. Find out when we're open.
Email
Can't get to one of our service points? You can contact us by email for the same range of support.
Email the i-zone: i-zone@canterbury.ac.uk
Live Chat
You can chat with library or i-zone staff by using the live chat box on our web pages. As the i-zone supports the arrival of new students in person at the start of this semester, their live chat will be off until 2 October.
You can find out more about Live Chat on the library blog.
Social Media
We ensure important library information reaches you through the student news feed, this very blog you are reading now and our X / Twitter account @ccculibrary. Canterbury students can follow our Augustine House Facebook for details of upcoming events and changes to service.
We also take over the CCCU Instagram Account to bring you an occasional IG Story and keep an eye on your student cohort Facebook pages.
Website
Visit the library webpages for all the information you need to use the Library. You can also visit the i-zone faqs to discover the answers to common questions about the Library. If you're finding Augustine House difficult to navigate why not have a look at the layout on the interactive map?
Learning Skills Team
Your Learning Skills Team provides a range of services that can help you develop and enhance your academic abilities, such as:
The Learning Skills Hub – The hub contains a collection of short and interactive modules on the topics students often book tutorials for, such as academic writing, critical thinking, referencing and time management. The modules are made with you in mind and are easy to dip into at any time to develop your skills and you can assess your learning at the end of each module to check you are on track.
offering workshops and individual academic tutorials for students. You can book an in-person or online appointment through the Learning Skills Hub.
collaborating with lecturers to develop and embed support for students' information literacy skills and digital capability.
Learning & Research Librarians can help you with your research; finding, evaluating and effectively using appropriate information for your studies. They can also advise you on ways to make referencing easier.
Learning Developers can help with the planning and preparation of assignments, presentations and projects.
Medway
The Drill Hall Library at Medway is shared with the Universities of Greenwich and Kent. You can find out more about the services at Medway through the Drill Hall Library website or their X / Twitter account, @DrillHallLib.
---
One last thing
We are always looking at ways to improve our range of communication channels. If there's another way you'd like to get in touch with us why not leave us a comment below? or use our online feedback form.
And remember now your studies are underway, if you need any help in the library…
Just ASK!