More Kentish Tales is the second exhibition of work by authors who lived in or wrote about Kent. It is currently taking place in Augustine House library until the end of October and has been curated by the Kent Maps Online team. The exhibition will be on display until the end of October 2023.
Yew Tree Farm – A Story of a Separate Career by Bessie Marchant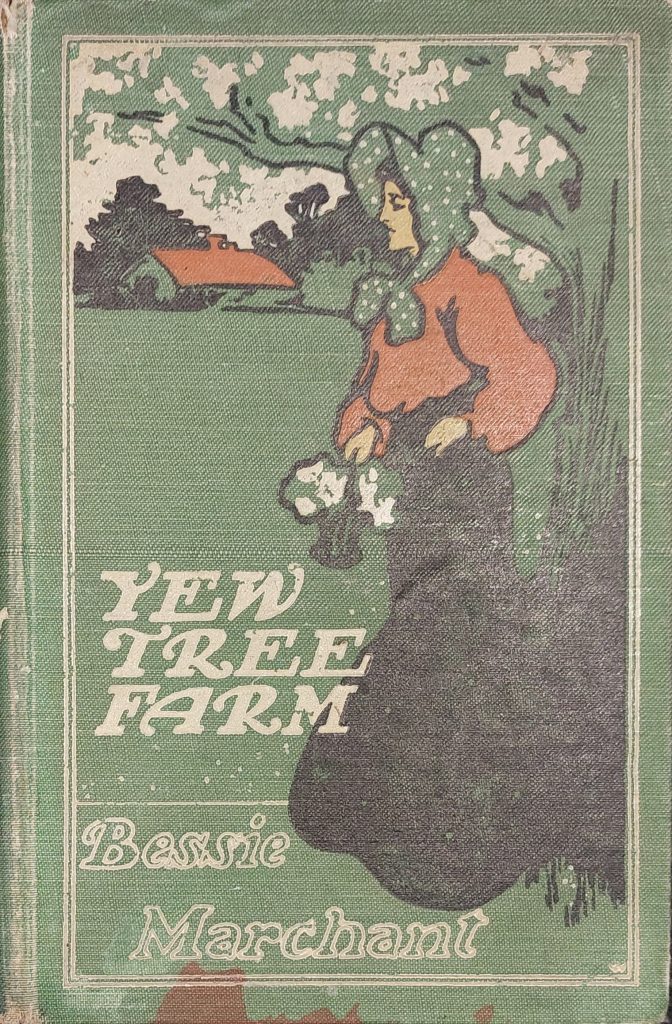 Published by the Christian Knowledge Society in 1904, Bessie Marchant's novel Yew Tree Farm is a story of farming, family and forgery. Known as the 'Girls' Henty', Bessie was born at Debden Court Farm, Petham in 1862, and although most of her novels are set all over the world, a few are inspired by Kent. You can read more about Bessie's life in Kent in an article by CCCU doctoral student Laura Allen on Kent Maps Online.
A small archive of material relating to Bessie and her life can be found in the university's archive collection including photographs of her at her desk. Her novel Broken Barriers (1903) is also set in Kent.
Dr Syn by Russell Thorndike
Dr Syn was the creation of Russell Thorndike, Rochester-born actor and writer. A country vicar turned pirate and smuggler, Dr Syn first appeared in Thorndike's 1915 novel. However it was twenty years later before the second of the seven novels was published. The stories are set on the Romney Marsh and were inspired by the exploits of the Hawkhurst Gang. In this excerpt from chapter six of Dr Syn, the Squire expresses his disbelief of witches and smuggling:
"But they say the Marsh is haunted at night. They've said so so long that people believe it. Whenever a traveller loses his way on the Marsh and disappears, folk say that the Marsh witches have taken him. When the harvests are bad, when the wool is poor, when the cattle are sickly, oh, it's always the Marsh witches that are blamed. They set fire to haystacks, they kill the chickens, they blast the trees, they curdle the milk, and hold up travellers and rob them of their purses. In fact all the vices of the Marsh, really performed by Master Fox, or Master Careless, or Master Footpad, are all put down to the poor Marsh witches, who don't exist except in the minds of the people. I know the Marshes as well as any man ever will, and I've never seen a witch, and it's the very same with smugglers. The whole thing's a fallacy. I've never caught 'em at it; and I keep a stern enough eye on my farms, I can tell you. "
You can read more about Thorndike in an article about writers of the Romney Marsh written by CCCU alumni Dr Pat Argar whose thesis The Life and Work of Sheila Kaye-Smith is available in the library.
Kipps by H.G. Wells
A rags-to-riches story in which a draper's assistant in Folkestone, gains a fortune and then loses it. Published in 1905. In this excerpt from chapter three, we learn about how he spends his Sundays in the town.
You can find out more about H.G.Wells and his association with Folkestone in an article on Kent Maps Online or you can read Kipps on Project Gutenberg.
Shivering Sands by Victoria Holt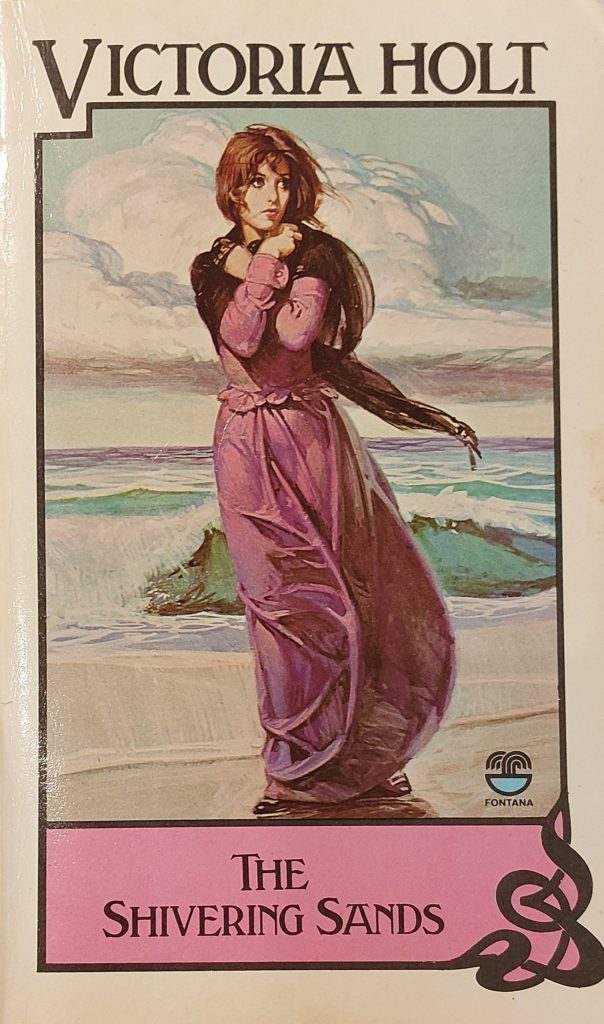 'the sand moves as you watch and forms itself into strange shapes, like monsters some of them . . . with claws . . . waiting to catch anyone who wandered there and pull them down. There were gulls circling overhead. Their cries were so mournful, Mrs Verlaine. Oh, it was frightening, so lonely, so desolate. They say the sands are haunted. I've talked to one of the men from the North Goodwins Lightship and he says that when he's on watch he sometimes hears wild heart-rending cries from the sands. They used to say it was the gulls, but he wasn't so sure. Terrible things have happened there.'

Terrible things indeed – more than 2,000 ships are believed to have been wrecked here. You can read more about The Shivering Sands in Dr Mandy Jones's article on Kent Maps Online or find out more about Victoria Holt in her thesis 'Unjustly neglected': reclaiming Victoria Holt as a pioneer of Neo-Victorian fiction.
Mrs Craddock by Somerset Maugham
After Bertha Ley marries outside of her social class and leaves London for the Kent coast, she regrets her decision to shackle herself to a 'bore'. Mrs Craddock was published in 1902. In this excerpt, Maugham describes Kent as seen through Bertha's eyes:
'The spring came and with it a hundred new delights. Bertha watched the lengthening days, the coloured crocus spring from the ground, the snowdrops; the warm damps days of February brought the primroses and then the violets…. The sea mists arose from the North Sea and covered the Kentish land with a veil of moisture, white and almost transparent, so that through it the leafless trees were seen strangely distorted, their branches, like long arms writhing to free themselves from the shackles of winter; the grass was very green in the marshes and the young lambs frisked and gambolled, bleating to their mothers.'
Somerset Maugham lived in Whitstable and attended the King's School in Canterbury (although he didn't enjoy his time here). You can read more about his associations with Kent in CCCU doctoral student Laura Allen's article.
The Raid of Dover: A Romance of the Reign of Woman A.D. 1940 by Douglas Morey Ford
Published in 1910 before both World Wars, Douglas Morey Ford writes a futuristic story set in Dover in 1940 in which England is invaded by Germany and the town suffers a bombardment of shells. Listen to this excerpt to hear his description of the bombardment.
You can read the entire novel on Project Gutenberg.
In A Time of Terror, published four years earlier, but set in 1910, Ford imagines Britain on the brink of anarchy before the outbreak of war with Germany. Ford who lived at Tunbridge Wells, died in 1916.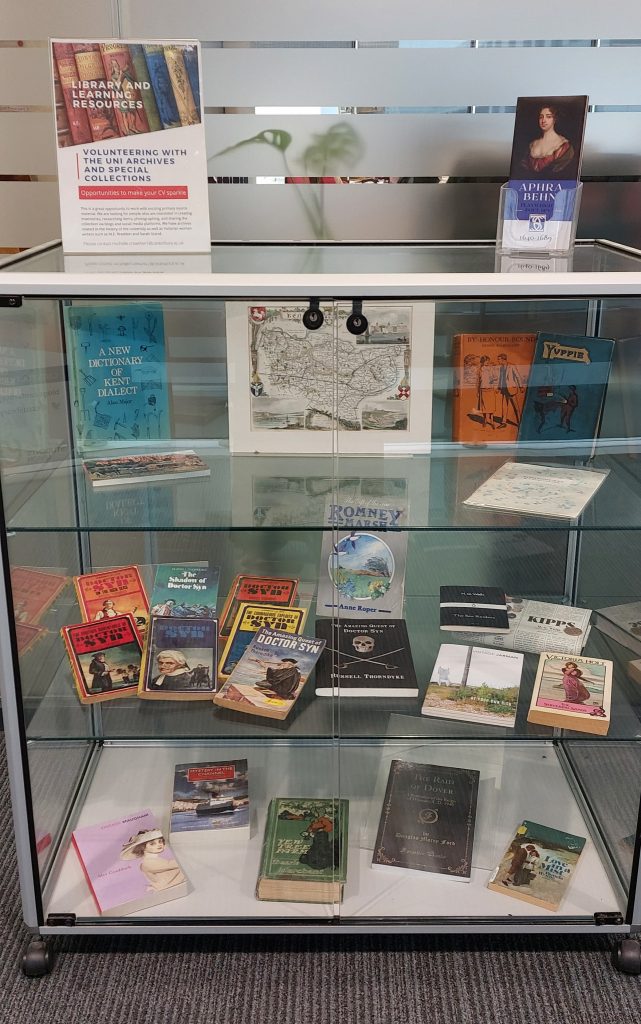 Exhibition
The books in this exhibition are part of the library's special collections. Please ask at the Library point if you would like to read these in the library.
You can read about the first exhibition which took place in 2022 here: