Following the success last Sunday of the England Women's football team in the European Championships, we thought you might like to see one of our blogs from last year.  In the early part of the 20th Century, women's football was popular but this all changed in 1921 as women were no longer allowed to play on FA grounds for 50 years.  We're sure that the 'Lionesses' will remember pioneers of the women's game, like Lily Parr and all those other women who came after her.
I've written a few blogs over the last few years, to celebrate LGBT Month and for other reasons, and one of the things I've discovered is that I never cease to be amazed at what I find out! I know very little about football………….. to be honest, I'm not very interested in it………. and was only vaguely aware that the women's game has been around for so many years. Indeed, it goes back to the late 19th century here in the UK. Yet, when I began to research Lily Parr and her life, I found a whole area of sporting history that was fascinating. Why not come with me on a quick journey back to last century and see how what happened then paved the way for the women players of today?
Women's football
As a spectator sport, football was becoming more and more popular amongst both men and women. One of the earliest recorded international women's football matches played under FA rules took place in 1881 between England and Scotland in Edinburgh (Scotland won). In 1905, the FA Cup Final was held at Crystal Palace in London between Aston Villa and Newcastle United and amongst the 100,000+ fans was a group called the 'Newcastle Ladies Final Outing Club' who had hired their own train carriage for the journey down south. Incidentally, the Villa won 2-0, so no doubt there were some disappointed 'Newcastle Ladies' on the trip home.
During the First World War, thousands of women took over work in munitions and other factories, plus the service industries, whilst the men were fighting in Europe and further afield. Several employers sponsored their female employees' football teams including Rowntree's, Cadbury's and Dick, Kerr & Company, a locomotive and tramcar manufacturer with a plant based in Preston.
The company moved into munitions manufacturing when the war started. Not a well-known name today, but during this period, their women's football team, the Dick, Kerr's Ladies was the most famous and successful of around 150 other such teams. It was thought that playing football would be good for their employees' health and would help raise morale during the horrors of war time. The company paid the players 10 shillings between them (50p) per game to cover their expenses.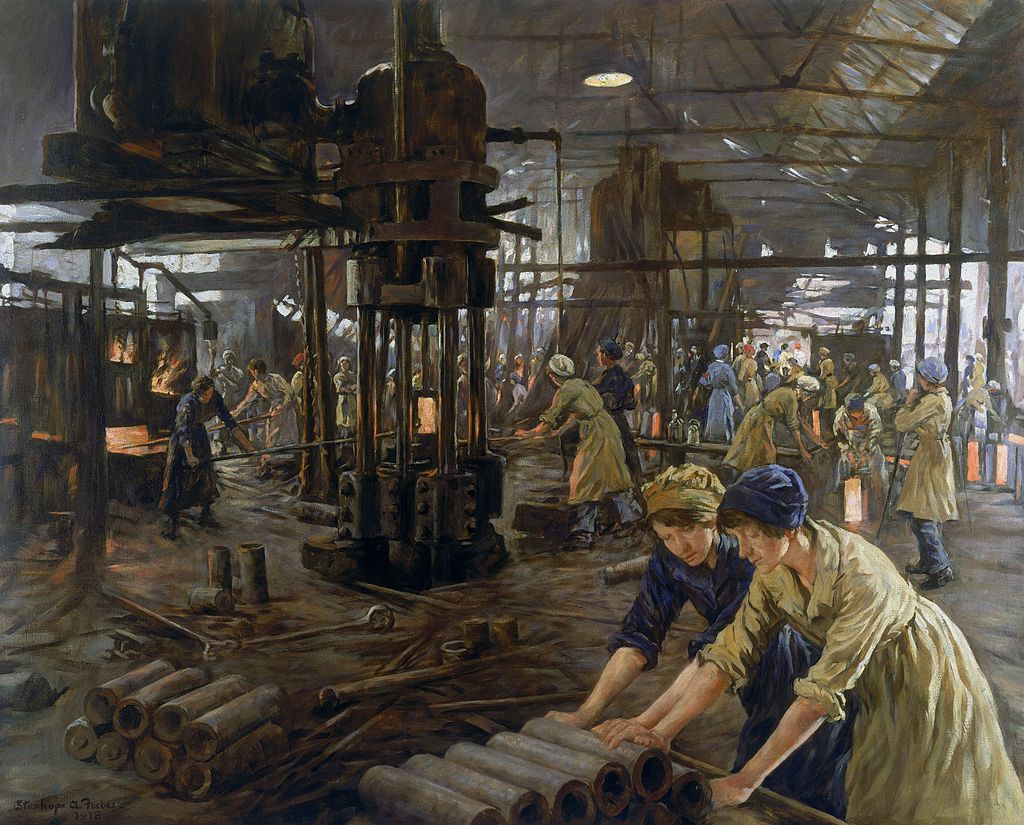 Lily's early days
Lily (Lilian) Parr was born in St Helen's, Lancashire in 1905 and was the middle child of seven siblings. Her father was a labourer in a glass-making factory, her mother a home-maker and the family rented out any available space in their house and yard to help make ends meet. Apparently, Lily wasn't at all interested in household duties and 'female pursuits', but much preferred to play football and rugby with her brothers and their friends. She was tall and had reached nearly 6' by the time she was a teenager and, by all accounts, was fiercely competitive when playing sport. It was during one of these games with her brothers on a piece of waste ground near her home that she was spotted and was recruited into the St Helen's Ladies Football team. Lily played her first match for them when she was just 14 years of age.
It was during her second match for St Helen's, this time against Dick, Kerr's Ladies, that their manager, Alfred Frankland, invited Lily to join his already very impressive team. She then moved to Preston to work in the factory and to play football and she became its legendary player and goal-scorer. All in all, she scored over 900 goals whilst playing for the club.
Post-war women's football: a game of two halves
Before and during WWI, many women's football teams also played against mixed teams and they often used these matches to raise cash for various charities. A huge amount of money was collected and these sums sometimes went to support causes that could be classed as political. For example, Dick, Kerr's Ladies held games to help the miners, which was viewed as indirect support of the Labour Party. It's estimated that Dick Kerr's team helped raised £100,000 for various charities which would be millions of pounds in today's money.
They attracted huge crowds too and the match against St Helen's Ladies on Boxing Day 1920 at Goodison Park in Liverpool, now the home of Everton FC, was played in front of 53,000 fans.
Some of the better-known teams, including Dick Kerr's, travelled to play abroad. The team had a very successful visit to France in 1921, attracting average crowds of around 20,000, and then went to the USA in 1922. They drew 4-4 with a top Washington DC men's team and Lily scored two of their goals. A reporter commented on Lily's ability and aggressive football style in a write-up of the match in the Washington Post. Apparently, it wasn't uncommon for there to be the occasional punch-up on the football pitch when tempers became frayed!
One of Lily's team-mates, Joan Whalley, said she had 'a kick like a mule'; all the more impressive if we remember that, in those days, footballs were made of thick leather which became even heavier when wet. She also managed to break an unnamed professional goalkeeper's arm during one match and he had to be stretchered off!
However, this period of growth in popularity and success for women's football came to an abrupt end in 1921 when the Football Association no longer allowed games to be played on Association members' pitches. The reason given was that: 'the game of football is quite unsuitable for females and ought not to be encouraged'. (https://www.thefa.com/womens-girls-football/history)
Why was this? Perhaps the male-dominated FA was envious of the popularity of the women's game. Perhaps they imagined it was time for women to get back to their pre-war place in society on all levels, including that of sport. Perhaps the charity money became too controversial. One can only speculate. The sad and surprising aspect to all this, I feel, is that it took until 1971 for this ban to be lifted and until 2008 before the FA apologised for their actions 87 years earlier.
In an article by the journalist and writer, Hunter Davies, about the European Women's Football Championships which appeared in The New Statesman in April 2005, he commented thus on the sheer size of the crowds at the women's football matches in the 1920:
'Every time I tell this fact to any football fan, male or female, they can't believe it. In 1921, however, those bastards at the FA banned the women's game. They maintained football was a man's game, unsuitable for the female body. Funny that. Young women had been considered fit and strong enough to man munitions factories, but now they couldn't kick a ball about.' Mmmmmm……..
(http://web.a.ebscohost.com/ehost/pdfviewer/pdfviewer?vid=23&sid=2d8ca803-5ea0-4841-92e7-acadd50c287a%40sdc-v-sessmgr01)
What Lily did next
After losing the support of the FA, the women's games continued but no longer attracted the large crowds as before. The teams had to play on village greens and in unaffiliated grounds and then Dick, Kerr's Ladies also lost the support of their employer, so they renamed themselves the Preston Ladies FC, still under the same manager, Alfred Frankland. Despite everything, they still attracted crowds of, on average, 5,000 fans, but played few games during World War II, as petrol rationing and war work made it difficult to travel and train.
Lily left the factory and trained as a nurse and was then employed by the Whittingham Mental Hospital near Preston. At one time, this was the largest mental hospital in Britain and Lily remained there until she retired in the early 1960s.
She continued to play for Preston Ladies until 1950 when she was in her mid-40s and the team itself existed until the 1960s. She played her last game for the club in August 1950, scoring in an 11-1 victory over Scotland. That was quite some playing career – 31 years!
For many years, Lily lived with her partner, Mary, near Preston, but sadly died of breast cancer in 1978, aged 73.
Lily's legacy
It's taken a very long time for women's football to attract the huge crowds that followed their games during the first three decades of the 20th Century. However, that's now changing and the sport is becoming far more popular in the UK and elsewhere in the world. The Women's Olympic Football Tournament 2012 held in London had an audience of over 80,000 and the final of the FIFA Women's World Cup held in France in 2019 attracted over a billion viewers worldwide, either on live TV or on streaming services.
Of course, we don't just have to pay tribute to Lily, but to all the pioneers of the women's game. In recognition of this, the National Football Museum in Manchester unveiled a statue to Lily in 2019, the first woman player to receive this honour:
https://www.bbc.co.uk/news/uk-england-merseyside-48496334
Over the years, she has become something of an icon for women's football and for LGBT rights.
What would Lily have thought about all this as she was kicking a ball about as a teenager near her home in Lancashire?