LGBT+ History Month and Beyond – Curriculum Resources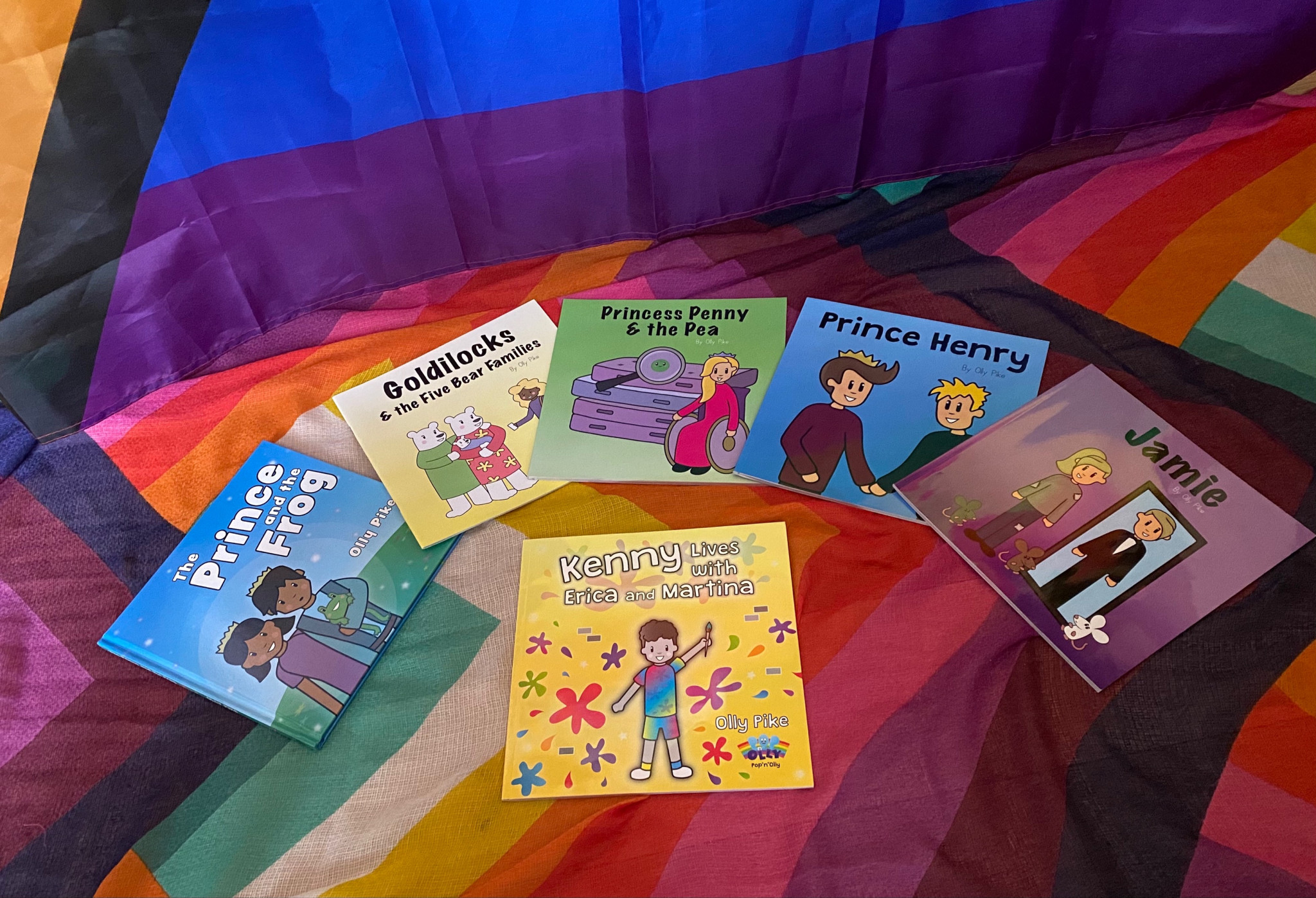 When I was looking through the programme of events for LGBT+ History Month and beyond. I was absolutely thrilled to see the 'Pop'n'Olly' children's inclusive story reading event. Not only because these inclusive children's books are amazing but it was something I could look forward to sitting down with my own children to enjoy. A rainbow in the lockdown cloud.
The event will include a book reading by author Olly Pike, followed by a Q&A. You can book to join in the event at 10am on Friday 12 February here https://www.canterbury.ac.uk/arts-and-culture/event-details.aspx?instance=338806
The event also got me thinking about what Curriculum Resources we hold in the library. Resources like the Pop' n' Olly' books are great ways for parents, caregivers and teachers to start conversations with children about equality, diversity, and inclusion. A decision I made as a parent to start as early as possible. So, if you would like to join me, let's look at what your Library has to offer.
Pop 'n' Olly
Well let's start with Pop 'n' Olly. To support the event the Library has six titles due to arrive in the Library soon. These are Jamie, Prince Henry, Prince and the Frog, Princess Penny and the Pea, Goldilocks & the five bear families and Kenny lives with Erica and Martina.
Due to the current lockdown restrictions we appreciate not many of us are able to come on to campus, so we also have access to Prince and the Frog as an e-book. Olly Pike's wonderful reworking of fairy-tale familiar Princess and the Frog helps children learn about same-sex relationships. The book is utterly charming and delightfully illustrated and the perfect place to start your Pop 'n' Olly journey after the event.
If you're interested in finding out more about the 'Pop' 'n' Olly' books visit the website and take advantage of some free equality educational resources too.
Picture fiction
If you're a parent or caregiver of a young child or teaching in an early years setting, there are plenty of titles in the Picture Fiction collection to choose from. You'll find the books on the moving shelves on the second floor of Augustine House. All the classmarks begin with PF followed by the first three letters of the authors surname.
Books like Families! Families! Families by Suzanne and Max Lang and The Great Big Book of Families by Mary Hoffman celebrate the diversity of the family unit and highlight that love for each other is all that defines a family.
This Day in June by Gayle E. Pitman enchants readers by inviting them to experience the Pride celebrations through the beautiful illustrations by Kristyna Litten. The exuberant nature of that special day just jumps off the page. It's well worth turning to the back of the book for a reading guide full of facts about LGBT history and culture, as well as information on how to talk to children about sexual orientation and gender identity.
And Tango makes three tells the charming true story of chinstrap penguins Roy and Silo. They are a devoted (and now famous) male penguin couple at Central Park Zoo. Celebrate their journey into parenthood as they hatch and raise Tango. I promise you'll fall in love with Roy and Silo's story.
Julian is a mermaid by Jessica Love is probably my favourite of the books I've discovered today. A boy named Julian is mesmerised by three women dressed up as mermaids. All he can think of is becoming a mermaid himself but he's worried about what his Nana will think about how he sees himself. The book is an absolutely joyous celebration of individual expression and identity, inclusion and diversity. Love has a gift for drawing the reader into experiencing Julian's emotions and anxieties. You will be rooting for Julian every step of the way.
Looking further…
This is only a selection of the titles I've found though. You could also look at Morris Micklewhite and the Tangerine Dress or 10,000 dresses, both are stories about gender identity and acceptance. King & King features a Prince's search for the perfect partner, another Prince named Lee. Donovan's Big Day see's a young boy excited to be the ring bearer at the wedding of his two mums.
Young Adults
We hold books for older children too in our Senior Fiction collection in Curriculum Resources. Again you'll find the books on the second floor in the moving shelves. These books have a classmark beginning with SF followed by the first three letters of the authors surname.
Black Flamingo is a Stonewall Book Award Winner. A fierce coming-of-age verse novel about identity and the power of drag, from acclaimed poet and performer Dean Atta. A boy comes to terms with his identity as a mixed-race gay teen in this bold story about the power of embracing your uniqueness.
The Bookseller describes Release by Patrick Ness as "a pivotal text for gay teens" as we follow the life of Adam, a young gay man dealing with the conflict of his sexuality and the religious values of his family. Heartbreaking and intense but ultimately tender and hopeful.
Kiss by Jacqueline Wilson revolves around a girl called Sylvie whose childhood friend Carl is struggling to come to terms with his sexuality. Tackling themes of bullying and harassment as well as unrequited love, you will certainly feel for Carl through his journey.
---
Starting conversations with children about equality, diversity, and inclusion is so important and I really enjoyed discovering some of these fantastic titles to share with my own children. Next time you're on campus (and I hope everyone can come back soon) why not text a look yourself.
Credit – Top photo by Caroline Digby-Bowl