Christmas has come early here at Canterbury Christ Church University's Engineering, Design, Growth and Enterprise (EDGE) Hub!
After months of research, planning, procurement (further planning) and logistics, we have finally taken delivery of the majority of the equipment for our new engineering workshop and laboratories. The equipment will be housed in our new state-of-the-art, multi-million-pound facilities in the heart of Canterbury, due to open for teaching in January 2021. The new facilities will provide collaborative and inclusive spaces to bring together industry, academics, students and young people, to educate the next generation of engineering and technology professionals and support regional businesses.
From 4 axis CNC machines, to modern lathes, milling machines, pillar drills, welding, collocate robots, festo process control plant and laser cutting machines, we are truly developing Kent's first University mechanical, materials, advance manufacturing, biomedical engineering, product design and chemical engineering facilities. We have invested where possible in British Engineering equipment – Laser Cutting Machines from Kent Lasers, Maidstone (Professional Laser Cutters for Schools + Industry (kentlasers.com)) and Milling and Lathes from Colchester, Colchester Machine Tool Solutions Homepage – Colchester Machine Tool Solutions.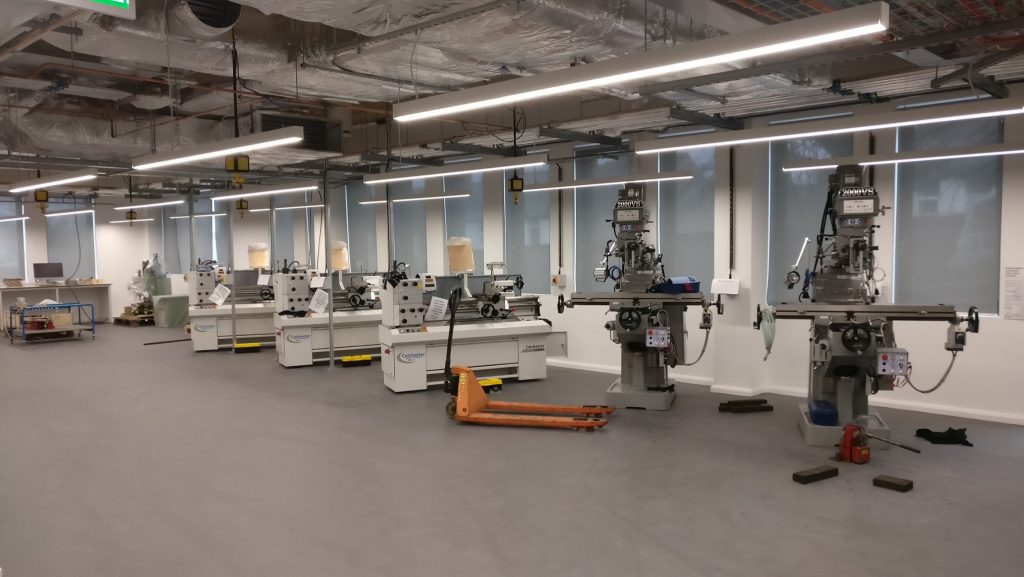 We are very excited and proud at what our team of engineers are achieving in creating a truly hands on, active learning, engineering education environment. Even with the challenges of COVID-19 we have managed to provide a blend of face-to-face, practical learning, and online learning, during this semester. We have also continued to ensure that students have the opportunity to engage in industry-sourced CDIO (Conceive, Design, Implement and Operate) projects – working with businesses to solve issues encountered in their industry.
In addition to our engineering workshop and laboratories, students, industry and staff can access 600 sqm of makerspace. This space provides an opportunity for all to truly collaborate to conceive, design, implement and operate new innovations that can support regional engineering, technology and design growth. In the makerspace students, industry and staff will have access to AutoCAD, programming packages, laser cutting, CNC machines, bench top lathes, milling, drilling machines, electronic facilities, internet of things chips…
We are excited for this creative and imaginative collaboration to begin. Roll on January 2021, for a new year, new beginnings and renewed growth of engineering in Kent!
For more information
To find out more about our services or facilities please email edgehub@canterbury.ac.uk.