Students from the University's Foundation Year courses in Engineering have completed their first projects, working together to find creative solutions to real world issues.
One of the projects was assigned to the students by Whitstable company Barton Marine (www.bartonmarine.com). Founded nearly 80 years ago, the company makes specialist and innovative equipment for dinghies, yachts and power boats. It is currently working with a company in Latvia to develop a new roof-track system for boats and has tasked the students to design their own product that will be robust enough to use for their client.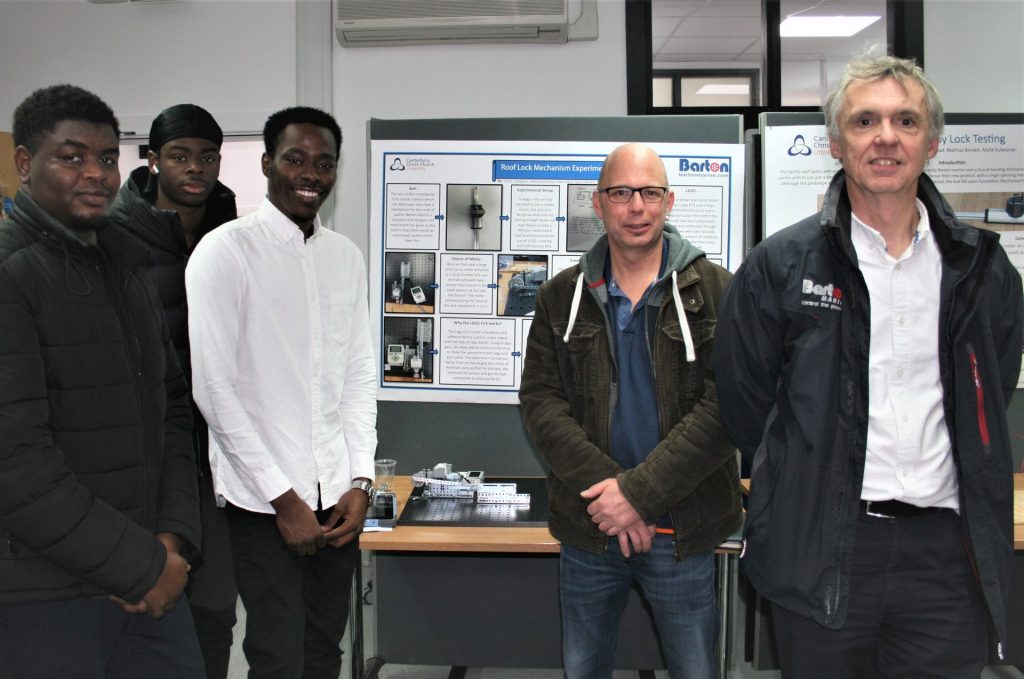 Dermot Bealey, Operations Manager for Barton Marine explained: "Following some conversations between the University and ourselves it was decided that we could help each other as we have some projects that need working on, and the students need projects to work on, to gain experience and skills.
"We're developing a roof-track system for a company in Latvia and we need to make it more robust. We have asked the students to design their own product that has the potential to be used as a solution. Everything they are doing will help to go towards the development of this product, so it is a very relevant and real project.
"We try to ensure that we only engineer products which stand up to our high standards of endurance, performance and quality. We're very impressed with the work the students have produced. We have seen a wide variety of ideas and several potential solutions. It's a very real problem for us and they have come up with ideas which will help us a lot.
"Working with the University is ideal. It is a good opportunity as we're a small company, so it offers us more resources in both people and equipment and we can develop ideas that we don't have the ability to do in house. It's a good extra resource."
Collaborative CDIO projects benefit Canterbury Christ Church University students as well as the businesses who provide them. Student Abdulhamid Nour said: "I really enjoyed the practical side of the project given to us by Barton Marine. They asked us to create a mechanism that can pull and release a roof opening, which we had to test it quite a few times to make sure that it wouldn't break down and work out how to improve it each time, until we arrived at the mechanism we now have. Everyone worked hard and we're glad that it payed off."
About CDIO (Concieve, Design, Implement and Operate)
The projects the Foundation Year students are working on are part of the University's CDIO (Conceive-Design-Implement-Operate Initiative) framework that is incorporated within all engineering and computing courses.
Christ Church is one of only a few UK universities to be accepted to the Worldwide CDIO Initiative (www.cdio.org), a community pioneered by the world-renowned Massachusetts Institute of Technology.
The CDIO model focuses on creativity and problem-solving in engineering and technology education, and recognises the growing importance of close collaboration with businesses and industry. The new approach will be critical in helping to narrow the gender and participation gap in engineering and technology education and careers, injecting an additional 1,250 highly-skilled graduates into the local economy by 2024.