Look at what we've got coming up… and click on the titles to go to the booking page!
Do come and join us as we journey through different areas of employability, and keep an eye on our social media, as there'll be more blogs, videos, and other ways to connect with us. All our workshops remain online, free and accessible to all CCCU students and Alumni (within 3 years of graduation). You can reach us from the comfort of your living room, or any of our campuses, just log in and join in – we look forward to seeing you!
Here's the fuller line up, or scroll down to the visual calendars of what's on when. Click on each title to book that specific workshop, or click here to get to our Eventbrite booking pages and browse on there. Any questions or problems, just email careers@canterbury.ac.uk
October
Civil Service Insight – Wednesday 6th October, 12-1pm
This session will be run by the Fast Stream Social Mobility Network and the Fast Stream Disability Network by Fast Streamers. They'll provide an insight into the work of the Civil Service and how they help the government of the day develop and implement its policies as effectively as possible. They'll talk through the three ways for students to experience the Civil Service; through the Fast Stream, which is a leadership development programme, developing people from a wide range of backgrounds who have the potential to become our future senior leaders, and through the Summer Diversity Internship Programme (SDIP) or the Early Diversity Internship Programme (EDIP) which give people from diverse backgrounds the opportunity to see what a career in the Civil Service is like. They'll also use this session to support students from Canterbury Christ Church with any questions about their applications to the Fast Stream and internship programmes.
Your Career Support – Thursday 14th October, 1-2pm
Find out about the wealth available from your Careers & Enterprise Hub here at CCCU, both whilst you're a student as Alumni once you've graduated too!
South East Virtual Careers Fair – Wednesday 20th October, 10-3pm
NB: The above link takes you to a different booking platform from usual for these bookings.
This is produced in partnership with other universities, and is a chance for you to network with lots of companies from the comfort of wherever you choose! On the day you can watch presentations, visit employer virtual booths and arrange 1:1 meetings with employers. You can also upload your details, CVs, and be added to the mailing list to be contacted regarding future employment.
Budgeting – Thursday 21st October, 12:30-1pm
Budgeting can help you to create a spending plan for your money so that your money could work harder for you and that you stay on the right track to reaching your financial goals.
Being a School Governor – Tuesday 26th October, 1-2pm
Are you looking for ways to develop your professional skills, while giving something back to the community? By volunteering as a school governor, you can do both. Young people bring so much to governing boards, not least a fresh perspective and a voice that may not otherwise be reflected. You can be a role model for children and young people – seeing people like them in roles across the school, including on governing boards, will give confidence in what they can achieve and raise their aspirations. Join us and Inspiring Governance, a charity that connects volunteers who are interested in serving as school governors and trustees with schools in England, to hear all about the role of school governor – and how to get involved.
Make Your CV Shine – Wednesday 27th October, 1-2:30pm
This session will be led by our Careers Advisor. We'll be giving advice and guidance on targeting your CV to the job/further study opportunity you are applying for. We'll tell you about CV360, and other ways you can quickly and easily make a difference to your CV.

November
CCUSA: Working a Summer Camp
Experience a North American tradition by working at summer camp. You'll ride in a Yellow School Bus! You'll cook S'mores on a campfire! You'll spend nights under the stars and days by the lake! Most importantly, you'll have the best summer of your life!
This session will be a presentation, followed by Q&A.
We are looking for people who want to work with children, teaching or assisting your favourite activities. There's something for everyone at camp, whether you're into sports, performing arts, adventure sports, water sports, arts & crafts, gymnastics, horse riding, fitness, circus or digital media.
Come and find out why CCUSA have been helping thousands of people to work at summer camp since 1985!
GradForce: Get Hired! 2021 Launch Event – Wednesday 3rd November, 12-3pm
This is an IN PERSON event (all others are online) at the Lounge, Student Union, Canterbury. GradForce: Get Hired is a programme designed specifically for final year students and recent graduates of CCCU, with a "bootcamp" of 5 core sessions created to ensure you are prepared to go directly into employment after graduating. We also have a targeted focus on students from under-represented groups such as BAME students, students from low-socio economic backgrounds, students with disabilities, and Care Leavers. Following Bootcamp, you will have access to exclusive, graduate roles with local SME's in Kent. The event will have exciting keynote speakers so you know exactly what you can expect from signing up to GradForce: Get Hired! this academic year. There will also be exclusive entertainment as well as free food!
Your Personality, Your Career – Wednesday 10th November, 1-2pm
This fully interactive and fun workshop is designed to help you identify your True Colors™ personality type and enable you to understand how to use this knowledge in the world of work. True Colors™ helps people recognize their personality and temperament types. It evolves around four colours: Green, Orange, Blue and Gold. Each of us are a blend or rainbow, usually with one predominant colour. Identifying your colour preferences can help us in many areas of your life, career and job search.
New Era of Work & LinkedIn Support – Monday 15th November, 1-2pm
Andrew from HAYS recruitment is going to share his expertise on the changing landscape of the world of work. He'll also be sharing his experience using LinkedIn, and how to get the most from the business networking platform and stand out in this new, virtual world of work.
The Job Hunt Support Group – Wednesday 17th November, 1-1:45pm
If you're hunting for a job, be it part-time, temporary whilst you're studying at Uni or your full-time graduate role, come and join this space for some moral support and encouragement! Ask any questions you might have, just pop in for a bit, or join and hear what tips others might have too. No set agenda, but your space to bring a cuppa, and know you're not alone with your search!
Camera Confidence and Virtual Meeting Etiquette – Thursday 18th November, 1-2pm
We can't escape that the virtual world means you are likely to need to do online meetings, but we can support you to build confidence to be able to do these well. You're not going to be forced to have your camera on or use the microphone during this session, but we'll be bringing you some inspiration and motivation and a safe space to try it out if you want to, and make you feel more comfortable to have a go at challenging yourself! We'll also be thinking about virtual meeting etiquette, so you don't get caught offering your hand to the screen for a virtual handshake (trust me, that's not a thing!)
Fraud – Monday 22nd November, 12:30-1pm
Once you've built your career and started earning money, you'll certainly not want to lose any via fraud. Come and join this short session to learn how to protect your money.
NCS: Presentation, Q&A – Wednesday 24th November, 1-2pm
Every year NCS is delivered across the country. As you can imagine, it takes a lot of people power to make the programmes unforgettable, and seasonal staff are at the heart of what makes NCS so special. NCS are always looking to recruit for these exciting jobs, and encourage anyone (over the age of 18), who is passionate about working with young people and supporting their community, to apply. Come along to find out more!
Library Help for Interviews – Monday 29th November, 1-2pm
David from Drill Hall library will be sharing how to use some of the online library resources to find out more about potential employers, including info that may be beyond what's accessible on google. Come and find out how you can use library resources to prepare for interviews!

December
A Start-Up Journey – Wednesday 1st December, 1-2pm
Come and hear from alumnus Nathaniel, and hear his story of entrepreneurship. If you've ever been intrigued or interested in starting your own business, coming to this workshop is a great place to start. Hear someone else's journey, ask some questions, and allow yourself to wonder if your idea is viable to become a reality…
Interview Preparation – Thursday 2nd December, 1-2:30pm
One of our Careers Advisors will be facilitating this session. They will be showing you the different types of interviews that recruiters use and teaching some top tips on how to prepare for your interview, even in this digital world. Explore the different types of questions you are likely to be asked at interview and how best to formulate your responses to these questions.
The Job Hunt Support Group – Wednesday 15th December, 1-1:45pm
If you're hunting for a job, be it part-time, temporary whilst you're studying at Uni or your full-time graduate role, come and join this space for some moral support and encouragement! Ask any questions you might have, just pop in for a bit, or join and hear what tips others might have too. No set agenda, but your space to bring a cuppa, and know you're not alone with your search!
Microsoft Specialist Workshops – (a range of dates and times)
These are run in partnership with our IT training team, and are available in Word, PowerPoint, Excel and Outlook. The workshops are great training to understand the software better, but also prepares you to take an exam if you choose to, that you can then put on your CV. If you pass 3 of the 4 exams, you can call yourself a Microsoft Specialist Associate!
There is also the opportunity to become an 'Expert'. Once you've completed 3 exams above, and you're a Specialist Associate, you're welcome to book on to our two Expert sessions as they come up – Word and Excel, and take your knowledge and skills to the next level! To find out more about these workshops, click here to be re-directed to a blog with a great infographic and some FAQs.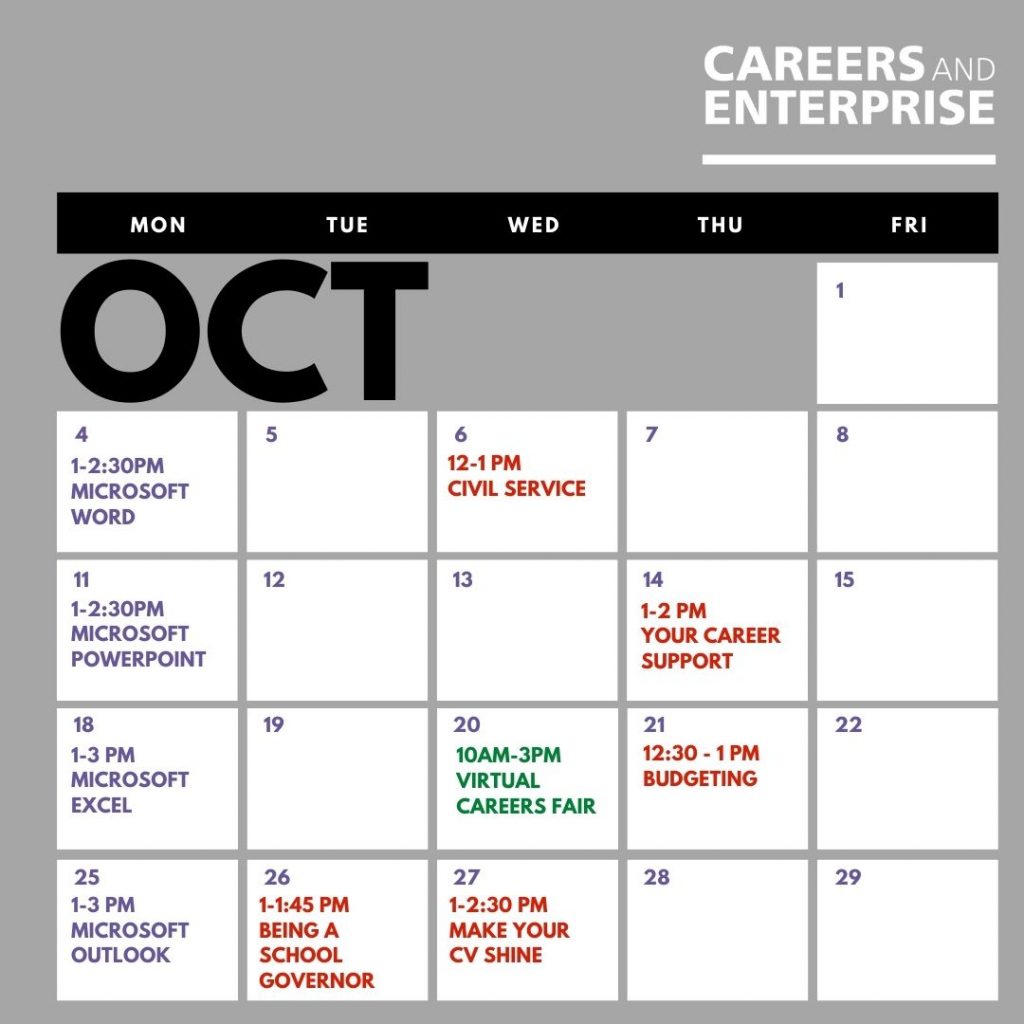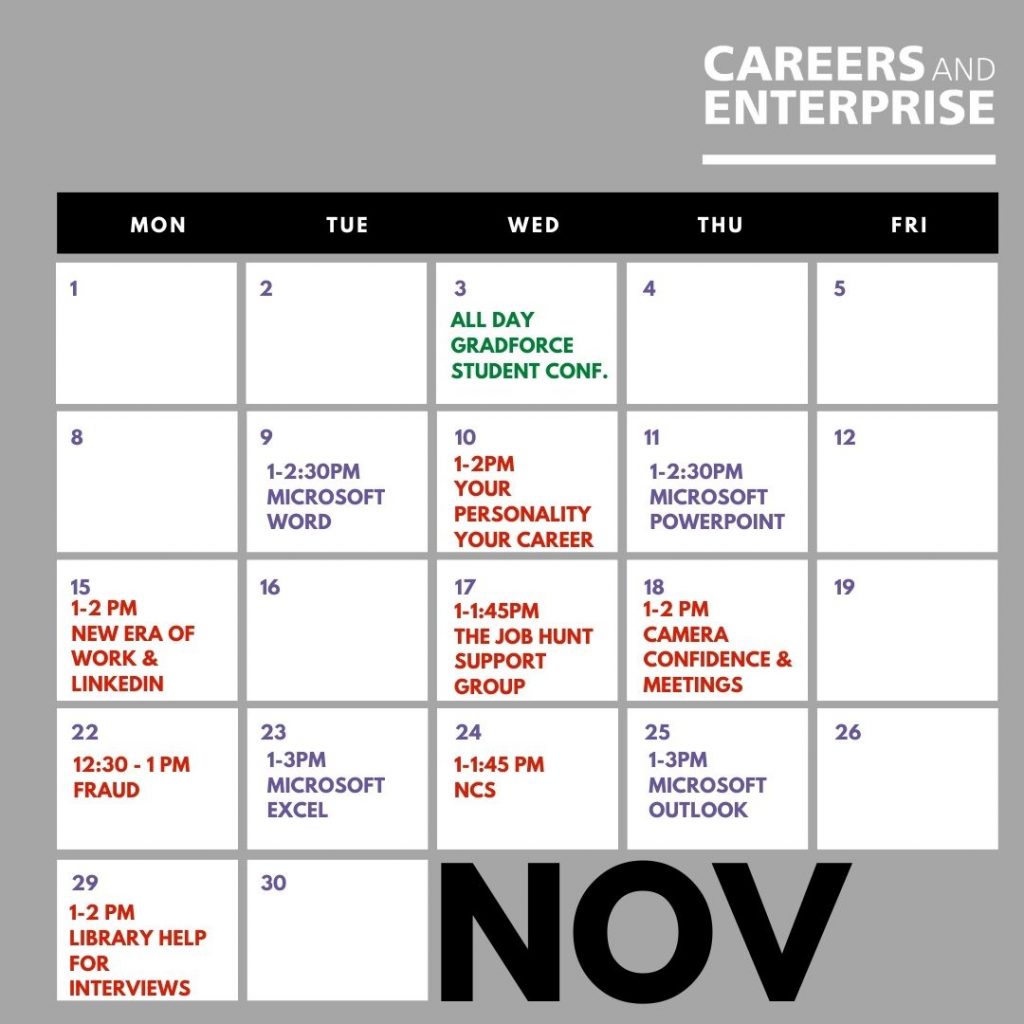 Getting further support from The Careers and Enterprise Team at CCCU
You can get ongoing careers support via the following ways: