A is for Alumni.

Journey with us for the A-Z of Careers, and see how we can inspire you. So, here is a blog series about the A-Z of careers, and what are we starting with? A for Alumni which might seem a bit weird because this is all about what happens after you leave University.
But as the great poet (T.S.Eliot to be precise) says: "In my end is my beginning", and the end of your time at Uni is the beginning of your being one of our Alumni – a community of over 60,000 former students of Christ Church, spread across not just this country, but the world.
Being one of our alumni means a number of things, but here are two particularly big things:
Firstly…
At this amazing transition point in your life, the University's message to you is this: we are "Still Here for You". In practice, that means:
Ongoing Careers Support: As you face one of the hardest job markets in literally decades, you can still access 1-1 careers support from us for three years and have lifetime access to our online careers support services. That means loads of specialist help with applications, CVs, interview techniques, or running your own business as well as job vacancy notifications, events, seminars, IT training and more.
Relevant Experience: Maybe you need something on your CV that sets you apart a bit – showing that you are proactive, a good team player, or have experience of giving talks or presentations. We offer opportunities for you to support current or prospective students on a voluntary basis in ways that will enhance your personal skills.
Fee Discounts: if you want to move on to Postgraduate qualifications, as one of our alumni, you will be eligible for a 20% discount on the course fee of many of our PG courses.
Secondly…
As one of 60,000 alumni, you are now part of a massive Network. If you don't appreciate how important that is, you really need to keep an eye on this A-Z blog, because when we get to N it is bound to be about how to use networks to help you in life. Many of those 59,999 other alumni have information, experience, contacts and opportunities that you need and will be willing to help you because you are one of their fellow alumni.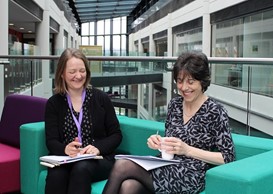 And to help you access all this is your dedicated Alumni Team, Kate Chesterman (pictured right) and Frances Dawson (pictured left). They work tirelessly to run the Alumni Hub (www.cccualumni.com), an online platform just for CCCU alumni, which is full of news, available opportunities, events and details of what other alumni are doing, that you can access at any time. They also send out direct emails whenever there is something particularly important they think you might be interested in. You can contact Kate or Frances anytime by emailing alumni@canterbury.ac.uk. They would love to hear from you.
Getting further support from The Careers and Enterprise Team at CCCU
You can get ongoing careers support via the following ways: