The turn of the seasons mean, more often than not, a turn of the weather. Many of us (myself included!) reach for comfort food when the days get shorter and colder, even if it's not necessarily the healthiest or most fulfilling choice. Moving away to university or living independently for potentially the first time is a big step in all our lives, and not to mention stressful! With Christmas behind us and exam season underway, the desire for quick and easy hot food increases. Before we reach for convenience or habit, let's take a look at a few warm, budget-friendly and simple recipes to warm us all up during these coming weeks.
To start off, how about this super simple Sticky Sausages Recipe that uses only 5-ingredients, all of which can be found in almost every supermarket. 
With an 8-pack of sausages (either meat or vegan) coming in at £2 or under at shops like Tesco and Sainsbury's, marmalade averaging at around £1.50, a bottle of soy sauce as low as 50p at Sainsbury's, a jar of wholegrain mustard at under £1 and an entire head of garlic (around 10 cloves!) at around 60p, buying all the ingredients for this meal will only set you back £5.60 for 4 servings, or around £1.40 per serving!
(If you have a little extra money to spare on dinner, consider buying organic sausages instead of regular ones!)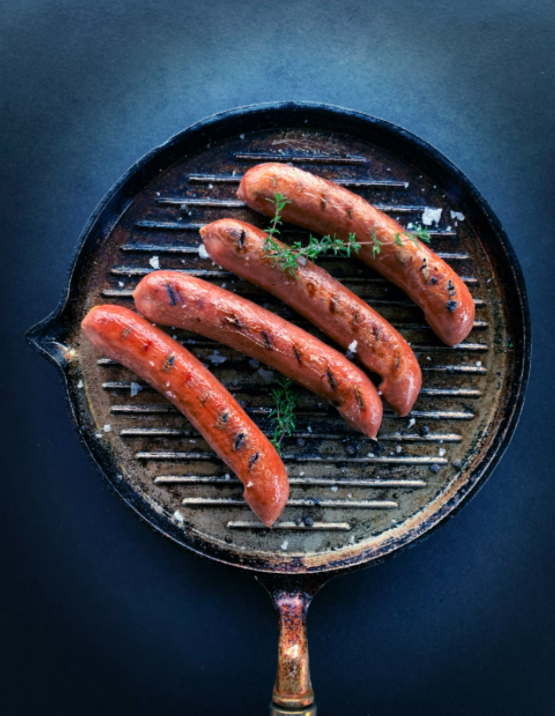 If you have any leftover sausages, or the first recipe doesn't take your fancy, why not try an easy Sausage Ragu? 
While a little more complex than the first option, this can be made in advance and frozen! It also provides a more hearty meal, with the addition of pasta, chopped tomatoes, and a wide variety of herbs and spices to warm you up over the autumn and winter period.
If you do decide to freeze any leftovers or prep it in advance, be sure to follow the instructions on the recipe, and ensure the food is cooled completely before transferring to a freezer-safe bag and popping in the freezer. 
Sausages not for you? Chicken and vegan chicken substitutes can also be cooked in a variety of easy, budget-friendly ways, like in this Garlic Chicken recipe.
In cooking, it's often helpful to remember that there are no hard and fast rules about what you can and can't include! While the recipe linked includes a wide variety of spices, herbs and other flavourings, there's nothing stopping you from removing or substituting the ones you're not a fan of, or just don't have on hand!
For a more filling dinner, serve this chicken with pasta, mashed potato or a side of vegetables. Leftovers should be stored in an air-tight container, refrigerated and eaten within three days.
Hotpots are a perfect meal for cold nights, and this Easy Beef Hotpot is no exception! Relatively quick and easy to make, simply prep all the ingredients and add to a single large pot or non-stick frying pan. Quite a lot of liquid goes into this recipe, so make sure your pan is big enough beforehand! Once it's all added, let simmer for around half an hour and serve with bread of your choosing.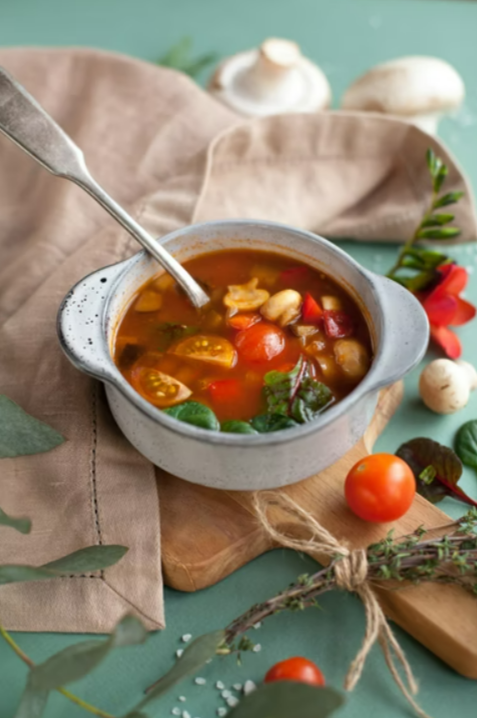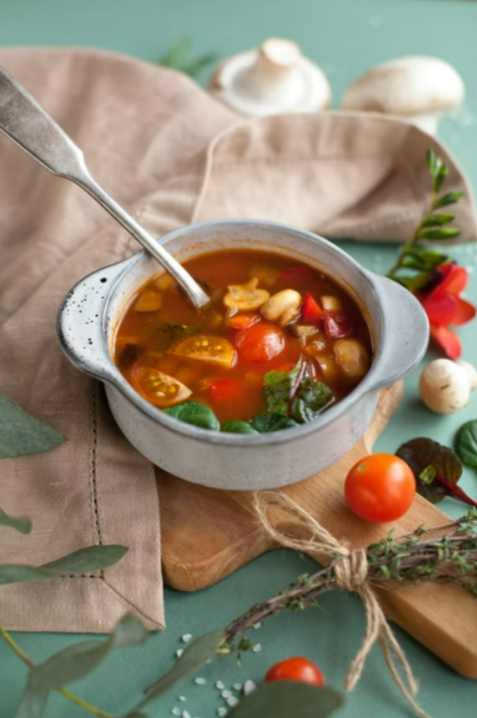 For a vegetarian or vegan option, either omit or substitute the meat and use a meat-free stock!
While meat is a great source of protein and can do a lot of heavy lifting in terms of flavour, there are winter recipes that are just as hearty without any meat at all! If you're vegetarian like a lot of us are, or simply trying to cut back on meat intake (even cutting back to a few times a week can greatly help reduce our carbon footprint!) you can't go wrong with potatoes. 
Jacket Potatoes are nice and easy to cook and can be served with a variety of fillings. Why not experiment with your own ideas and see what combinations you can come up with! You could even go for a pizza inspired baked potato!
And, if you're feeling like changing things up a little bit, why not try using a sweet potato instead? 
Maybe potatoes are not your jam? Pasta can also be served in countless different ways with dozens of different toppings! Some of the following recipes contain meat, but each can be tweaked to personal preference and/or dietary requirements. Aubergine, squash, courgette, mushroom and peppers all go great in place of meat if meat-substitute products aren't to your taste, and there's lots of soy, pea and mushroom based subs out there if you want to do a straight swap for a protein with a more meaty texture.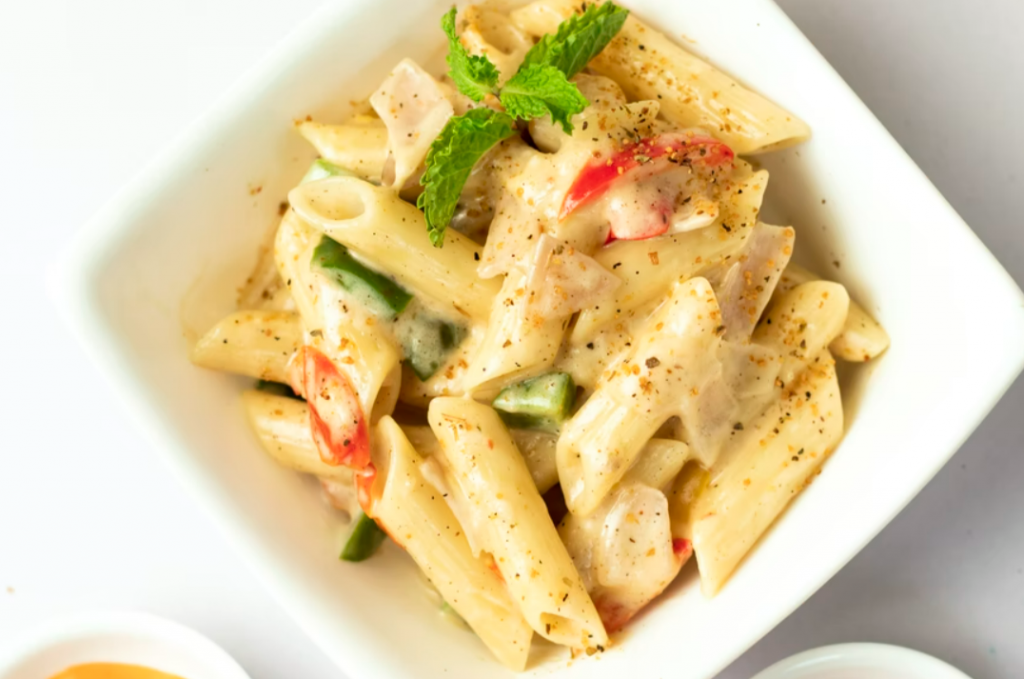 So, how about trying your hand at a Creamy Courgette & Bacon Pasta, or a Bacon & Mushroom Pasta. You could keep it classic with a five-ingredient Parmesan Garlic Spaghetti or go a little fancier with Fettuccine Alfredo, and if all these sound a little too overwhelming, how about an old favourite: Easy Vegetable Lasagne.
And if you happen to be (like I am!) gluten intolerant or simply prefer to cut down on gluten, all of these recipes can be substituted with gluten-free pasta (found in most supermarkets!). As somebody who's been gluten-free for almost four years now, you really can't tell the difference between normal pasta and gluten-free alternatives!
by Holly Steventon, SGO Project Officer