You might recognise the Fairtrade logo from when you go food shopping, but what exactly is it all about? Should we even care about it?
The Fairtrade Foundation is an independent organisation that is 50% owned by farmers and workers. Companies work with the Fairtrade Foundation to gain certification for a product which means they are allowed to put the familiar Fairtrade label on them. To get this certification companies must prove that certain minimum standards are met:
Farmer's must receive a price that at least covers the cost of production
Workers must have the right to unionise, receive decent wages and work in safe conditions
Forced labour and child labour are prohibited
Training programs are provided
A financial advance is paid by buyers if requested
Better environmental practices are insured in agriculture
Also included in the Fairtrade standards is the Fairtrade Premium which is a unique part of Fairtrade. This is a small amount of money, on top of the minimum price, for the products they are producing. The workers or farmers democratically decide how to spend this money to benefit workers, their communities and families. For example, this money is sometimes spent on health, education, improving productivity or environmental initiatives.

What Fairtrade can you buy?
Fairtrade chocolate, tea and coffee are commonly bought items but there are over 6000 certified products in the UK across 22 different categories that can be certified. From herbs and spices to footballs and rugby balls there is a wide range of products that can be Fairtrade.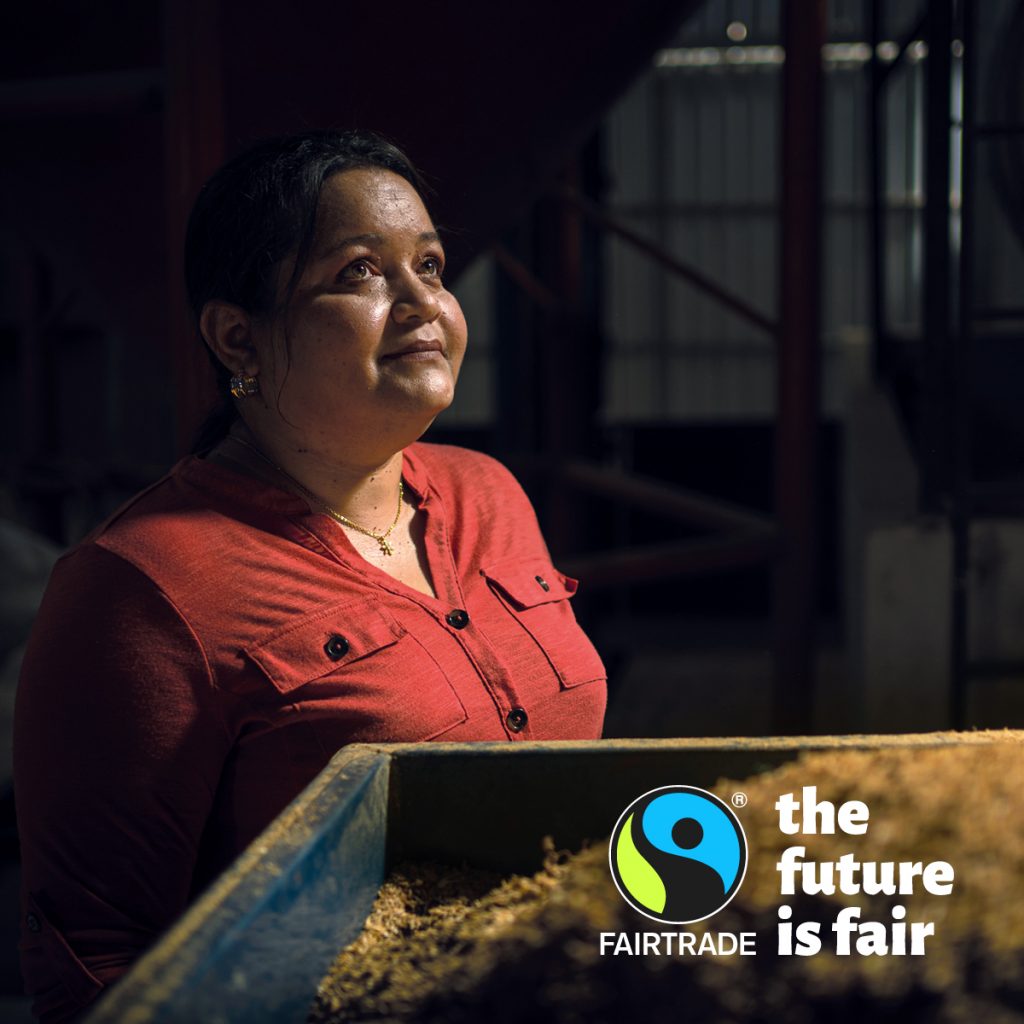 It's Fairtrade Fortnight!
We are currently in the middle of Fairtrade Fortnight, 27 Feb to 12 March, which the Fairtrade Foundation runs every year to promote Fairtrade. The Student Green Office are busy promoting Fairtrade by giving away delicious free samples to students at our University (7 March, Touchdown, 11-1 if you'd like any!), and you can enter our competition for your chance to win a bundle of Fairtrade treats.

Where to buy Fairtrade
Fairtrade products are widely available at most supermarkets and the Oxfam shop in Canterbury sells a selection of Fairtrade too – just look out for the logo on packaging! Our University sells a number of Fairtrade products at the food outlets including the delicious Divine chocolate.
If you would like to find out more about Fairtrade, then visit the Fairtrade Foundation website.

By Tim Licence, SGO Projects Officer