Developmental Psychologist Dr Amanda Carr, Dr Philip Ulrich and research assistant Michelle England discuss their research on children's outdoor play preferences and look to understand what life in lockdown means for children's play
Fewer and fewer children now play outside with an estimated three-quarters of UK children spending less time outdoors than prison inmates (read more here). A 2007 poll found that 71% of adults played out on their street every day when they were children, compared to only 21% of children today (Playday). This has led to a wide range of concerns around child health, wellbeing, and development.
So what can be done? Over the last few years grassroots movements have begun to identify these issues and encouraged parents and local communities to seek action. Playing Out CIC is a small, not for profit, national organisation for social change founded by parents (https://playingout.net/). The organisation works to encourage local communities and residents to work together to close residential streets to through traffic for a few hours to allow all the children to play outside together. This allows the children to safely enjoy playing freely with their neighbours and builds a strong sense of community and neighbourhood.
We are collaborating with Playing Out on a research project which seeks to understand more about the physical and psychological barriers children experience to playing out and whether we can address these using new technology. The Playing Out with Internet of Things (IoT) project is a collaboration between three universities (Canterbury Christ Church University, University College London, and Northumbria University) on research funded by the Engineering and Physical Sciences Research Council (EPSRC). The main aims of the project are to investigate, design and evaluate the effect that new innovative technologies (see examples here) might have in getting children playing outside. Here at Canterbury Christ Church University, we are focusing on evaluating children's outdoor play preferences and experiences, identifying the barriers that children experience to outdoor play.
During the first study, over the course of a February half term week, children aged 6-11 were invited to participate in a series of play workshops at the Bechange Community Hub in Aylesham (http://www.bechange.org.uk/). We observed children's free play in indoor and outdoor settings using both traditional toys and prototype IoT technologies (see Play Poles and Play Watch here) and developed by our project partners at Northumbria University. We recorded the types of play and social behaviours of 29 children in order to investigate differences between indoor and outdoor play, as well as the differences between traditional and technological play elements. We also asked participating children and parents to complete a short questionnaire indicating play preferences and measuring children's social and emotional adjustment. This allows for comparisons to be made, and provides insights into how aspects of development are linked to children's experiences of outdoor play.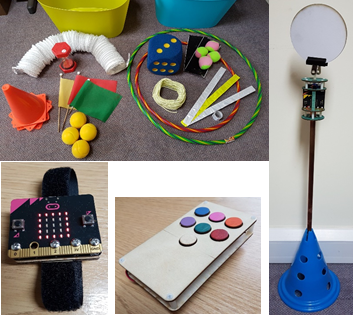 We are interested in how current lockdown measures put in place as a result of the Covid-19 pandemic are affecting children's play. The closure of schools and public spaces has greatly reduced the available outdoor spaces for children to play together. These uncertain times are having a profound impact on everyone's daily lives, and restrictions on children's behaviour are no exception to the adjustments everybody has to make. Understanding more about how children are adapting during this unprecedented event will help us paint a picture of children's play and behaviour during lockdown and beyond.
We want to speak to parents about their children's play experiences during lockdown. If you have a child of primary school age and are interested in taking part in this research then please CLICK HERE to take part in our survey.
https://cccusocialsciences.az1.qualtrics.com/jfe/form/SV_9AlVgAw6dzBRF2Z
References
Alice Ferguson (2019): Playing out: a grassroots street play revolution, Cities & Health, DOI: 10.1080/23748834.2018.1550850
Lacey, L. (2007). Street play. A literature review. Playday.
Written by Michelle England, Research Assistant on the Playing Out with IoT project