Politics and International Relations celebrate publication in House of Lords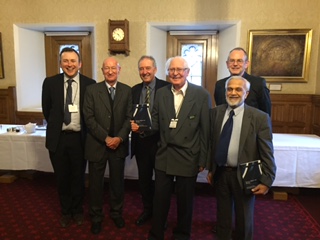 Dr David Bates (Director of Politics and International Relations) was at the House of Lords on 15 October to celebrate the publication of Marxism, Religion and Ideology: Themes from David McLellan. Dr Bates edited the book with Dr Iain MacKenzie and Professor Sean Sayers from the University of Kent.
Contributors include Lord Bhikhu Parekh, and the former Archbishop of Canterbury, Lord Rowan Williams. The book also contains an essay in which Professor McLellan responds to the contributions in the book.
From left to right: Dr David Bates, Professor  Larry Wilde, Dr Alistair McLeish, Professor David McLellan, Dr Iain MacKenzie, Lord  Bhikhu Parekh.
Professor Bertell Ollman, Department of Politics, New York University wrote of the book:  
'At a time when Pope Francis at one extreme and ISIS on the other have forced us to reconsider our views on what religion is and can be, Marx's easily misinterpreted writings on religion deserve another – and, this time, closer – reading. And who better to guide us through them than the greatest living scholar on this subject, David McLellan – with the kind of balanced critical help he receives from the impressive group of authors represented in this volume? HIGHLY RECOMMENDED.'  –
The content of the book is as follows:
Introduction David Bates, Iain MacKenzie and Sean Sayers 
Chapter 1: McLellan, Marx, and Method David Bates 
Chapter 2: McLellan's Marx: Interpreting Thought, Changing Life Terrell Carver 
Chapter 3: The Concept of Alienation and the Development of Marx's Thought Sean Sayers 
Chapter 4: David McLellan and Continuity in Marx Mark Cowling 
Chapter 5: Marx's confrontation with free market dogma: the latent moral argument in Capital Lawrence Wilde 
Chapter 6: Why Marxist Humanism is Wrong Alistair McLeish 
Chapter 7: Beyond the Narrow Horizon of Bourgeois Right Lord Bhikhu Parekh 
Chapter 8: Simone Weil Lord Rowan Williams 
Chapter 9: Marx and Atheism Charles Devellennes 
Chapter 10: Ideology, Ideologies and Ideologues Iain MacKenzie 
Chapter 11: Replies and Concluding Remarks David McLellan
For more information please see here