European Outreach: CCCU Centre for European Studies Runs Its First Jean Monnet Junior Day for 50+ Local Sixth Form Students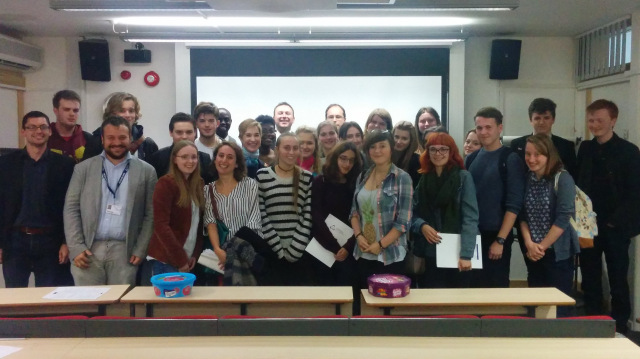 On 9th of October, 2015, our newly-established Jean Monnet Centre for European Studies (CEFEUS) organised and hosted its first "Jean Monnet Junior Day" for 6th form students. Three schools from different districts of County Kent took part: the Canterbury Academy,the Rochester-based Thomas Aveling School, and the Chatham and Clarendon Grammar School, in Ramsgate.
Quizmaster Dr. Benjamin Martill introduced the 51 participants to various European themes with a variety of quizzes on history, geography, the Euro, and the EU (and awarded prizes!). Dr Amelia Hadfield, Jean Monnet Chair in European Foreign Affairs, then provided the students and staff with a brief introduction to the central EU institutions. This was followed by a lecture on European Migration designed to introduce the students to the challenging aspects of the current migration and refugee crisis, given by Alexander Ntung, Head of Education, Inclusion and Participation at the Dover-based institution, Migrant Help. This mini-lecture prepared the way for the central activity of the afternoon: a group-based simulation game on European migration. Students and staff were divided into six groups, each representing different national and non-national actors in this crisis: the governments of Britain, Germany, Greece and Hungary, alongside Political Asylum Seekers and the Economic Migrants. Each group had to read swiftly through recent media reports and the European Commission's Second Implementation Package on Migration, in preparing their public response once everyone reassembled. Quick thinking was needed as well as focused presentation skills, and students and staff ultimately voted for the Greeek position as the most convincing solution.
Members of the Politics/IR team supported the students within their groups, including head of Programme, Dr. David Bates, Dr. Licia Cianetti, Dr. André Barrinha, and Dr. Benjamin Martill, and as well as and PhD candidates Liza Kummrow and Francesco Violi, along with some of Dr Hadfield's Level 5 'EU Power, Policy and Integration' students. The signs look good for a repeat event in 2016, with one of the teachers commenting that "the students loved it. and once again, for me, it was very enjoyable, educational and very worthwhile". Tim Fox, Senior Vice Principal at The Canterbury Academy said: "it was great for our students: they found it accessible and demanding – a very well organised event!"