Women's History Month 2019 – Malala Yousafzai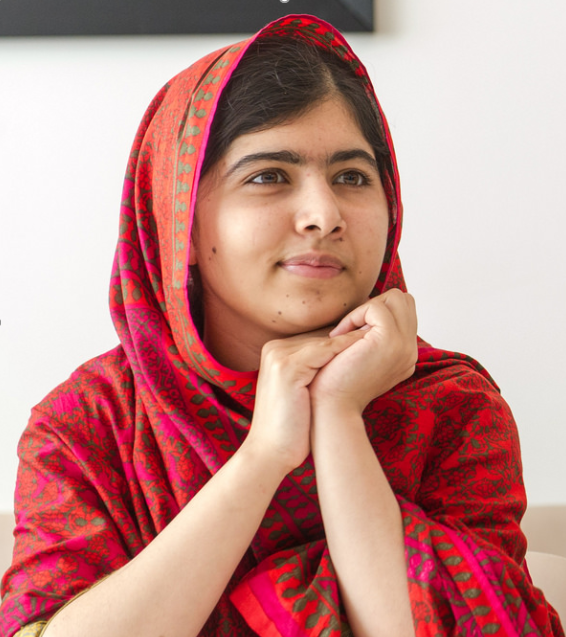 UN Photo/Mark Garten https://www.flickr.com/photos/un_photo/15528368235
MALALA YOUSAFZAI: Pakistani Activist for female education and youngest Nobel Peace Prize laureate
Born 12th July 1997
Pakistani born education activist Malala Yousafzai became famous overnight following an assassination attempt by the Taliban in 2012 at the age of 15, as a result of her championing the right of girls to go to school. Immediately after the attack, she and her family were brought to UK for her to receive medical treatment, and they have now made their home in Birmingham.  She has continued the crusade that she had begun as a child at home in the Swat Valley in northern Pakistan, and has become a global ambassador for female education. Former Pakistani Prime Minister Shahid Khaqan Abbasi, has called her "the most prominent citizen" of the country.
Precious schooldays
The very traditional Muslim society into which Malala was born didn't value girls. Whereas opportunities for sons were plentiful, options for daughters were extremely limited.
"I was a girl in a land where rifles are fired in celebration of a son, while daughters are hidden away behind a curtain, their role in life simply to prepare food and give birth to children." Malala saw education as her passport to a different future.
Most unusually her father, Ziauddin Yousafzai, accepted his daughter as a free individual and did not treat her as property. As a head teacher and social activist, he believed in equal educational opportunities both sexes and openly encouraged other parents to educate their daughters too. Ziauddin passed his love of education on to his daughter and became her mentor and chief supporter. Malala attended his school from a very young age. She adored school and was a dedicated and competitive pupil who was nearly always top of her class. However, militant Islamism had been gaining ground in the Swat Valley post 9/11 and eventually the Taliban took control of her town. They began broadcasting threats and orders over the radio:
"Neither the old or young child will be allowed to go to school."
This edict changed Malala's life and she began rallying for the right to have an education.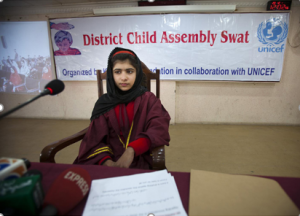 Malala chairing a session of the UNICEF supported Child Assembly in 2010, at the age of 13, at the Khpal Kor Model School and Orphanage, Mingora, Pakistan
Photo: UNICEF/Ahmed  https://refugeesmigrants.un.org/interview-new-un-role-malala-yousafzai-seeks-inspire-girls-stand-speak-out-rights
Daring to defy the Taliban
Caught in the middle of the fighting between the Taliban and the military, life became extremely difficult and dangerous in Swat Valley but Malala was absolutely determined to continue her education. At the age of 11 she declared "I will get my education, if it is in home, school or any place". She began blogging for the BBC in January 2009, to tell the outside world what life was like under the Taliban, and to explain her feelings about it. She had to write under an assumed name, because of the risk of being identified. As her diary became more widely published, she learnt that words and the truth can be more powerful than the weapons of war. Then she took the courageous and very risky step of giving a live interview on Pakistani TV. There were Taliban men standing behind her during the interview, watching her.
"Even if I have to sit on the floor, I'll go anywhere. Wherever it is, I want my education………I'm not scared of anyone".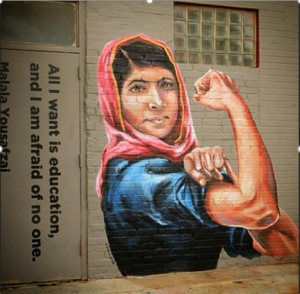 Photo Bruno Sanchez-Andre Nuno via flickr
Malala spent the next two years campaigning hard for girls' education, appearing regularly on Pakistani television which made her an even greater Taliban target. Then, on her way home with friends on the school bus on 9th October 2012, a masked gunman shot her in the head. She was airlifted to Birmingham for treatment to save her life, and her family soon followed to be with her. Months of surgery and rehabilitation followed, and Malala and her family have now made Birmingham their home.
Once she had recovered sufficiently, Malala was delighted to be able to continue her schooling. Whilst attending school in Birmingham, she observed that many British girls seem to take their education for granted. "I want to tell students of UK to think that it is very precious….reading a book, having a pen in our hands, studying, sitting together in a classroom is something very special for us because once we were deprived from it".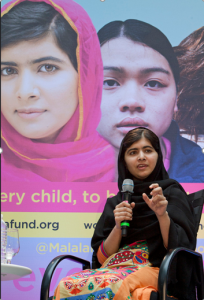 Malala speaks at World Bank headquarters on the International Day of the Girl October 11, 2013 Washington DC
World Bank photo collection https://www.flickr.com/photos/worldbank/10213646784
As well as studying hard, Malala began to campaign again. Her dream has always been to put every child, girl and boy, into school and her 16th birthday saw her addressing the UN in New York, calling for free education for all children. It was this powerful speech that contained the memorable line:
"One child, one teacher, one book, one pen, can change the world"
Amongst the many international awards she has been given, in 2014 Malala was co-recipient of the Nobel Peace Prize, shared with Indian children's rights activist Kailash Satyarthi, in recognition of her work. She was the youngest ever Nobel laureate, the first Pakistani and the first Pashtun to receive the award.
Setting up Malala Fund
With her father, she established Malala Fund in 2014. The charity is dedicated to giving every girl an opportunity to achieve a future she chooses. It sets up projects in countries around the world where children have no acces to education, building schools and making sure there are qualified teachers and facilities for students. There are currently projects in Afhanistan, Brazil, India, Nigeria, Pakistan and the Syria Region, using local educators and activists who understand the challenges in their communities.
Malala is currently studying Philosophy, Politics and Economics at the University of Oxford and continuing to run Malala Fund with her father. She travels the world to meet girls who are battling war, poverty, gender discrimination and child marriage and who struggle to get an education, speaking out on their behalf. With over 130 million girls not in school, her work is more important now than ever and continues to be an inspiration across the world.
Discovering Malala
Like many people, I'd heard about Malala's extraordinary story in the news but I decided I wanted to learn more about how her background experiences had shaped her. I began my research about Malala by reading her autobiography "I am Malala : the girl who stood up for education and was shot by the Taliban". I found it by doing a basic search on LibrarySearch, https://ulms.ent.sirsidynix.net.uk/client/en_GB/CCCU, using her name as a keyword.
While this was certainly a very inspiring read I wanted to actually listen to her voice too, so I searched on BoB (Box of Broadcasts) https://learningonscreen.ac.uk/ondemand. You can use this resource to watch pre-recorded programmes or schedule recording requests for forthcoming ones. Here, I found an interview with her on BBC Radio 4 Women's Hour, a Panorama Special called "Malala: shot for going to school", and the documentary "He named me Malala". There was also an interview with her after she won the Nobel Peace prize.
I also wanted to see what had been written about her in the press, so I searched the LexisLibrary Newspapers UK database for articles. You can find this on LibrarySearch by clicking on the 'Find Databases A-Z' tab, then selecting 'L'.  It was here I found an interesting article in The Guardian where she talks about adapting to life as an undergraduate at Oxford University. And again through LibrarySearch, I found a range of relevant articles in academic e-journals by selecting Eresources (CCCU) from the drop down menu on the homepage. Here I found discussion of the way Malala has been portrayed in the media.
You can find out more about the work of the Malala Fund at  https://www.malala.org