This Valentine's Day – Are you feeling the love or feeling let down?
This Valentine's Day we offer you the opportunity to write the Library a Love Letter or a Let Down Letter. You can let us know what you love about the Library and what really works for you or let us know what you feel let down by and what we can improve.
Come to the ground floor of Augustine House from 10:00 – 16:00 to take part, you won't miss us we'll be near the entrance.
Anyone taking part has the option of being entered into a draw for some Valentine's Day goodies including a box of chocolates!

Can't make it to Augustine House on the 14th February?
Don't worry we'll have Valentine's Day themed feedback boards up across the week (11th – 15th February). Alternatively feel free to sound off in the comments section below. Anyone leaving feedback here can be entered into the prize draw too.

What you said last Valentine's Day 
Last year we received 91 letters, a mixture of love and let down and we've been working on your feedback. Here are three things we've been changing:
(1) Silent Study Zones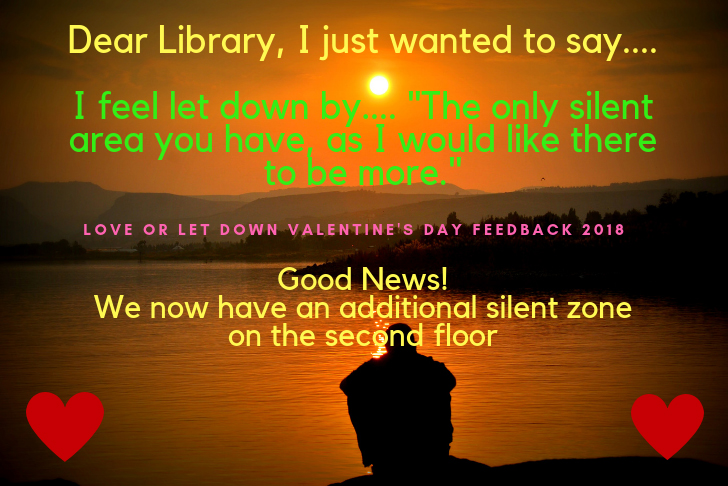 You let us know that the quiet zones were confusing and "Made no sense" or were either "too quiet" or there were too many "People being loud in the quiet zones".
It was clear that you wanted "more silent space" and many of you let us know that you loved the silent zone "The Silent Zone where I really feel comfortable and at ease to study" or "I really love and enjoy my time in this lovely library, especially when I'm revising in the silent zone."
Over the summer we created a second silent study zone. You can find it on the west wing of the 2nd floor of Augustine House.
(2) Group study zone
Some of you wanted group space you didn't have to book and let us know there were "Not enough free spaces with pc's [sic] for groups"
Over the summer we removed one of the quiet study zones and changed its use to group study where you can work together as a group with PCs, no booking required. You can find it on the first floor of Augustine House
(3) Computers and Laptops
We received feedback on the speed of the PCs "The computers are really slow" and that the Library needed "better laptops".
Over the summer out IT colleagues replaced 400 PCs and added a lot more with dual touchscreens. They also worked hard on improving the performance of the iborrow laptops.
Listening to what you loved and what you felt let down by helped us to make the changes you wanted. Help us again this Valentine's Day.