Google Scholar provides an easy way to search the Internet for scholarly literature. You can search across many disciplines and sources: articles, theses, books, abstracts and court opinions, from academic publishers, professional societies, online repositories, universities and other web sites.
How do I access it?
Go to http://scholar.google.co.uk/
How do I get the most out of it?
Try the Advanced search – click on the three lines near the top left to get the Advanced search link (as well as a range of other personalised Google Scholar options). Note the Settings icon on this screen. Note also the link which you can use to ensure you are notified if anything is found by Google Scholar that matches the search query used for your alert. You need to sign in to a personal Google account to do this.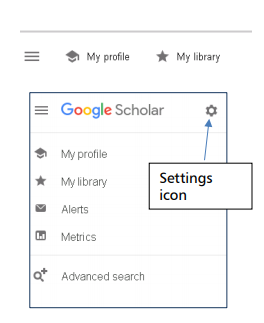 How do I see the full text?
Click on Advanced search to see all the Advanced options, including searching for particular phrases and/or within the article title, and setting limits such as only by a particular author or within certain dates.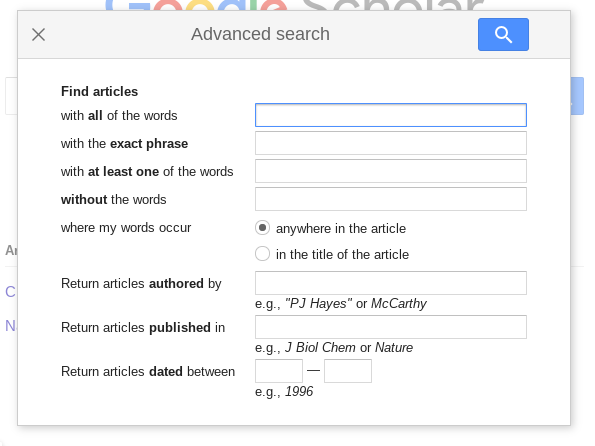 Use the settings icon to create links between papers found in a Google Scholar search and the University subscriptions. Click on Library links and follow the instructions: search for Canterbury Christ Church University, select it and save. That way you can easily see if the full text is available to you.

Add the Google Scholar button to your browser, so you can look up papers in Google Scholar as you browse the Internet. Go to Settings/Button and follow the instructions to install the little blue icon to the tool bar in your browser.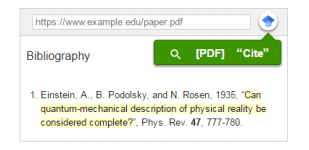 Saving the results of your search
If you use a reference management tool, such as RefWorks, you can use the icon to set up links between papers found in a Google Scholar search and your reference manager. Click on Search results and set the Bibliography Manager as shown below, so that Import into RefWorks is shown as an option under each appropriate item in the results list.