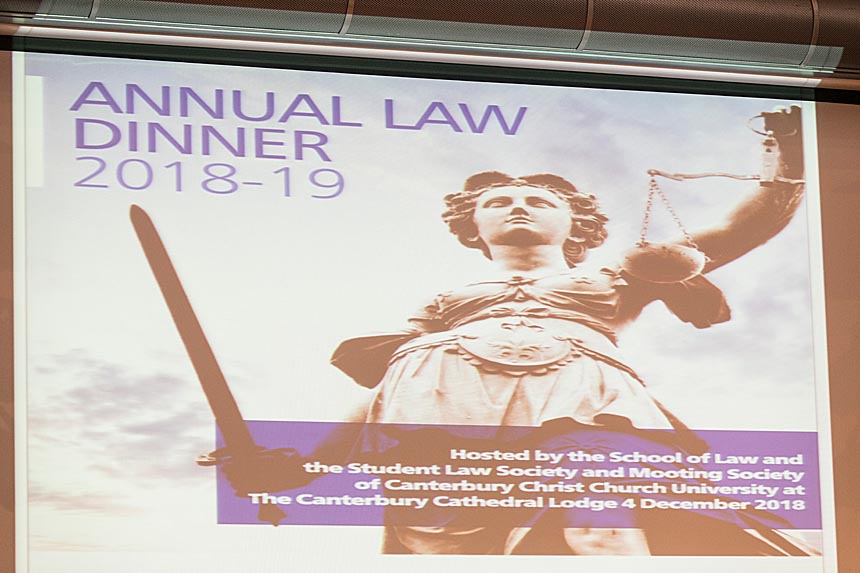 The School of Law at Canterbury Christ Church University holds many networking opportunities for their law students throughout the academic year. As you may or may not be aware by now, networking is crucial in finding training/interning opportunities, training contracts and other forms of employment in the legal sector. Beyond employment opportunities networking can also be important to get some idea about the legal profession, through first-hand experiences from current practitioners and Judges. Nevertheless, many students find networking quite difficult to navigate as well as obtain the maximum from a networking experience.
This is why the CCCU Annual Law Dinner has become a wonderful opportunity for our students to network in a more relaxed environment with Barristers, Solicitors, Judges as well as the keynote speakers who attend the event. In the past we have had the privilege of hosting Supreme Court Judges, High Court Judges as well as Solicitors and Barristers with an illustrious career as keynote speakers. Many of our students have successfully found employment opportunities through such networking.
Every year the event is held at the Clagett Auditorium, Canterbury Cathedral Lodge the best venue, in our opinion, to hold a fantastic black-tie event, where students will have a fine dining (and drinking) experience in addition to excellent networking opportunities. The Law School prize giving as well as the Law and Mooting Society prize giving are some of the other highlights of the event. As per the Law Dinner tradition, the event is wrapped up with a disco with DJ music. This is an unforgettable and the most looked forward to social event in the CCCU law calendar. We hope to see many of you at our next Law Dinner.
Dr Gowri Nanayakkara
Senior Lecturer and Subject Lead for Law