We are excited to announce the launch of Manufacturing Engineering Apprenticeships at Canterbury Christ Church University, in partnership with Mid-Kent College. The apprenticeships will launch in January 2021 and has been co-designed with industry to equip apprentices with the knowledge, understanding and skills to take on the role of a Manufacturing Engineer.
The apprenticeship integrates academic learning at degree level with full-time work experience, and apprentices are employed throughout the programme, applying what they learn in the classroom to real-industry situations. This also means that they will bring real industry challenges into the classroom to help develop a deeper understanding of manufacturing engineering and current trends.
Manufacturing Engineers primarily support the activities involved in bringing design programmes into manufacture. This role is pivotal to the launch, planning and smooth delivery of exciting new products as well as further developing existing products to bring them up to date.
The apprenticeship focuses on advanced manufacturing techniques and the project management skills required to launch products on time, on cost and to the right quality. Typically Manufacturing Engineers work closely with a range of other engineers, functions and managers both within their own company and their supplier base.
There are opportunities in the programme to specialise in:
Modular buildings, which are mass produced in a factory before erection on site,
Industry 4.0 and the use of smart technologies to enhance productivity.
How the apprenticeship is structured
The 3 year work-based programme is made up of academic modules that enable the integration of the work-based learning. There is an additional 6 months set aside at the end for completing the compulsory End Point Assessment (EPA). As part of the apprenticeship standard requirements, you are required to have 20% of your working week dedicated to off-job apprenticeship learning (1 day in 5) which will be at Mid-Kent College in the first 4 trimesters (Just over 1 year) and will then continue at Canterbury Christ Church University.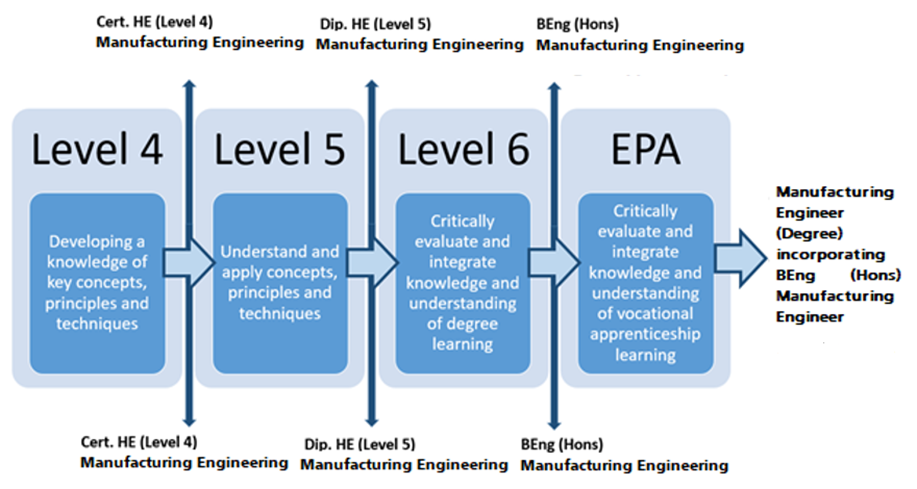 Each academic year consists of 120 credits of study, typically 40 credits per trimester. Each trimester is 15 weeks long and consists of:
10 weeks of 1 day a week off-the-job in class studying
5 weeks of 1 day off-the job degree assessment and/or directed/self-study/review activities.
There will normally be a mid-term break each trimester.
The apprenticeship degree will provide learning in the following areas:
programming, installation, and maintenance of the automated machinery (Computer-assisted process and control engineering) ensuring efficient use energy
overseeing the flow of raw materials into a factory and through the production lines (Enterprise resource planning) ensuring product quality, reliability and output levels
logistic solutions to inventory or to the customer's site (Environmental protection, safety, and handling of hazardous materials)
The Conceieve, Design, Implement and Operate (CDIO) Model
Our Engineering Apprenticeships adopt the CDIO (Conceive, Design, Implement and Operate) engineering education model, developed by the MIT (Massachusetts institute of Technology). CDIO has been shown to develop and produce 'industry-ready' engineers and will assist in developing the skills in our apprentices that enable them to be effective in their workplace and utilise these skills for their industrial project management.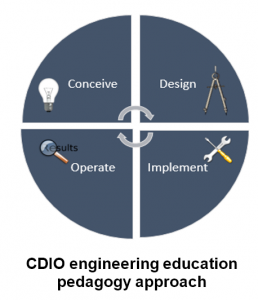 For more information
To find out more about the opportunity to study on this route and what you will learn or to employ an apprentice onto this programme please contact the programme leader salman.saeidlou@canterbury.ac.uk