At the start of the pandemic Alex started the Keep Talking Services, after he noticed the isolation of elderly customers while working at his mum's Gardening Centre. He now successfully recruits students to volunteer at the charity, and is working with partner agencies across Kent to help local service users and beyond.
You can read about how he started here. Alex's business Keep Talking Services has received charity status, of which he is the Chief Executive Director and is now paid to work part-time alongside his Mental Health nursing career in the NHS.
As part of Volunteers Week, Alex shares his inspirational journey. Well done, Alex! We couldn't be prouder.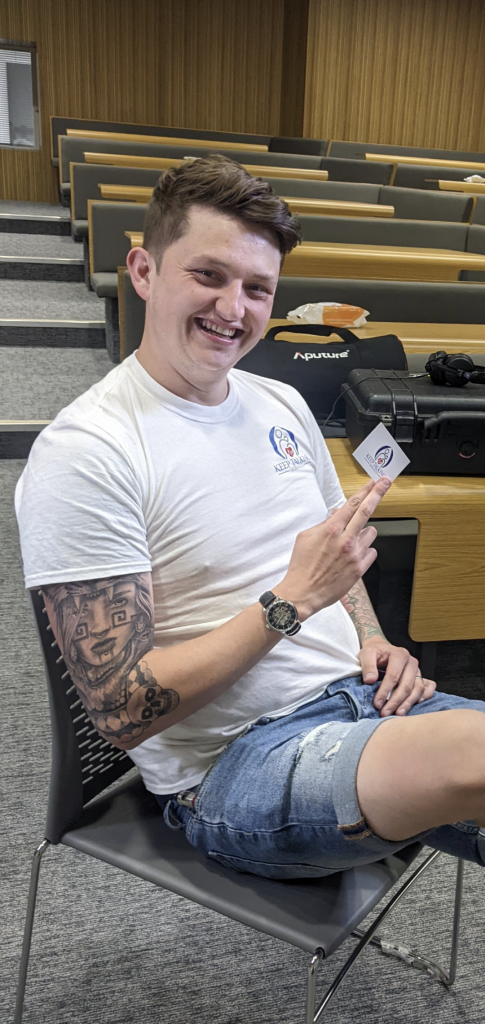 "When I look at the beginning of Keep Talking Services, during the first national lockdown, I would have been in my flat pushing this service, ringing everyone I could, trying to be heard, taking minimal referrals and minimal students. Trying everything in my power to make that difference.

Look at me now! I now do this part time, I have my own office space, we take daily referrals and now have a waiting list; I am now working with three different universities. We have a website and are seeing multiple primary care networks signing up to use our service. This service is changing peoples' lives, we need say no more, our students love volunteering because they are getting firsthand experience working with individuals with lived experience in mental health, our clients love talking to our students, they are empowered and it's making a difference in their life. Befriending is something I never saw the true value of, working in clinical environments but by creating this I see its potential; these people need support and I want to be the one to provide that.

Doing this has really put a spring in my step. The days that I am in the office working for the service is the day I see the most motivation, I jump out of bed, do the dishes make sure my wife can have a lay in while I spend my precious time with my 2 beautiful baby boys and then I am out the door. I really am living my best life.

Before I left today my wife kissed me goodbye and said "now go and change the world Alex"

That is exactly what I plan to do and with the people I have behind me I see this as less of a dream and more of a reality.

It really is a dream come true. I get to talk to people all day every day, we laugh, we cry but what we always do is Keep Talking."
If you are inspired by Alex's story, and would like to hear more, head to: https://www.keeptalkingservices.com/) or email alex@keeptalkingservices.com
To learn more about other volunteering opportunities at the University, please contact: b2b@canterbury.ac.uk