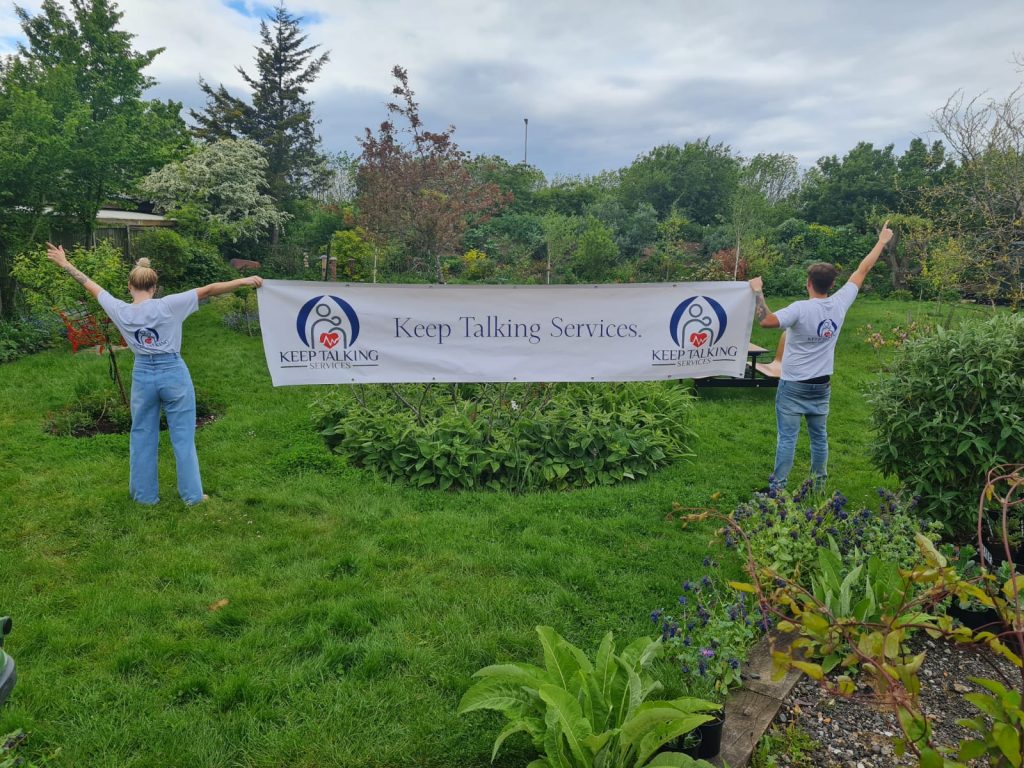 Canterbury Christ Church University is committed to transforming individuals, pioneering knowledge, enriching communities, and building a sustainable future. Whilst supporting our students in engaging with businesses across industry, we foster strong relationships in the not-for-profit, charity and third sector, whilst encouraging our students to positively contribute to the wider community.
As a University, we are passionate about engaging our students in volunteering opportunities and have a dedicated team that works with industry to promote a range of ways students and businesses can get involved and support the local community. During the last year, 110 Canterbury Christ Church students have completed over 4000 volunteering hours.
Today, we want to celebrate one of the most recent and successful volunteering initiatives adopted by one of our students – Keep Talking Services. Originally started as a volunteering passion project, this initiative quickly built momentum and caught the attention of local businesses and beyond, with articles published in the Nursing Standard, and businesses enquiring from outside of Kent.
Alex Richardson (a Mental Health Nursing student at Canterbury Christ Church University) has always wanted to help people, and in the first lockdown, noticed there was an accelerated crisis surrounding isolation and loneliness. To combat this, Alex set up Keep Talking Services during the pandemic- a chat and check-in service with the aim of supporting the elderly and vulnerable. A year later, this service has gone from strength to strength, with over 300 calls being made to those in need and the venture being awarded external funding from the Leighs Foundation. This has allowed the service to grow and provide support to those in the community most in need and adversely affected by the pandemic.

When we spoke to Alex, it was evident that his resourcefulness, communication, and leadership skills were one of the reasons this project has been so successful. As a nursing student, Alex was well equipped to develop the befriending service itself; however, he realised there are challenges with turning a passion project into a fully registered charity. Alex has had to quickly develop his enterprise skills as the business scales up and activity increases. Elements such as marketing materials, print assets, volunteering start-packs, safeguarding procedures, training, communications, health and safety, call-logs, risk assessments and so much more, all need to be considered as operations evolve and the business gains more interest from external organisations.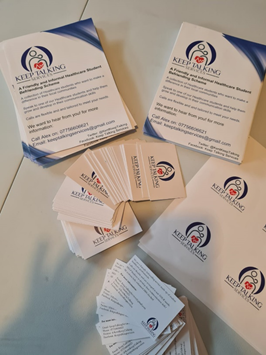 From the outset, Alex undertook a stakeholder engagement strategy to reach out to charities and businesses for help, guidance, and advice on how to develop his service further. Alex also contacted the University volunteering services and spoke with Laurienne Edwards (Enterprise and Engagement Manager at the University), who provided Alex with support on how to develop his business model further. It had become clear from discussions with other external stakeholders, that Alex needed to work towards becoming a registered charity if he wanted to continue to scale up the business and gain interest from other key stakeholders, who could support the service through a period of accelerated growth. We asked Laurienne Edwards how she supported Alex with his venture.
"I had the pleasure of first meeting Alex in March 2021 and hearing about the volunteering initiative that he had developed during the 2020 lockdown," she said.
"Following the success of the initiative, with both volunteers and participants, Alex was now keen to market the initiative to a wider audience and was looking for support to do this. Alex is a very driven individual, already balancing the demands of his final year studies, with the arrival of a new baby, and continuing to develop Keep Talking Services too. We as the Enterprise and Engagement team were keen to offer as much assistance as possible, so made enquiries within our network of charitable organisations to see what support and next steps might be."
"Amongst the entrepreneur support I signposted was the Leighs Foundation, who were suggested by the Canterbury & Herne Bay Volunteer Centre, and Alex successfully secured support to develop his charity project. I'm not surprised at Alex's success and feel so pleased that the Enterprise and Engagement team are able to help him on his journey and continue to flag opportunities for collaboration."
Naturally, the Leighs Foundation's support changed things for Alex and the gravity of his passion project really became evident. When referrals started to come in from networks outside of his own, with business interest coming in from a variety of sources, Alex says this was a pinnacle point for him, in understanding how far Keep Talking Services has the potential to go.
The Leighs Foundation offered some commentary on Alex's project: "I knew Keep Talking Services was a project I wanted to throw as much support behind as possible, and quickly committed to providing additional funding. During the last year I believe we have all felt the impact of being socially detached, and we have felt the impact this can have on everyone's sense of wellbeing. Alex has a plan to address that, in a way where everyone benefits."
Medical professionals, councils and local business have already shown huge interest in the service, wanting to circulate the offer within their own networks. The project has reached a stage where regulation, safeguarding and getting the appropriate training is crucial to the charity's success. Alex's investors are helping him with this, to ensure the project is as effective as possible. He hopes to become a fully registered charity in the next couple of months, after he has been through the appropriate training.
Alex has developed a volunteering opportunity which is becoming more widely known in the Healthcare faculty at the University. With regular support from his lecturers and seniors, he is now in discussions with the Head of Medicine about the volume of students he needs to sustain the project – which is in excess of 100 students. Not only is Alex helping vulnerable individuals in need, but he is also enriching his peer's employability. This project is multi-faceted in its benefit, and as a University, we are so excited to see it develop.
I see this charity growing to a national scale, working throughout all universities, and incentivising students to volunteer to make a difference in their community. In this day and age, anything is possible, and we will always keep talking." – Alex Richardson, founder of Keep Talking Services.
Alex hopes to have Keep Talking Services available similarly to a prescription service in surgeries, local groups and charities. He also hopes to diversify his services, collaborate with businesses and capture more groups in need: such as children who have been affected by bullying.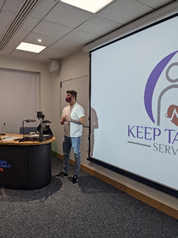 If you are inspired by Alex's story, and would like to hear more, Alex will be holding an event in July to introduce his service to the community. He said:
"We are looking to hold our first event to introduce our service to others on the 3rd of July. This will include a bake sale and a raffle. The event will be held in my mother's beautiful gardens and will be free to attend. To register your interest or find out more information then please contact: keeptalkingservices@gmail.com"
You can keep an eye on the latest updates of Alex's venture, by following:
Twitter: @kentkeeptalking
Facebook: Keep Talking Services
If you are an organisation, and would like to learn more about other volunteering opportunities at the university, and how they can help you reach your business goals, please contact: b2b@canterbury.ac.uk