What can I do over the Christmas break?

Read on for an unexpected answer…
Stop. Just stop.
The best thing you can do for your career, for your health, for getting ready for 2021? Take a proper break. Even if it's just for a couple of days, take some time away from essays, work, technology if you can. Bundle up in every layer you own and get outside to breathe in that chilly winter air.
But also, don't forget we're here for you if you need us.
Below is our Live Chat availability over the Christmas break, and we'll be back as normal (10-12 and 2-4 Monday-Friday) from 4th January. If you're not sure how to access the Careers & Enterprise Hub, here's a video to show you.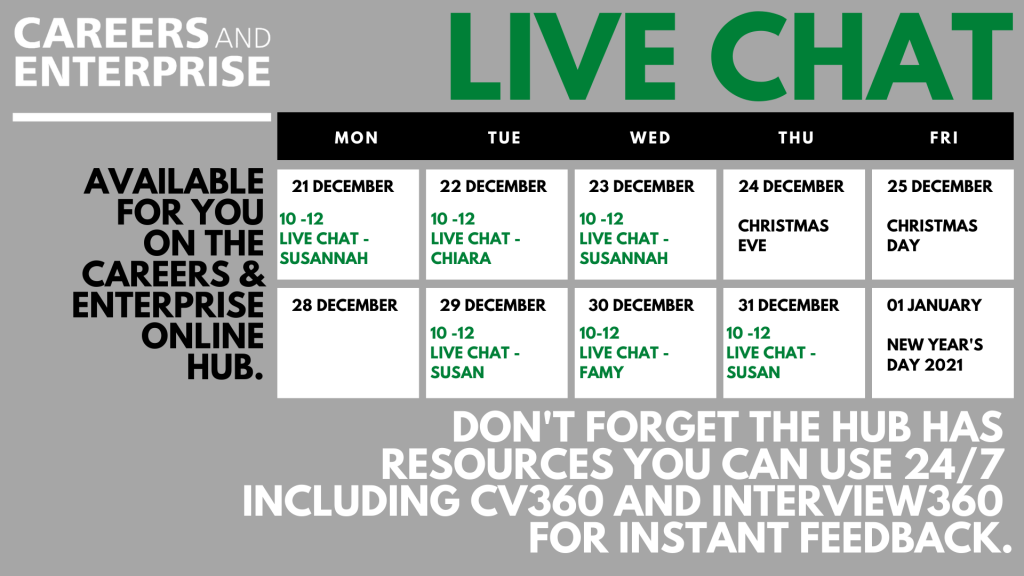 You can also email us, but be aware these won't be monitored from 18th December – 4th January, and you may have to bear with us then whilst we get through the backlog.
If you're reaaaaaaalllly keen then here's 5 ideas:
Check out the new workshops for the beginning of 2021. There are loads of great ways for you to get involved. They're online, totally free and especially for you as students and graduates at CCCU.
If you're a final year student or recent graduate, you're welcome to apply for the GradForce programme.
Check your CV on CV360!
Practice your skills using AI technology with Interview360!
Read a few more blogs… scan through our blogs for some encouragement, insight and great tips!
But most of all, we wish you a restful Christmas, and a hope-filled New Year, from all in the Careers & Enterprise team!
Getting further support from The Careers and Enterprise Team at CCCU
You can get ongoing careers support via the following ways: