Restart a Heart Day 2020

This time is unprecedented, and Covid-19 is very much in the news. As a general rule, remember– Hands. Face. Space.
But there's an exception to that rule, when you have the opportunity to save someone's life…
Being able to perform CPR confidently is an important skill. Sadly, you may never know when it may be needed. People can take ill anywhere, anytime… including the workplace. We've found some interactive ways to learn online, and ways to find your nearest defibrillator.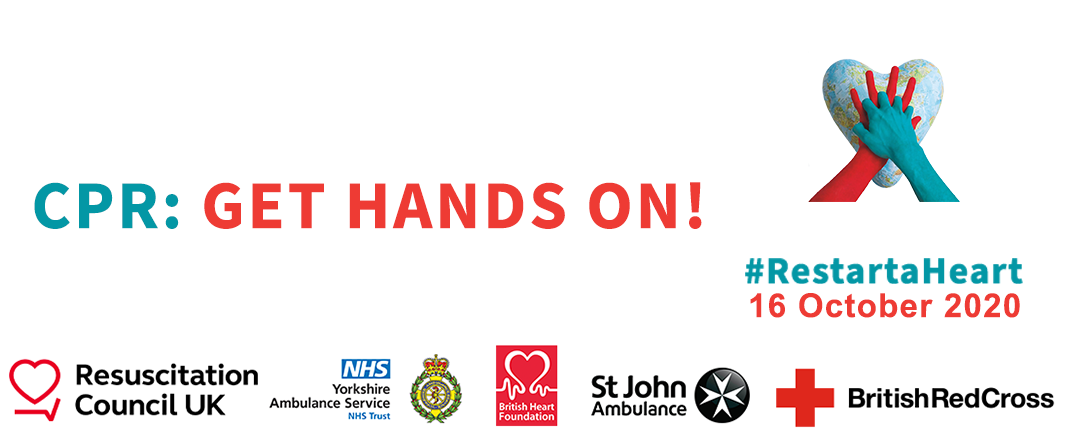 Obviously we hope you never have to use CPR or access a defibrillator, but we hope even more that if you're in that situation, you know exactly what to do. It's always good to know how to restart a heart.
In the context of Covid-19, you may not want to do the rescue breaths. Remember to look after your own health too, but any intervention is better than nothing – even if it's alerting others to help. The Resuscitation Council have provided guidance here about how best to make sure you're kept safe, whilst delivering life-saving CPR. Their video is also below which explains more about it.
Usually on Restart a Heart Day, the Careers & Enterprise Hub is filled with mannequins and our expert colleagues from the Health Simulation Suite. They come and give demonstrations, and give you the opportunity to learn, practice, and test yourself with a score on restarting a heart.
This year, we can't do that. But we have found a FANTASTIC online resource where you're part of an interactive video. You have to give instructions how to proceed, and you get the opportunity to test your speed accuracy for the chest compressions, and remind yourself what to do and in what order. CLICK HERE and choose either Harry or Jake's videos* for the interactive opportunity to remind yourself what to do – your familiarity and confidence could save a life.
If you have been trained in the past, watching the video above will also serve as a great reminder.
Your workplace should have designated First Aiders who can support you in such situations, and they should have a system for recording accidents and first aid incidents. When you join a new workplace, make sure as part of your induction that you know who the First Aiders are, and what the processes are for raising the alarm, and recording the incident afterwards.
Do you know where the AED devices are locally?
The GoodSam App helps you locate local defibrillators (including photos), and you can raise an alert to request help through it too. The information below is taken from there –

At Canterbury Campus:
– At Anselm Security Reception on Main Campus
– At St George's Student Union Reception
– At Rochester House Reception
– At Augustine House Reception

Also in Canterbury…
– At Canterbury College Reception
– At St Mary Bredin Church
– Outside the Fire Station
– Gulbenkian Theatre

At Medway Campus:
– Drill Hall Library Reception
– Nelson Centre West (Bar), University of Greenwich
– Guard House, University of Greenwich
– Outside C4 Hub, University of Greenwich
For more on First Aid at work and risk assessments, check out the Careers & Enterprise Online Hub resources and information on First Aid here.
*Please be aware that the immersive nature of the films may mean that they are uncomfortable for some people to watch or be a part of – so please look after yourself.
Getting further support from The Careers and Enterprise Team at CCCU
You can get ongoing careers support via the following ways: