On Wednesday 2nd October 2019, CCCU Alumni Molly and Anthony pulled the ribbon to officially open the Careers and Enterprise Hub…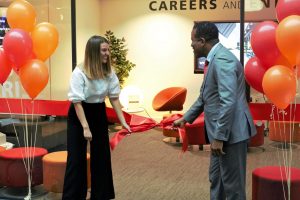 The Launch of the Careers and Enterprise Hub was attended by over 50 CCCU students, alumni and staff on a bright Wednesday afternoon in the Augustine House Library.
It was encouraging to see many key figures within the University present as Professor Mike Weed (Pro-Vice Chancellor Research and Enterprise) welcomed all present. Notable attendees included:
Vice- Chancellor Professor Rama Thirunamachandran
Deputy Vice- Chancellor Professor Helen James
Dean of the Faculty of Education Dr Lynette Turner
Director of Human Resources and Organisational Development Margaret Ayers
Student Union President Phil Kloppenborg
Student Union President for Development Becky Thomson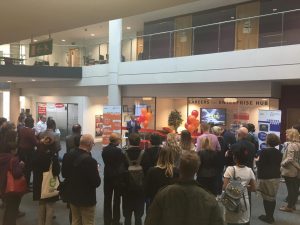 The launch of the Careers and Enterprise Hub was a fantastic opportunity for everyone to see the new exciting space in Augustine House and to explore the brand new services available. This included: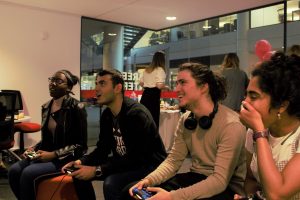 Here are quotes from the speeches made prior to the Launch of the Careers and Enterprise Hub:
This space will be a hub not just for [student] drop in sessions, but also for workshops, for meeting employer sessions and we hope it will be a real focus for students in terms of their careers and enterprise ambitions… the Careers and Enterprise Online Hub, offers new elements for students to engage with, such as the Career Pulse which helps students to monitor their development against their career ambitions… We hope that this Hub and service along with the new Future 360 Framework embedded within the curriculum will support in the creation of enterprising professional graduates.

Professor Mike Weed, CCCU Pro-Vice Chancellor (Research and Enterprise)
"The opportunities to have work experience and to be put out into the real world were unbelievable…all my friends that I made at university instantly went on to get good jobs in industry…and that has to be down to the support of Canterbury Christ Church University because they are fantastic!

Molly Wright, CCCU Alumni and CEO of Molly Moodle Media (Social Media Marketing Agency)
"Utilise it [the Hub]! We all were where you are at one point in our lives in one way or another! We are quite eager and quick to kick young people when they are down, and we don't seem to be doing enough to help them up. So opportunities like this, places like this, is for them to see that there are people that are just like you, who have been in the same position as you are in that can now help you…and I am quite happy to be one of those people!"

Anthony Leacock, CCCU Alumni and Detective with Metropolitan Police Service
As a Team, we are really delighted to work with you in the Careers and Enterprise Hub! It has been a long journey creating this new space and it would not be complete without a before and after photo!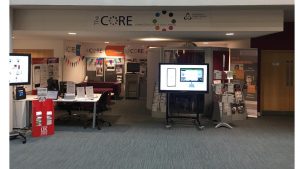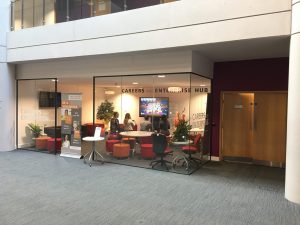 From everyone in the Careers and Enterprise Team, we look forward to seeing you in the Careers and Enterprise Hub!
Drop in Support is now available every weekday from
10am-12pm & 2pm-4pm on weekdays.
You can also access our Careers and Enterprise Online Hub
Email us for support: careers@canterbury.ac.uk