Career Development's Services: The CORE, Unitemps, Enterprise and more!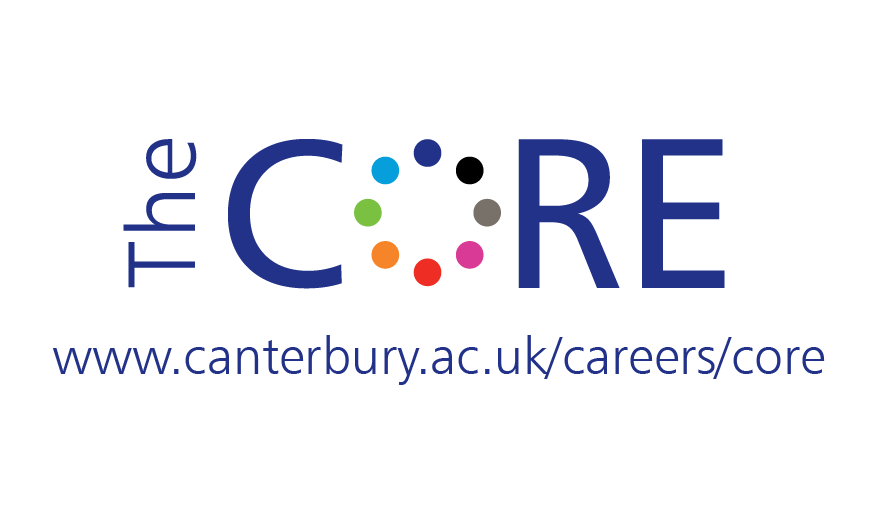 Congratulations on your place at Canterbury Christ Church University! Now that you've got a place, it's time to start thinking about how you are going to fund your living expenses for your time at the University.
Career Development services are freely available to you and are there to help you with any careers-related questions or queries you may have including:
Where to find jobs
CV, covering letter, personal statement and application checks
Useful websites for volunteering, placements, internships and graduate jobs
The CORE – An Online Resource and Drop-In Area
Once registered as a student, you will also have access to The CORE online information platform where you can find even more helpful tips and information to help with your job search, job application and job interview. This will be accessible through your Blackboard once you have registered.
Our CORE drop-in desk is open Monday – Friday, 1.00-5.00pm (Canterbury Campus, weekly at Broadstairs, by appointment at Medway). Here you can get your CV, cover letter or job application checked, and find out where to look for jobs, placements and volunteering opportunities. You can also book a Careers Advice Appointment to discuss your next steps, career options and more with a Careers Consultant. Why not make the most of this service now and make a start on your next job?!
The Unitemps Recruitment Service
The University has its own in-house recruitment solution, to help you find part-time work alongside your studies, and the best bit is you can register now, to search and apply for a range of jobs, both within and around Christ Church. Go to unitemps.com and click on Canterbury Christ Church from the drop down menu on the homepage.
Specialist Support for Disabled Students
Do you consider yourself to have a disability, visible or invisible? Do you worry that this could affect you in a recruitment process or in working day to day? You are not alone and the Career Development team are here to help you with workshops and regular drop-in advice sessions throughout term time – more information is available on The CORE information system.
Want to Start Your Own Business?
Whether this is something you want to do in future, or you would like to think about now to do alongside your studies, there is support and advice available. Start by going on the CORE system and clicking on the 'Enterprise and Business Start-Up' tile, and contact us via careers@cantebury.ac.uk
Student Opportunities to support your employability – Christ Church Extra, Community Volunteering
Career Development work with Student Opportunities to deliver Christ Church Extra workshops to students. The Christ Church Extra Award gives recognition for activities that you take part in, outside of your studies (voluntary or paid). In order to receive this award, which goes on your university degree manuscript, you have the chance to personally develop yourself through workshops and guidance on self-reflection.
We invade your lectures!
Career Development staff work with your lecturers, to deliver useful workshops, sessions and career events during term time. Look out for us in your lectures!
For all other information, from finding a job, to prepping for an interview, to creating a graduate CV, don't forget you can follow our Twitter and Facebook pages:
Facebook: Careers@CCCU
Twitter: @CCCU_Careers
If you have any questions or queries, feel free to get in contact with us via social media, at careers.info@canterbury.ac.uk or at The CORE drop-in areas.
All the best,
Career Development
The CORE
You can download information on our services here.