How often do you read an article or watch a video or do a quiz on your phone? When you're on the train, while you're waiting, when you're bored?
But how much of what you do in those moments helps you understand yourself better and what you can do to get the most out of your future?
The CORE has tonnes of advice, quizzes and interactive tools to help you find out more about yourself: your strengths, your weaknesses, your motivations; your career options and the skills you need to develop. And it's all available in an app, so wherever you are, whenever you have a moment, you can focus on yourself and where you really want to be.
Download The CORE – CCCU from the Apple or Android app stores, and make sure you enable notifications because they'll point you to some of the most engaging and popular resources and even remind you about key careers events, milk rounds and approaching graduate application deadlines.

Watch this video to find out about the great resources you can access and how to get The CORE on the go.
Once you've downloaded the app, you'll need to connect it to your CORE account. Follow the three simple steps in the Mobile app tab in 'My profile'.
Your career shouldn't be something you think about later, it is part of who you are now. The CORE app is your potential in your pocket – download it now!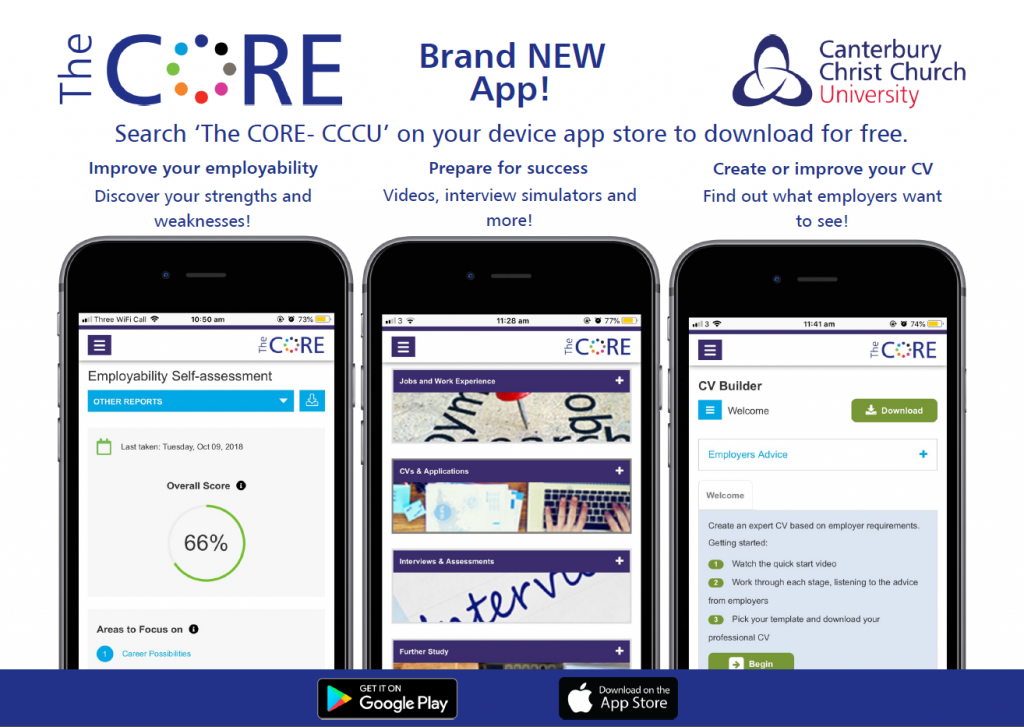 With the app, you can access all of the same great features of The CORE on your mobile device, meaning you can:
Take your Career Pulse and get your employability report
Build your CV on the go
Book onto a workshop, event or a 1-1 careers appointment
Search and save your job searches
Watch careers and application advice videos from employers anywhere!
Follow and progress your Career Pulse programmes to improve your employability knowledge and skills any time of day, wherever you are!
Find out about your employment rights
Follow steps to success
And you only need to sign in once!
Download The CORE app now for full access to your careers toolkit on the go!


---
You can find us on: