Ambassador Roles Available

We've got two different types of Ambassador roles available, which we wanted to share information on for you, as great opportunities to earn whilst you learn.
Ok, so before we get into the nitty gritty, a quick reminder: these opportunities are exciting, but you want to get them right and make the most of them. So, run your CV through CV360 on the Careers and Enterprise Hub, and get someone else to run through your application and give you a hand with it. Email careers@canterbury.ac.uk and we can give you a hand too if you'd like our support.
GradForce Ambassador:
To apply: https://www.unitemps.com/Search/JobDetails/21432304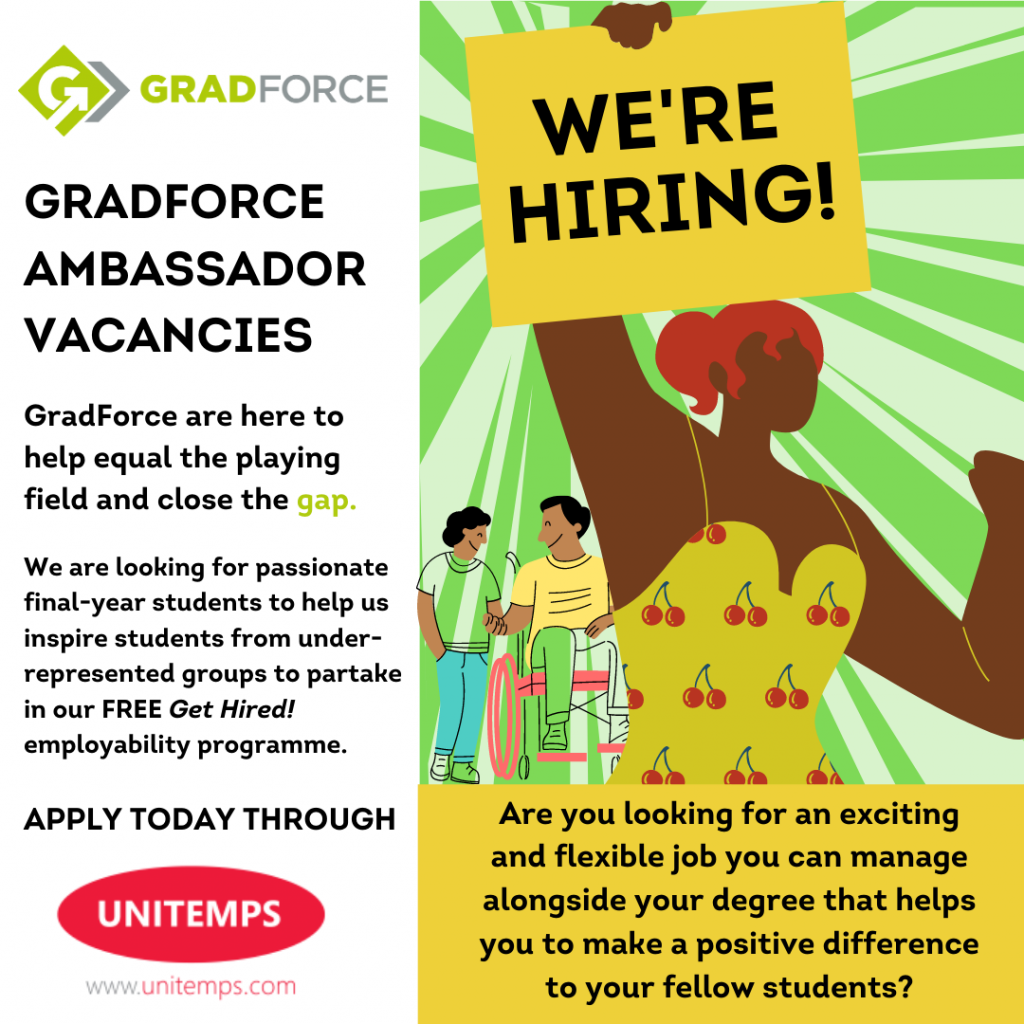 –
–
Enterprise Rent-A-Car Campus Brand Ambassador:



Here's how it works
As a Campus Brand Manager, you'll support our talent acquisition and alumni teams by spreading the word about all the exciting opportunities a job with Enterprise can offer. You'll actively promote Enterprise to university staff and students and be rewarded for your efforts – meaning that whilst others find out how great working for us can be, you'll already be enjoying the benefits. And so will your bank balance.
The job you'll be doing right from the word go, you'll take on several interesting and challenging responsibilities. You'll be involved with all aspects of event marketing including suggesting potential forums, advertising, blogs etc, and making important announcements. Liaising with your university's careers service, you'll make sure our materials are always bang up-to-date, and the student media and societies know about us and what we can offer them. Not to mention getting the chance to attend numerous career and fresher fairs, meeting loads of exciting new people in the process.
The kind of person you'll need to be
We're looking for a current university student with natural sales and persuasion skills, someone with the drive and initiative to shout from the rooftops about the outstanding opportunities Enterprise can offer. Leadership skills are important. Creative skills are important. And an influential character is essential. After all, you'll be helping your fellow students discover a company that could change their life forever.
Principle duties and responsibilities
• Assist with all aspects of event marketing
• Keep content up to date in careers services.
• Actively seek to promote Enterprise to students and acquire contact details of interested parties.
• Suggest and run awareness building activities virtually and potentially on campus too in time to come.
• Advising on student behaviours, lifestyles and opportunities for more effective promotions to students on their campus.
• Liaising with the student media.
• Liaising with student societies and identifying sponsorship opportunities.
• Providing feedback on local events that could be used to promote Enterprise.
• Collecting information about our competitors.
• Attend all careers and fresher's fairs with Enterprise.
What to do next?
Send your CV to monica.c.fowler@ehi and be available to for a short interview on Friday the 23rd October between 9am and 12pm.
Getting further support from The Careers and Enterprise Team at CCCU
You can get ongoing careers support via the following ways: