A letter of… creating opportunities

This week we have some blogs written by our Alumni as letters to our recent graduates. Allow yourself to be challenged, inspired and motivated by their messages.
Dear CCCU Graduates,
This year has been a year like no other.
The pandemic that has engulfed the world and the governmental responses to it has impacted us all individually. Spending day-after-day staring at the same four walls is not something I could have imagined five months after graduating from University. If somebody would have told me then that I would have to wear a mask to the shops and adapt to working from home during the first year of my post Christ Church career, I would've thought they were joking but here we are.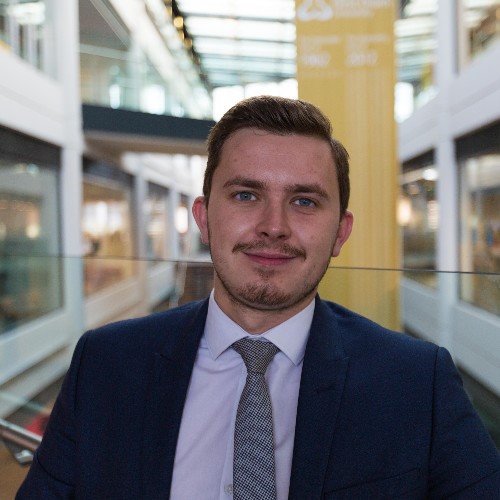 I currently work as a Senior Recruitment Consultant for Hays Recruitment, where I work with schools to find staff and staff to find jobs within schools. As we all know, schools and educational establishments were shut to the majority of students for significant portions of time during the successive lockdowns. This therefore has not been an easy experience and I am glad to work for a company, which has supported me throughout.
I began my career with Hays by meeting my then director at a careers fair at Christ Church, when I was in my third year. I was already in the process of looking for a career after my studies and luckily postponed an interview I had lined up in London that day, to attend the fair. We started chatting at the Hays stand and I was asked to send her my CV. The rest is history.
I am convinced that turning up to the fair dressed for an interview played a part in securing the role.
Either way, I have risen from an entry-level Associate to a Senior Consultant during the middle of a once in a lifetime pandemic.
Without doubt, my time at Christ Church prepared me for the world of work. Not only did I meet my director at the careers fair but my course and the whole University experience taught me skills that have assisted me in the world of work.
During my first week of Uni, one of my lecturers told me that "University is what you make of it" and that has turned out to be true.
During my first term I secured a part-time role through Unitemps, I joined the Boxing Society, becoming Social Secretary in my second year and President during in my third, all while gaining my degree. With the pandemic however, unfortunately many of things may be out of reach. Although, I strongly recommend getting involved in University life wherever you can.
It seems, at last, that the country is finally beginning to turn the page on this pandemic.
From reading the news, it seems that many are predicting economic growth not seen since the 1940's. To me, this indicates that there will be a lot of opportunity on the job market over the next year or so to make up for lost growth over the pandemic.
In my experience, being a Christ Church Graduate puts you in a position to take advantage of this growth and secure a successful career in your chosen field.
Yours Sincerely,
Jack Bidewell, BSc Politics & History CCCU Graduate 2019, now a Senior Recruitment Consultant.
(click the name to connect with Jack on LinkedIn! Don't forget to always add a message when you make a new connection – let Jack know you've read his blog and loved it, you're graduating CCCU and pick out something from the above that has resonated with you or helped you, or ask a question!)
Getting further support from The Careers and Enterprise Team at CCCU
You can get ongoing careers support via the following ways: