As part of the Bridging the Leadership project the project team will be hosting a series of events to share insights and provide opportunities to share best practice with our wider community.
Bridging the Gap to Leadership Webinar 7th April 2021
On 7th April 2021 students taking part in the Bridging the Gap to Leadership delivered a webinar highlighting ways in which educators can take action to provide inclusive learning environments for students and promote diversity within placement practice. Watch the webinar below.
Improving Outcomes for Black, Asian and Minority Ethnic Students in Higher Education 2021, Government Events 30th June 2021
On 30th June 2021 delivered a talk on the importance of co-creation and ensuring an holistic approach to tackling racial inequalities in Higher Education. Titled 'Partners in Learning: Working Together in Community Building, Curriculum Design and Culture Change' the session was co-delivered with CCCU students Ibrahim Fofanah (3rd Year Physiotherapy Student and Member of Bridging the Gap to Leadership Virtual Placement) and Gigi Gittings-Hart (2nd Year Applied Criminology Students and Black, Asian and Ethnic Minority Student Network Co-Chair).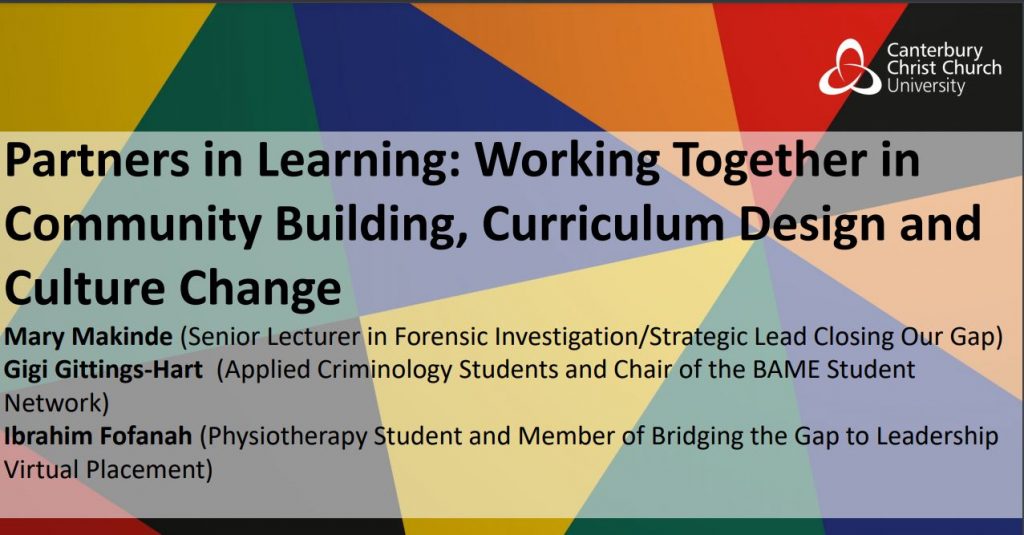 Podcasts
Episode one: David, Han and Issy talk about their experiences and the HEE project.
Episode two: This podcast is an empathy walk with Sabrina Shah, Band 5 rotational physiotherapist at St Georges University Hospitals NHS Foundation Trust, sharing her experiences as a student and graduate.
CoDHcast: #RaceEquityMonth |Bridging the gap to leadership
#RaceEquityMonth CoDHcast series.
This podcast was delivered as part of the Council of Deans of Health Race Equity Month. The podcast covers the experiences of student placements undertaken by students at Canterbury Christ Church University (CCCU) and Brighton University and the role placements play in bridging the gap to leadership.