---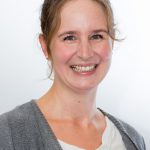 Dr Anke Franz

---
Recent Publications:
Spruin, L., Mazova, K. Franz, A., Mitchell, S., Fernandez, A., Webster, T. & Holt, N. (2019). The use of therapy dogs to support court users in the waiting room. International Criminal Justice Review, 29(3), 284-303. https://doi.org/10.1177/1057567719827063.
Spruin, L., Baker, R., Papadaki, I. Franz, A., & Alleyne, E. (2017). Exploring the belief systems of domestic abuse victims: An exploratory study. Journal of Criminological Research, Policy and Practice, 3, 17-26. https://doi.org/10.1108/JCRPP-10-2016-0028.
Franz, A., Worrell, M., & Vögele, C. (2015). Discourses of sexual relationships in a sample of German and British young people: A Q methodological study. Culture, Health and Sexuality, 18, 391-404. https://doi.org/10.1080/13691058.2015.1089324.
For a full list of publications see my Staff Profile.
Research Interests:
I'm a critical and applied psychologist and I have a keen interest in research which benefits people and the community and which challenges predetermined social ideas and norms. I am passionate about gendered, feminist and sexuality research, such as young people's discourses around sexual experiences and the effects of pornography on young people. I also research animal welfare and dog ownership (e.g., the experience of dog ownership, identifying support or other needs of dog owners, dog adoption and relinquishment, community interventions to facilitate positive dog ownership, and research related to understandings of animal welfare and animal rights).
---
Current Research Projects:
The research projects I am currently involved in are:
Investigating the welfare of assistance dogs. This is in collaboration with Dr Carol Trim (see here for her staff profile).
Investigating the experience of British Muslim women in the UK. This is in collaboration with Dr Dennis Nigbur (see here for his staff profile).
---
Developing Research Areas:
I am also currently developing research related to dog ownership and attachment to dogs, predominantly with regard to dog adoption, fostering, and rescuing. The aim is to explore ways of reducing animals in animal rescue centres and ensuring adopting and fostering a dog is a successful and positive experience.