Third Year BSc Politics Student, Jed Dashwood, blogs about elitism in British politics
The answer to this question seems blindingly obvious. Just tune into the weekly PMQs and you would be forgiven for believing it was the latest series of Monkey World, but these monkeys have suits from Savile Row and the back and forth isn't mud but "witty remarks" they all learned at Eton accompanied by jeering and braying from their chums on the back benches. A culture familiar to public school boys but just about no one else.
Parliament has formed a huge part of UK politics since the 13th Century. In that time its role has changed and the country it represents has changed too, but the culture of Parliament is still centuries behind. Many communities in the UK feel underrepresented in Parliament. Feminists, LGBTQ+, BAME, and disability campaign groups battle tirelessly to address the imbalance that is so prevalent within the UK, and that begins in Westminster. The issue of class seems an old-fashioned argument; and brings to mind images of the 70s Labour Party: whippets, duffle coat and pipe to boot. Feminism, Black Lives Matter and other movements have become synonymous with the age we live in; class issues do not seem to have moved at the same pace as other social justice issues and don't command the same appeal as they once did.
Tangible inequality
Westminster is made up of 29% privately educated members: 18% of its members are grammar school educated. For the first time ever, over half of MPs have gone to state comprehensive schools (51%). Looking at MPs past careers, over half have a history in other political jobs, (business, law and banking), whilst those who have a history in manual labour/engineering make up only 1.3%. There is a disparity between those numbers and the communities they represent; only 7% of the UK is privately educated, 5% have a grammar school education and manual labour makes up 45.8%. This demonstrates that our representatives as a group have little understanding of the lives of the general population that they claim to represent. In a 2014 report the UK as a whole was found to be elitist, and in 2019 a follow-up report found that the same gross inequalities exist, and the rate of change is slow. The report found politics, media and law are some of the elitist industries. Instead of leading with an agenda for change, politicians and political institutions are one of the worst for maintaining inequality in the UK. Parliament is failing to represent the UK and thus failing its working-class communities.
Politicians or aliens
In the most recent Spitting Image series, the outgoing chief advisor to Boris Johnson is depicted as an alien because of his inability to understand humanity. But, is it just his advisor who is so out of touch that he could be seen as extra-terrestrial? Journalists often ask politicians the price of a pint of milk or loaf of bread, usually causing a half decent headline or Twitter storm about how out of touch Parliament and its members are when they inevitably have no idea: Boris Johnson himself failing the hurdle in 2013 in classic Boris style, with a dismissive 'so what'. Tony Blair found the population so alien when in Government that he kept up to date with the people he was supposed to be representing with a weekly video outlining the notable cultural events such as X Factor winners. The incumbent Secretary of State for Transport, Grant Shapps, was criticised for a campaign that reeked of classist perceptions of working class communities with his campaign on cutting tax on bingo and beer: 'giving the working people what they want' was the patronising slogan to accompany it. Nick Clegg hadn't a clue on the state pension, and claimed it was just £30 a week when in reality it was £90. All of these illustrate a Parliament and bunch of parliamentarians that have no idea what the world is like for us who don't live on Mars or in multi-million-pound Kensington homes or wherever it is they in realty come from.
The Institution of Westminster
Not all of the classism in Westminster comes from the individual MPs, but the institution itself. The dress code for Parliamentarians is described as business wear, a dress code comfortable to those in banking or big business, but not those used to working on factory floors or in fast food restaurants. The media attention gained by Labour MP Hugh Gaffney after choosing to wear his old Parcelforce uniform for his first day in Parliament highlights how 'normal' folk are perceived as the real outsiders to the internal clique at Westminster. The culture of Parliament criticises women for almost anything they wear, whether that be too masculine, too feminine or recently a woman dared to show her shoulder. If you don't fit into an elite mould of white, male, wealthy, privately educated, ex banker type, Westminster is likely to be less then welcoming.
Westminster; time for change or time to go?
The 13th Century is well behind us, but still we live with a relic of its time. Westminster Palace itself may have been rebuilt (and in need of another go), but the attitudes of the institution are still predicated upon racism, sexism, homophobia, ableism and classism. The time for Parliament to change is well overdue. Britain has a pattern of holding on to the past, but the cost of this is denying us a Parliament that is modern and fit for purpose; one where all the communities of Britain feel fairly represented and where all communities are celebrated.
The Sutton Trust has calculated that it will take at least 60 years with an election every 5 years for Westminster to be representative in terms of educational background. With women, BAME and other communities facing similar challenges and time frames to having proportionate representation in Westminster, not only is 60 years of more elitism not good enough, but perhaps the bar is just too low? To be represented in an institution founded on the principles of elitism seems a low bar. If the end goal is a truly equal society, is it not time we ditched the institution of Westminster for something less sexist, homophobic, racist, ableist and elitist?
Sadly, Westminster, in its current formation,  does not represent a modern democracy or the United Kingdom, and has run its course. What is required now to is to purge the inequalities, and to do that, Westminster, as a principal source of elitism, has to go. Replacing this needs to be a truly democratic endeavour, one that represents our society as it is, but also adapts to ever changing social norms, is all encompassing and not focused on London or even England. It's time to call time on the old school tie!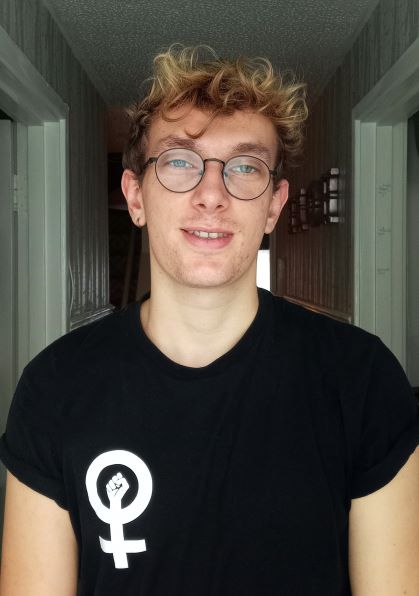 Jed Dashwood is a third year Politics student at Canterbury Christ Church University
This blog was submitted as part of the assessment for Parliamentary Studies on 20 November 2020.
Parliamentary Studies is a third year module taught by Dr Paul Anderson. The module is designed to give students an insider perspective to the workings of Parliament and focuses on topics such as diversity and representation, the devolved legislatures, and the impacts of events such as Brexit and Covid on parliamentary processes. This year's guest speakers have included Mark D'Arcy, the BBC's Parliament correspondent, and former leader of the Scottish Labour Party, Kezia Dugdale.
Image: "41. The House of Commons sits for the first time in the new Parliament, following State Opening" by UK Parliament is licensed under CC BY-NC-ND 2.0