In the next student blog of our series on "The Impact of COVID-19 on Kent and Medway", MSc student Sarah Hughes considers the importance of the internet during lockdown.
The ongoing global Coronavirus pandemic has shown that we need accessible media. While "living in extraordinary times" the role of the internet has changed: from banana bread recipes, to online fitness classes and virtual readings of popular literature, to vital health and security information, the internet has gone from essential to indispensable.
Moreover, information technologies allow the communication of government messages straight into the homes of millions. Aside from the government letter posted to households across the country, all immediate safety and security direction surrounding Covid-19 has been communicated through the televised daily briefings. Unlike before, when missing the 7pm news may have resulted in a lack of conversation around the dinner table, those without access to online media risk more than just a quiet dinner time. Adherence to digitised media is no longer a choice, it is a safety necessity.
Like many others, my screen time has grown since lockdown began. Whether it is mindless scrolling through my Instagram feed or adding items, which I defiantly don't plan to buy (paint by numbers included), to my online shopping basket, I have been reaching for my phone a lot more than usual. But is this a negative? I certainly feel the internet has benefitted me in ways it previously did not.
When lockdown was announced, the prospect of working out from home was less than appealing. I wanted to return to my daily gym classes. However, fitness influencers across digital platforms rose to the challenge and now tuning into 9am live workouts is my new normal. I now relish in the ease of completing my morning exercise without having to get in a car and drive to the gym. Alongside this, the nation-wide discovery of Zoom has revealed a deep love for quizzes, book-clubs or just half an hour of trying to get your grandparents in the video frame. What this pandemic has shown is that we are social. The internet has become a coping mechanism, a window into a room beyond your four walls that allows a sense of collective escapism, if only for the length of a Zoom.
Without the structure of TV and internet, the government would be unable to present news and statistics to the population: COVID-19 has exposed our dependence on the internet as a stabilising agent, both socially and politically. Media no longer exists within society, it is society. It is the Prime Ministerial press conferences, the zoom call to a loved one and the YouTube sourdough starter tutorial. The internet has become an anthropomorphised figure of free information, presenting itself to anyone who wishes to consume it, or the many batches of banana bread it encourages…this is no time for judgment.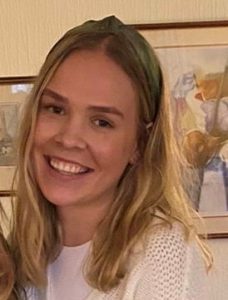 Sarah Louise Hughes is an MSc in International Relations student at Canterbury Christ Church University. She also holds a BSc in International Relations, and is currently working on the topic of 'The Securitization of Meat Eating'.