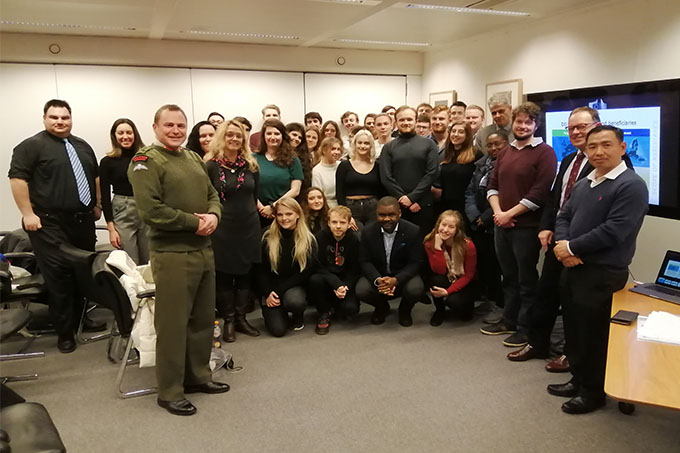 On the 9th and 10th of December 2019, 35 students from our 2nd and 3rd year, together with our MSc students, went to Brussels to speak to representatives from the UK Representation in Brussels, EU institutions and to see how the EU works in practice.
On the first day we visited the Welsh Office in Brussels, where representatives from the UK Representation welcomed us. We had further speakers from the European Commission, including DG Grow and DG Near dealing with EU space policy and the EU's enlargement and neighbourhood policy. Each speaker presented the area they work in briefly, and what the EU is doing in terms of policies and activities.
The day concluded with a city tour, starting at the Grand Place in the centre of Brussels, where we learnt more about the history of Brussels and how it has changed over time, not least as a result of being the capital of the European Union.
On the second day we welcomed Dr Tarik Meziani from the Council of the EU's Integrated Political Crisis Response team. He briefed the students on how the EU's crisis response works and what lessons have been learnt in recent years. After his talk, we went to the European Parliament, where we visited the Parliamentarium, which is the documentation centre of the EP. We saw the original copy of the Schuman Declaration as well as other key documents of the EU.
The trip was funded by our Jean Monnet Chair in European Foreign Policy, which is part of the Erasmus+ funding we have been awarded for 2017-2020.
We would like to thank the UK Representation to the EU, the Wales Office in Brussels, all of our speakers, and particularly John Maas for their contribution to the success of this study trip.