A Chaucerian Deal? Canterbury MP Rosie Duffield's Maiden Speech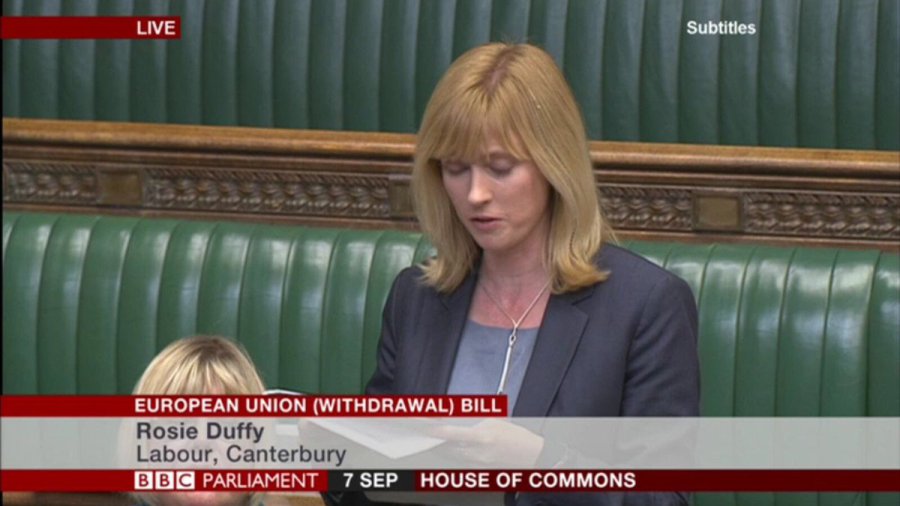 Professor Amelia Hadfield, Jean Monnet Chair and Director of the Centre for European Studies at Canterbury Christ Church University, comments on the maiden speech of the new Canterbury MP Rosie Duffield.*
Making History
On Thursday, September 7, 2017, for the first time in British Parliamentary history, a woman parliamentarian spoke on behalf of the people of Canterbury and Whitstable. As if this wasn't seismic enough, the lady representative spoke not from the Conservative but from the Opposition backbenches! These epochal shifts were not lost on Canterbury's new Labour MP, Rosie Duffield, who set the stage by identifying Canterbury –  "famous as a place of pilgrimage" – thanks to the likes of Geoffrey Chaucer.
Duffield suggested Chaucer was emblematic of Kent's early international identity, arguing that in 1370, Chaucer was deployed by Edward III to negotiate a trade agreement between Genoa and England, which Chaucer duly completed to the benefit of both sides (not bad for a budding author). Duffield wondered whether "our current Brexit negotiations with the EU will be as successful", reflecting that "after nearly 650 years, we would have picked up a tip or two!"
Duffield's maiden speech however did not dwell on the past, but placed Brexit and the NHS, at the forefront of her agenda. This makes a change from Canterbury's previous tradition of political representation. The MP noted the differences between her agenda and those of her predecessor Sir Julian Brazier, including "equal marriage, Brexit and a woman's right to choose" though she was charitable enough to also "sincerely wish Sir Julian well for the future". 
Brexit
Duffield then launched a blistering attack on the national and local challenges being brought about by Brexit, beginning with the Rural Economy. A key area for Kent, both agriculture and the soft fruit industry have emerged as areas of real vulnerability, due to ongoing uncertainties over labour and mobility.
As Duffield argued, "many of the fruit pickers are European… I want only the sort of Brexit that protects the rights of EU nationals to work in the EU".
She's right. Based on the data gathered and analysed in CCCU's Centre for European Studies (CEFEUS) July 2017 report ('Kent and Medway: Making a Success of Brexit – A sectoral analysis of SME's and the Rural Economy'), 15% of Kent's workforce is based in the food industry, while there are 15,000 farm jobs in the Garden of England: jobs populated largely by Europeans. Indeed, 65% of agricultural workers come to the UK from the EU, in contrast to 5% from the UK itself. We worked with a variety of key stakeholders on this report, including the National Farmers Union. A recent NFU survey found that of the 13,400 workers recruited on seasonal contracts between January and May 2017, 75% were Bulgarian and Romanian. A mere fourteen individuals were British. The numbers are pretty clear.
In the wake of this week's leaked Home Office documents indicating a drastic curtailing of low and high skilled EU workers, the impact of such strategies upon Kent's rural economy is akin to economic suicide. Yet the current government appears devoid of the creative solutions, diplomatic skill, and technical expertise needed to successfully execute this most challenging of multi-sectoral, cross-border deals. On this point, the British public is running out of patience. As Duffield suggested, "people want a good deal. They do not want no deal; this is not a television game show with a snappy title. We must come out with a deal that does not send us back into the economic dark ages."
At present, Kent is heading back towards those perilous times. Its rural economy will soon falter unless swift and serious solutions emerge. Let's bear in mind that in the soft fruit sector alone (and the pride of Kent) will require c. 31,095 seasonal workers by 2020. The outcome is perilously simple: a loss of labour will result in less soft fruit being grown, thus increasing imports to the UK from other countries, and an increase in cost to farmers, retailers and consumers (strawberries and raspberries alone could increase in price by 35-50%).
CEFEUS' July report looks at the idea of resurrecting the (now defunct) Seasonal Agricultural Workers Scheme (SAWS), established when temporary immigration restrictions were placed on Bulgaria and Romania. As we established, SAWS controlled the number, timing and return of seasonal workers, making life easier for farmers. As neighbouring M.P. for Faversham and Mid-Kent Helen Whately argued in the Commons (November 2016) 'SAWS had robust entry and exit checks, which meant that more than 98% of those who came to work in the UK returned home when their work was complete.'
NHS
Duffield then looked in detail at the NHS, and the challenges faced by the Kent and Canterbury Hospital. In her words:
"I must speak up to save our nation's sickest patient, because that is what the NHS is. Our NHS is the nation's sickest patient, and the Government must be careful that, while burying their heads in Brexit, they do not leave her to die… For example, we want to continue to welcome the foreign doctors, nurses and other healthcare professionals who have worked in our hospitals."
Here again however, labour and skills are key. Presently there are c. 130,000 health and care workers from the EU working in the UK, 10% of whom are doctors, and 5% nurses (NHS Confederation; 2016). Meanwhile, one third of nursing jobs with the Medway NHS Trust remain vacant, prompting Kent and Medway (along with 10 other areas) to actively encourage international doctors to relocate to England (Kent Messenger, 16th August 2017). Duffield therefore has a real challenge; the research on local healthcare undertaken by CEFEUS throughout autumn 2017 is designed to provide her and other stakeholders with key analysis in this respect.
Parting Shots
In sum? Well done. A maiden speech has to balance the novelty of being a new MP against the weight of local expectations and national requirements. Add to that the sheer weight of history and the specific challenges of Canterbury itself, and it adds up to a busy parliamentary term.  Rosie Duffield began well by simply speaking truth to power, identifying key community needs, and making clear that more needs to be done, from Brexit to healthcare. Onwards and upwards!
 _________________________________
*Thanks are due to Mr Christian Turner, 2017-18 CEFEUS undergraduate coordinator, for help with this post.