A student view on the GE2017 result: Canterbury and Whitstable constituency, thank you.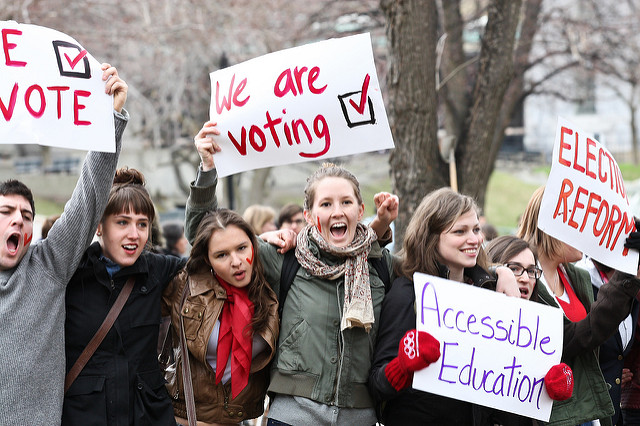 One week after the 2017 UK General Election, our student Liz Bailey offers a commentary on the result in Canterbury and Whitstable from a student's perspective
The UK's First-Past-The-Post system has always made politics seem like a losing battle in Canterbury. This seat is a Conservative safe seat of over 160 years, with the 2015 election producing a 10,000 vote majority to ex-MP and arch-conservative Sir Julian Brazier. From the start of the snap election it seemed like business as usual for non-Conservative voters, put up a fair fight but have a graceful defeat to the Tories. However, this was no ordinary general election. This time it was personal.
Students from all over Canterbury have always had the ability to oust Brazier, but have never had a big enough push to do so. Students would vote in home constituencies or not vote at all. The EU referendum was the first spark in this almighty fire that has led to Brazier's fall from grace. Young people turned out in record numbers to show their support for the EU nationwide but were brushed aside when the results came out. The Conservatives continued to undermine young people, increasing tuition fees and slashing funds for things we all hold dear like the NHS. Brazier, in particular, being so pro hard Brexit, homophobic and generally an outdated relic began to creep into Canterbury residents' crosshairs.
Polls had suggested that Canterbury could be a swing seat, but it was too good to be true, right? Never trust the polls, they were wrong about the last election and the referendum. It's a safe seat, they're the unsinkable ships that harbour thousands of loyal Tories. But like the RMS Titanic this safe seat had an iceberg. Rosie Duffield. A new Labour candidate who is passionately dedicated to local issues like the Kent & Canterbury Hospital. A fresh-faced, young and energetic politician who rallied support with the young, the old and everyone in-between.
Election day gave way for an uneasy feeling, hope. Hope that just maybe the residents of Canterbury and Whitstable had come together in order to elect a real representative of this constituency. Someone who will listen to people, young and old, rich and poor. Someone who is with the times and supports everyone regardless of sexuality, religion or race. Someone who understands the residents of Canterbury and who will truly and to the best of their ability fight for this city. Nationwide Labour stole seats left and right, and although Labour didn't win this election (in terms of getting 326 seats) they certainly did not lose it either.
May called this election in the hope that young people would remain complacent in politics. She, without a second thought, disregarded the importance of young people. The Conservatives lost and hope has won. Any result except a Tory landslide would have been a victory for me, but I could have never anticipated the result in Canterbury. I always thought of safe seats as a large dominating force and I was right. What I was wrong about was the ability of progressive people to come together to form an even bigger force and decimate a 10,000 vote majority. For this reason, I thank you, to all of those who voted Labour (either by preference or tactically). I thank those who dedicated hours to campaigning. I thank the young people who said enough is enough. I thank Rosie Duffield for being an amazing candidate. I thank Canterbury and Whitstable constituency for breaking the mould. But above all, I thank Theresa May, who without her disregard for progressive people she would have never called this election. Without her complacency we would have never have had the push we needed to oust Brazier, or see the true impact that we can have on politics.
Liz Bailey is second year undergraduate student in Politics at Canterbury Christ Church University. She currently works as communication manager for the Centre for European Studies (CEFEUS) and as a research assistant for the politics team at CCCU.
She tweets @LizzieBailey96