This semester second year students Natalie Tungate and Daniel Randall have been working with the David Baron Collection, a newly acquired collection of objects and Victorian Judaica.
Baron, who was born in Suwalki in 1855 was a Jewish Convert to Christianity and co-founder of the Hebrew Christian Testimony to Israel missionary organisation. His collection of teaching objects was kindly donated to Canterbury Christ Church Library in the Spring of 2022 by Hugh Carson, a descendant of Fanny Kingsford, the wife of David Baron. Hugh had learned of the work of Dr Maria Diemling, Reader in Jewish-Christian relations in the School of Humanities and Educational Studies and felt that the collection would be a good fit for the university. Maria had already worked with the Klatovy Torah scroll in Ramsgate and so had a good understanding of Jewish object culture.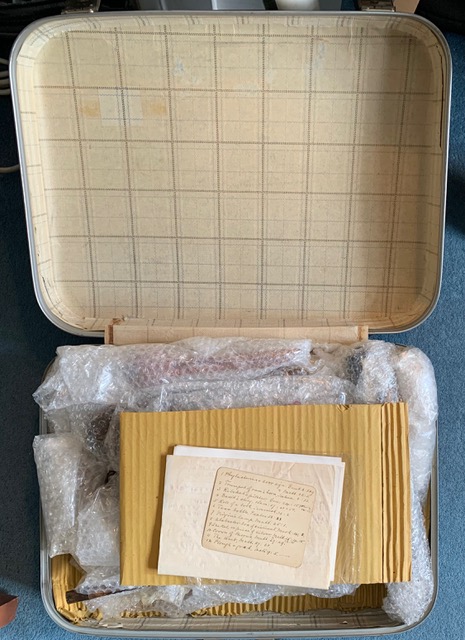 David Baron suitcase held at the CCCU Library archive
Last Autumn, Maria brought her second-year students to visit the collection which is held in the university archives to discover more about its content. The session allowed students to handle the collection of objects as well as read primary source material about the life of David Baron.
Daniel Randall's story
One of the students, Daniel Randall, was keen to find out more about the collection and decided to use it during his second semester module Humanities in a Digital World.
Having identified that the Wikipedia page about David Baron was sparse, Daniel in the spirit of citizen humanities, researched and updated the page to include more biographical and contextual information.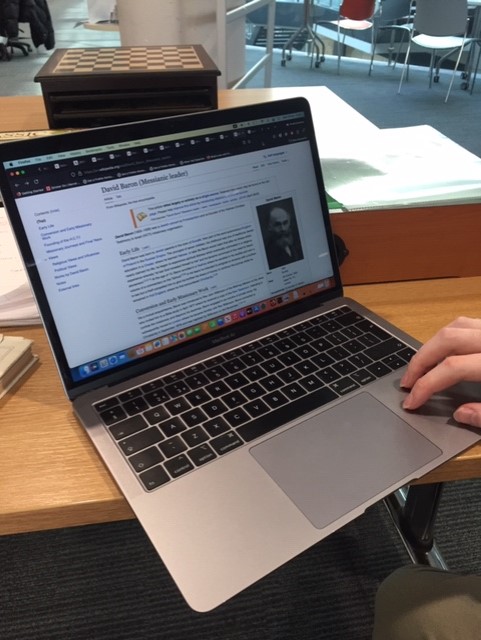 Daniel editing the Wikipedia page
Using a copy of David Baron and the Hebrew Christian Testimony to Israel which Maria had found in an evangelical bookshop in Belfast, Daniel added information about Baron's life but was careful not to rely solely on this source, which had been written by the Hebrew Christian Testimony to Israel, as this might introduce bias and so he supplemented the information with additional sources such as newspaper reports.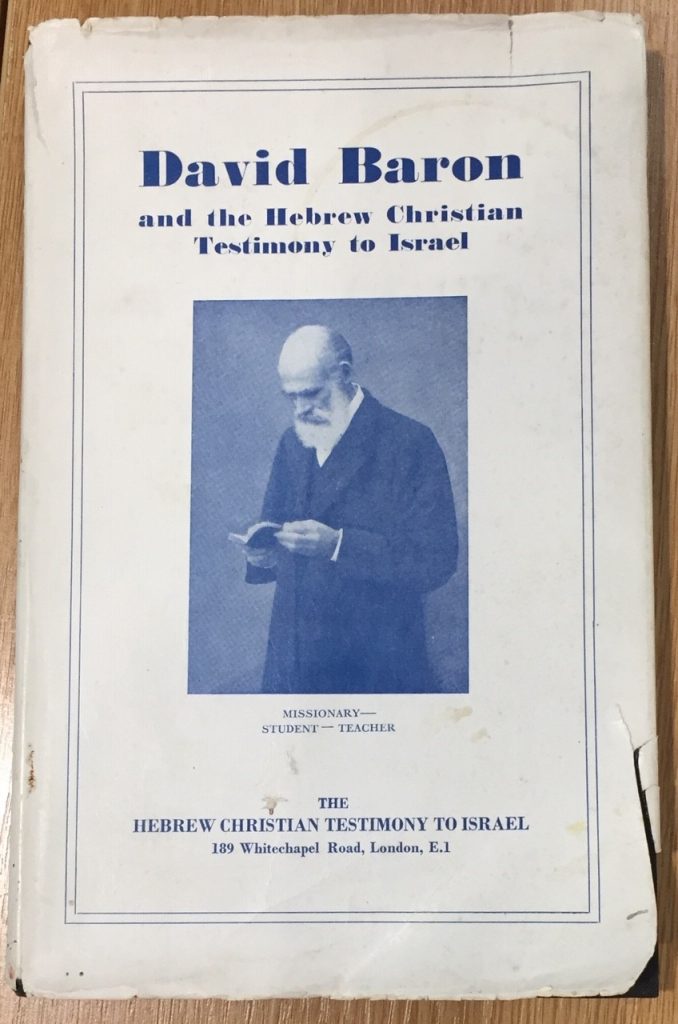 A lucky find in a Belfast bookshop
As a result of Daniel's research, he was able to contribute an article about David Baron to the Kent Maps Online project focussing on David's connections with the Kingsford family of Dover and the Mildmay Mission in Dover and Ramsgate.
Not content with sharing purely textual information, Daniel decided to create some 3D models of the objects using photogrammetry which is the art and science of extracting 3D information from photographs. The process involves taking overlapping photographs of an object, structure or space and converting them into 2D or 3D digital models. Daniel used a software called Polycam which can be used on a smartphone.
Daniel has uploaded a 3D image of David Baron's Shofar on Wikimedia (sadly the colour version cannot be viewed) and embedded it on the Wikipedia page. JSTOR Labs who support the Kent Maps project are now looking to see if these 3D objects can be embedded into their site also. (Quite the innovator, Daniel!)
Natalie Tungate's story
Natalie Tungate, a second year history student, who had heard about the collection through the Applied Humanities Employability in Practice module, was also keen to work with the objects. She wanted to understand more about the significance of the objects to the Hebrew Christians, and created an interpretation video with Library and Information Adviser, Ben Marchant, to accompany the collection, which you can watch below:
As a result of this, Natalie was invited to speak at the Kent Maps Online Symposium about David Baron and the Hebrew Christians and met Hugh Carson the donor of the collection, who was clearly moved by the excellent research that she had undertaken into the life of Baron. Natalie was keen to stress the role that the collection could play for interfaith dialogue acknowledging Jewish views on proselytization and stressing that Baron's work may be seen as controversial today.
It has been a huge privilege working with Natalie and Daniel on their projects.
If you are interested in looking at the David Baron collection or using it in your teaching, do get in touch with Michelle Crowther, Learning and Research Librarian for Humanities, Languages, Health, Medicine and Social Care at michelle.crowther1@canterbury.ac.uk