In a history/science mash-up, Barton Court sixth-former Trinity Barber explores what Augustine House Library archives and special collections have to offer for scientists. Read on to find out what she has discovered.
Sir Isaac Newton, Principia and the Earls of Portsmouth
The library's special collections has a four-volume set of Newton's Principia published in Glasgow in 1822. The books have brown calf binding and bear the crest of the Earls of Portsmouth in gold. The Earl of Portsmouth in 1822 was John Charles Wallop, 3rd Earl of Portsmouth, who had lived with the Austen family at Steventon as a boy. He was mentally unstable and his affairs were managed by trustees. John's grandmother Catherine Conduitt was the great-niece of Sir Isaac Newton and the family had a collection of Newton's papers at their home at Hurstbourne Park.
The 1822 edition of Principia was published by Glasgow University Press after Sir Isaac Newton's death. It was a re-issue of the 1739-42 edition which had been compiled by two French priests, Peres Thomas LeSeur and Francois Jacquier, of the Minim order. It was edited by John Wright whose library borrowing records can be viewed at the University of Glasgow. Newton's Principia was the first book Wright borrowed.
Newton's Principia (the full title being the Mathematical Principles of Natural Philosophy) was published on July 5 1687 and is a compilation of Newton's laws and theories. It is Newton's most celebrated work and has shaped our understanding of the world. In it, Newton introduced his theory of gravity, arguing that the universe is made up of mainly empty space, but that this space is full of gravitational forces, causing objects no matter the size to be pulled towards each other.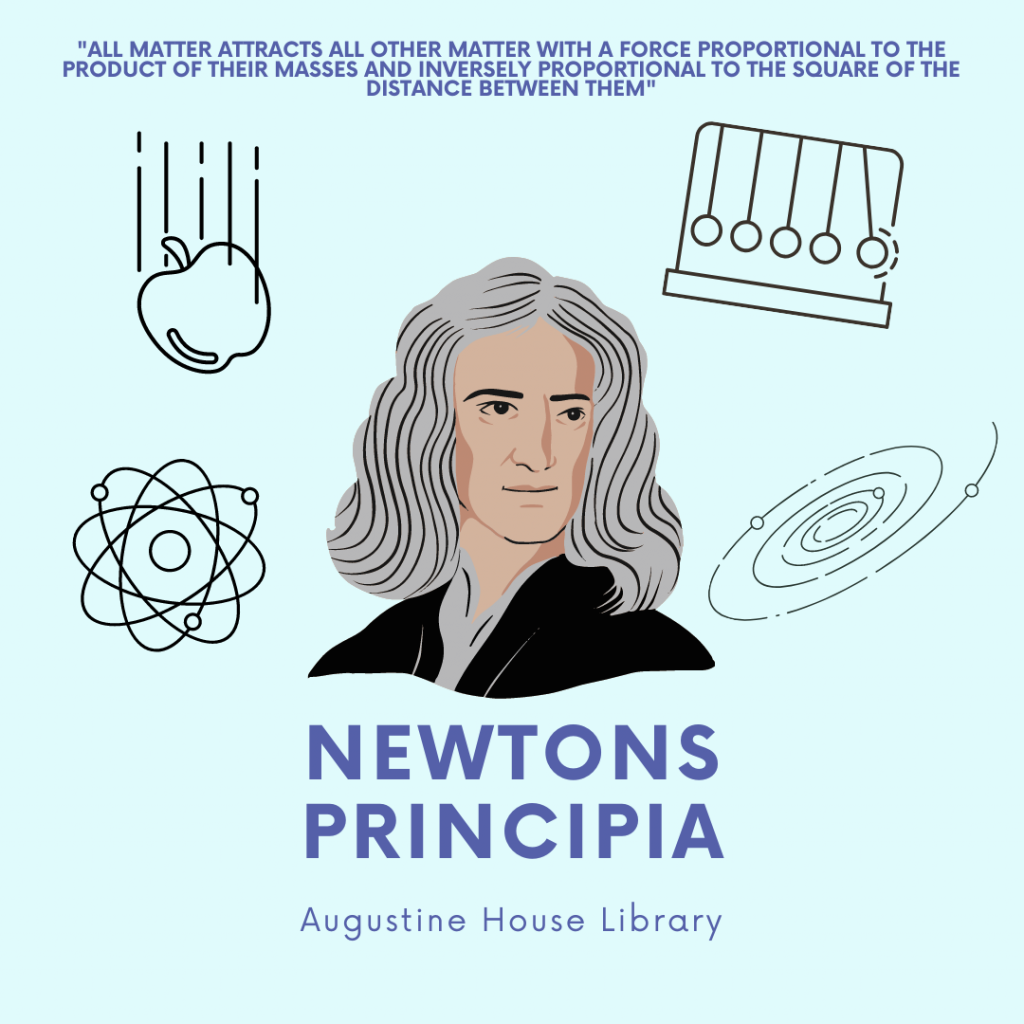 Accompanying the CCCU volumes is a letter from the University of Cambridge, which outlines their provenance. They were part of the collections of the Earls of Portsmouth which were disposed of after the auction at Sotheby's in July 1936. The Newton Papers were auctioned after the death of the widow of the 6th Earl of Portsmouth who was living at Hurstbourne. The 7th Earl had died and the 8th Earl lived in Colorado.
However, the books have had another life, as one volume is stamped with the crest of the Bible Christian College Library, Shebbear, Devon. The college was founded in 1829 and the 5th Earl of Porstmouth, who was named Isaac Newton Wallop, opened a block of new buildings at the College in 1878. Perhaps the four-volume set arrived at Hurstbourne much later and was kept on the shelves of the Wallops Devon estate, Eggesford House, which was 18 miles away from Shebbear.
Eggesford House was rebuilt in 1822 by the 4th Earl, who may have ordered the book for his new library. However, the 4th Earl did not use the Wallop crest, preferring the crest of his uncle, Henry Fellowes, so it seems more likely that Isaac Newton Wallop bought the book after he inherited the estate three years later (not surprising for a man who so revered his namesake that he sent all Newton's papers off to Cambridge for cataloguing). Eggesford House was sold in 1913, so the Bible College could have acquired the volumes then, but how they then ended up in the 1936 auction at Sotheby's is a mystery.
Science for All (or the Victorian definition of "all")
In her search for more science in the archives, Trinity found five volumes of Science for All edited by Robert Brown M.A. Ph.D., F.L.S., F.R.G.S and donated to CCCU by Folkestone Public Library. What is interesting is the way the authors have tried to engage their readers in popular science with articles entitled: "The chemistry of a plain breakfast", "The chemistry of the dinner table" and "Nerves or no nerves? or the art of feeling". What is not surprising is the authorship – all men! Published between 1883-1888, the editor presumably did not think about soliciting articles from some of the leading female scientists of the day such as Alice Johnson, zoologist and Marian Farquharson, naturalist. Instead, women such as Dr Louisa Atkins, who was one of the first women to qualify as a doctor, wrote for Mother's Companion dispensing advice on health and hygiene in the home. Science for all, but not by all.
Within one of the volumes, we did find one illustration that acknowledged the existence of women!
British Association for the Advancement of Science (Collections on the History of Science: 1830-1970)
Okay, so this one isn't strictly speaking in our archives, but we do have institutional access to it, so it's definitely worth a mention, particularly for the armchair archivist. It has some cool visualization and exploration features. Being keyword searchable, it is easy to find articles with scientific but also local interest e.g. On the Geological Conditions Affecting the Construction of a Tunnel between England and France by Joseph Prestwich and James Forrest, University of Glasgow, Lord Kelvin Monographs, 1874.
And if you like digital collections, then the UK Medical Heritage Library is also worth a look at. This has some interesting visualizations e.g. the Medical Conditions Dendrogram and Sunburst which allow you to see the number of publications in the collection that mention specific medical conditions. You can find publications such as the Animadversions on the nature and on the cure of the dropsy (1796) and The old vegetable neurotics (1869).
Maudson's Chemist Book
An early 20th-century prescription book that belonged to Maudson chemists, Westgate, Canterbury provides an interesting insight into the treatment of ailments. It includes prescriptions for medicines such as glycerine, oxymel scillae and chlorodyne. By searching the UK Medical Heritage Library collection for these medicines, it is possible to establish what chemists used these for. A copy of Elements of pharmacy, materia medica, and therapeutics published by Bailliere, Tindall And Cox in 1910 shows that oxymel scillae was prepared by "macerating 2 and a half ozs. squill in 2 and a half ozs of acetic acid and 8 ozs. of water; mixing the filtrate (10 oz.) with 27 fl. ozs. liquefied clarified honey, or q.s. to produce S.G. Expectorant. Dose 0.5 to 1 drop." It was used to relieve chest congestion.
Kent Maps Online
To complete her placement with CCCU library, Trinity co-authored an article for Kent Maps Online about Anna Atkins, botanist and photographer. Hurrah for women in science! This involved using Github, a platform which is used to share research data. You can read more about Kent's famous scientists here.
We wish Trinity well in her A-levels.