Finding out about Ramadan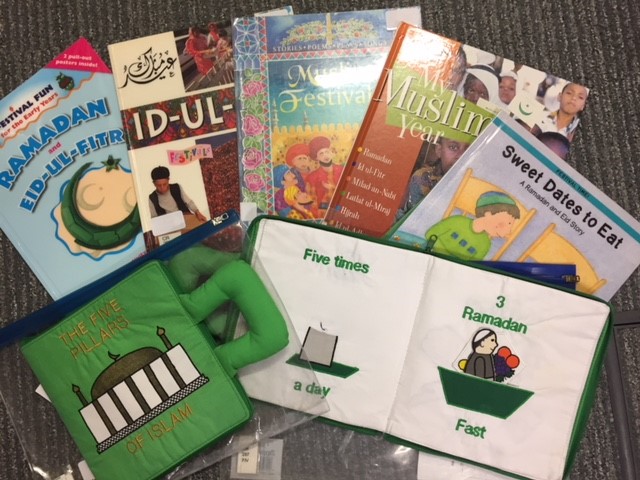 What is Ramadan?
Ramaḍān is the ninth month of the Islamic calendar, it is 30 days of ṣiyām (fasting) in commemoration of the first revelation of the Qur'an to the Prophet Muhammad (SAWS).
This year Ramaḍān begins on Monday 6th May, although the official beginning of the month long ṣawm (fast) is with the sunset on the 5th May, and Ramaḍān ends when the new moon is visible or 30 days of ṣiyām has past therefore this year it will end on Tuesday 4th June. Ramaḍān ends with Eid-al-Fitr, this is a massive celebration of the end of the ṣiyām and falls on the first day of Shawwal, it is the only day of this month where Muslims are prohibited from fasting.
What happens during the month of Ramaḍān?
Everyday there is a pre-dawn meal known as suhoor, this must be consumed prior to the first azan (call to prayer), the first prayer being Fajr usually performed between 02:00 and 03:00. If a person is still consuming food after the first azan then they are disqualified from that day's fasting. Through the day, a fasting Muslim must not eat any food, drink any liquids or engage in sexual activity. There are exceptions to the food or drink rule for those who are ill, pregnant, menstruating, elderly, diabetic, and for children under the age of 12 years. After the Maghrib prayer has been performed and the sun has set, the days fasting temporarily ends until the Fajr of the next day.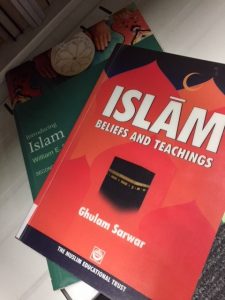 There is so much meaning to Ramaḍān for the Muslim community. Ṣiyām or fasting means abstention, this abstention over the 30 days is undertaken to heighten the body's awareness of its own needs. Consequently, one gains a greater awareness of the presence of Allah (SWT). Islamic scholar Ziauddin Sardar (2006) in his book What do Muslims Believe? (297 SAR) has described this annual ritual to be a time where Muslims can exercise their self-assurance as well as self-control. Just as many people exercise the body to maintain their health, Muslims ṣawm to exercise and maintain a good moral resolve. It is important to demonstrate a good moral resolve and this is depicted within the Qur'an in surah Al-Baqara, where the doors to heaven remain open during the month of Ramaḍān. Consequently, many Muslims will perform extra prayers such as the Qiyam or a sunrise prayer. Furthermore, the Imam will encourage the household to read the Qur'an from cover to cover over the period of the 30 days (which can be between 541-641 pages depending on font size). These are just two examples of how Muslims show devotion to Allah (SWT) during this sacred month.
Rami Younes, International Relations & Partnerships Manager at the Uni, has recommended the following website which highlights the social/human side of Ramadan and explains why Muslims abstain from food and drink during the day:
http://www.islamicinsights.com/religion/the-spiritual-and-ethical-dimension-of-ramadan.html
Charitable or giving acts are also very common within this month, for example the organisation Muslim Aid are utilising the Iftar to run a fundraising event for their charity projects. Muslim Aid, in association with EMERALD, are hosting a Iftar at the Shard – Sunset in the sky on Friday 24th May at 18:00, this event is a 'spiritual high' were one can watch London light up as the sun sets whilst eating at the Shangri-La restaurant and listen to guest speakers.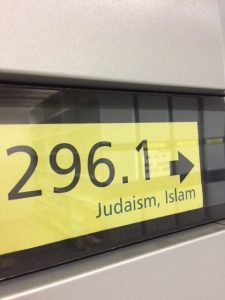 You can explore some of the resources in Augustine House to find out more.
If you are looking for a quick read, try Malise Ruthven's Islam: a very short introduction (297 RUT) or Ruqaiyyah Waris Maqsood's Islam (297 MAQ).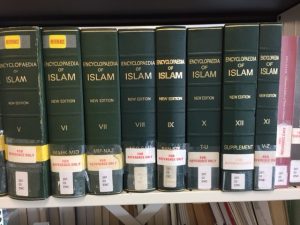 For an in depth article on Ramadan, try:
The Encyclopedia of Islam (297.03 ENC)
There are also some excellent titles in the Curriculum Resources section about Ramadan which will be useful to primary education students who are going on teaching practice. From Suhai B Hamid Ghazi's beautifully illustrated picture book on Ramadan (CR297. 36 GHA) to Carole Court's activity pack Ramadan and Eid-ul-Fitr (CR297.36 COU) which is part of the 'Festival Fun for the Early Years' series.
Ramadan Kareem!
Today's blog post has been written by Elissa Brady, a second year theology student, who is working in the library on a 40 hour work placement as part of the Applied Humanites: Employability in Practice Module. The module aims to introduce Humanities students to a range of work-related skills such as communication, teamwork, problem solving, decision¬making, initiative, and creativity, thus improving their employability. Elissa has been working with the theology book stock, using her discipline knowledge to critically evaluate material. Elissa became interested in world religions during her first year when she studied Understanding World Religions and has recently completed an optional module on Islam.