Frida Kahlo
Magdalena Carmen Frieda Kahlo y Calderon was born in Mexico July 6th 1907 to a German father and a Mexican mother of Spanish and Native American descent. You may recognise her as Frida Kahlo. It is said she actually went by the name spelt as 'Frieda' taken from the German word meaning 'peace' but at the age of 25 years she changed her name to 'Frida Kahlo' as we remember her today.

Tate Modern Director Vicente Todoli comments,
"Frida has become one of the most celebrated artists of the twentieth century"
Taken from the following book "Frida Kahlo"
This edition was published for an exhibition at Tate Modern 9th June – 9th October 2005 You can find a copy of the book above on LibrarySearch
Who was Frida Kahlo?
Frida Kahlo was an iconic artist. Some put her within the Surrealist category of her time much to her dismay. Frida Kahlo has become an inspiration to me and many others I'm sure, because of her art but also her lifelong battle with pain, setbacks and disability. This did not let her stop her achieving so much within her short life. Throughout everything she went through, Frida continued to paint and create masterpieces. She was to become an artist, her work to be admired around the world. This was not her lifelong plan though; this was something that fell into place when she was just 18 years of age.
Frieda (Frida) the early years.
As a child Frida caught Polio, she was very ill and at just 8 years old, one of her legs became thinner and much shorter than the other. She did not let this limit her accomplishments. She became interested in politics, she had a love for the Mexican traditions, she admired artists and possessed a love for art but Frida never thought of becoming an artist. She liked art, and her father already had a love of creative art; he was a photographer and architect. Frida was studying to be a doctor she took lectures and studied hard at one of Mexico's finest medical schools.
Frida wanted to make a difference to people's lives from such a young age.
"Frida pushed boundaries to make a difference".
Frida pushed against boundaries.
Frida pushed boundaries as a young woman she would dress in a man's suit for family photos.
Family photo. Sisters; Adriana and Cristina and Frida (wearing a man's suit) and cousins Carmen Romero and Carlos Veraza. Photo taken by Guillermo Kahlo (Frida's Father) 1926.

You can see the photo above and read more about Frida at this time from the book Frida Kahlo, 1907-1954: pain and passion by Andrea Kettenmann which can be discovered using LibrarySearch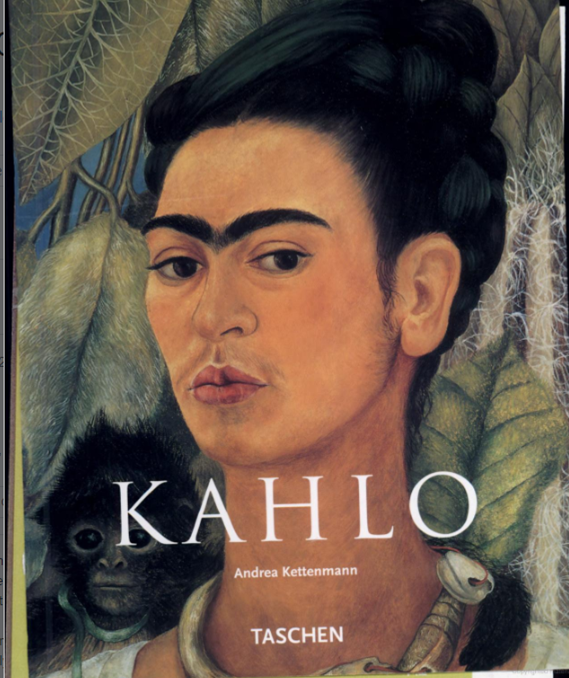 Cover: Frida Kahlo, 1907-1954: pain and passion.
Gender was not something she thought about; she disregarded limitations of gender. Frida would fall in love with creative minds which resulted in her having relationships with both men and women. She would fight for what she believed. At a young age Frida would go on marches, protesting, would fight for workers' rights and be an advocate for women's rights.
What led Frida to want to paint?
At the age of 18 Frida's life would change her life path forever!
She would catch the bus to and from school but unfortunately, on the 17th September 1925 while travelling home from school, the bus was involved in a terrible crash. Most of the passengers were pronounced dead at the scene but Frida was still alive although the doctors said it was a miracle that Frida would survive such an accident. Frida sustained very bad injuries, a broken spinal column, collar bone, ribs, pelvis, 11 fractures in her leg and an iron handrail punctured her abdomen and uterus. She had extensive operations and was bedridden for 3 months, living within a full body cast at home.
Fridas injuries led her to inspiration.
This horrific accident led to a life of art and discovery for Frida. A gift of a paint set from her mother and a mirror which sat above her bed led Frida to use what must have felt like an endless time to paint.
Frida once said,
"I paint myself because I am often alone and I am the subject I know best"
You can see from her art and sketches at this time how Frida was feeling, the pain comes through and will continue to come through in her art to come.

Below is one of the sketches she makes from that fateful day titled; 'The accident 1926'. Viewable on page 18 in the same book above by using LibrarySearch.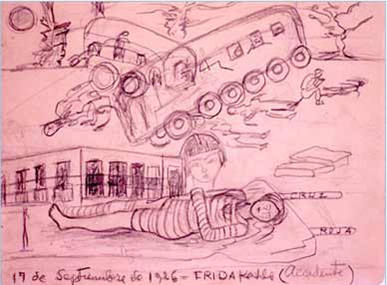 The Accident, 1926.
Frida's art and Disability.
Her first painting was the beginning of her collection of renowned self-portraits, titled;
'Self-portrait in the Velvet Dress'.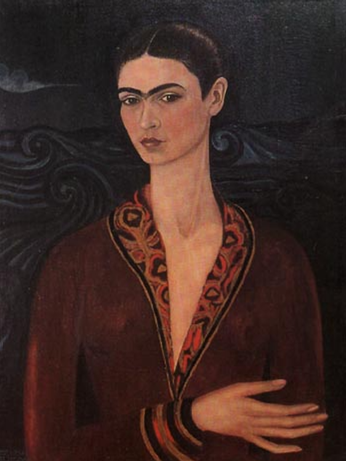 Self Portrait in the Velvet Dress by Frida Kahlo, 1926.

You can see the tone of the painting, dark skies and waves rolling behind her. The dark colours used in the painting, a stern cold face looks out to the viewer.
When Frida was in times of pain from that day of the accident she would turn that pain and feed it into her art. Throughout her life when she felt emotional and physical pain she spares nothing. Her painting becomes dark, she may even show her deformed foot which she was left with from her Polio, or the metal brace surrounding her body. I think it was her way of releasing her pain using a format she loved, her art. I think this is so inspirational to us all who maybe going through pain, trauma and upset, to remember her bravery but also being able to share such personal feeling with her viewers, her audience. It's rather like she is sharing and talking to us, her audience. Isn't that what we all say in times of trouble, sharing a problem often halves it? Sharing upset and trauma and being able to talk to friends or even strangers can help us all experiencing times of trouble.

Kahlo wrote in her diary, edition has been released and is available for loan, discoverable on LibrarySearch.
Cover: The Diary of Frida Kahlo: an intimate self-portrait. Published in its entirety, Frida Kahlo's illustrated journal documents the last ten years of her life. (Discoverable via LibrarySearch)



It has been said that some creative people hide their disability, lived traumas or loss. Frida Kahlo used hers in a way to help her share her pain and tragedy on the canvas using paint or pencil.

Reness Phillips author of 'Healing power of art and artists' comments,

"Through herself portraits she could portray her pain on the canvas. This enabled her to relieve herself of the burden of dealing with her agony".
Frida Kahlo: continued to work.
In 1950 Frida became very unwell again and was in so much pain she was unable to stand. She undertook many operations on her spine. As her health deteriorated and the operations did not help Frida continued to work in the hospital and at home. She managed to paint; she had a special easel made so she could paint while lying flat on her back.
Frida using an adapted Easel, so she could continue to paint, while being ill and confined to her bed.
Frida attended her exhibition.

In 1954, less than a year before her death, she was invited to an exhibition of her own work at Mexico City's Gallery of Contemporary Art. People assumed she would not be able to attend. Frida arrived in an ambulance on a hospital trolley and was able to attend her exhibition of her work, dressed in her favourite Mexican dress.
Frida Kahlo arriving to her all-woman exhibition on a hospital trolley unable to move. 1953.
Frida knew her health was deteriorating but continued to paint her last painting,
even though she knew she was dying.
She titled her last painting as 'Viva la Vida' meaning: A tribute to Life.
Viva la vida by Frida Kahlo. 1954.
On 13th July 1954, Frida died aged 47 years old.
'Viva la Vida' meaning, 'A tribute to Life'.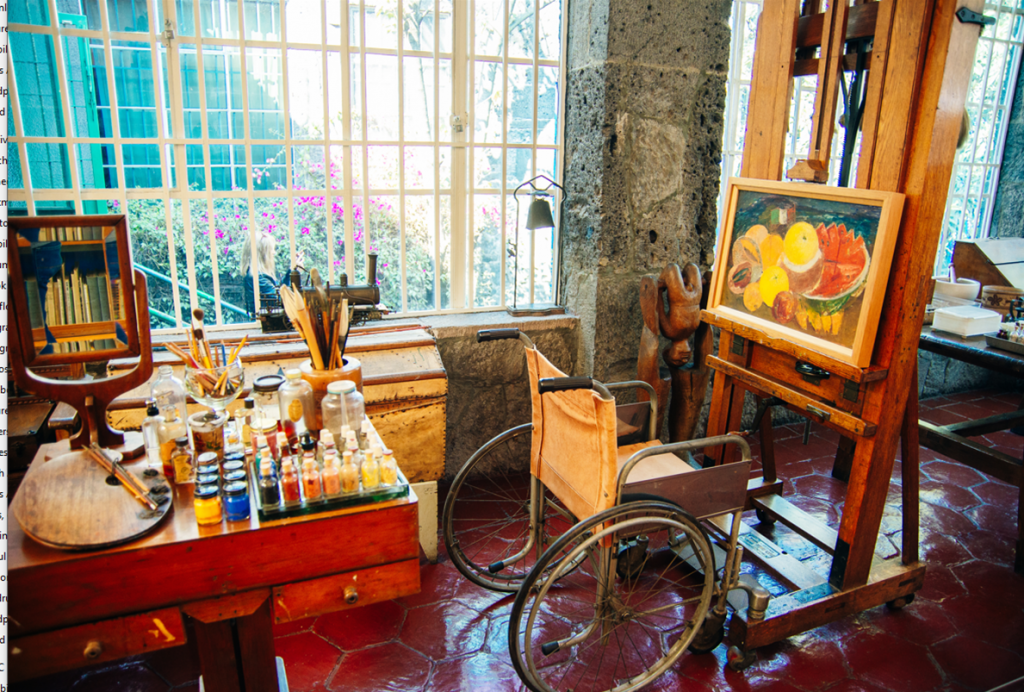 Frida's workspace at her home La Casa Azul (the Blue House), in Coyoacan.

You can find out more about Frida Kahlo by checking out the DVD and documentary discoverable via LibrarySearch.
Why is Frida an Inspirational person.

Art for Frida was her therapy, her way of coping with disability and pain and getting through day to day. But it also portrays; not only her sadness but also her happiness which can be seen; in her love of her husband, family and fondness for pets and animals.
Throughout her life she created a collection of self-portraits, sketches and art, all masterpieces. Frida Kahlo is known for her surrealism, realism, and expressionism also for her themes within her art, surrounding identity, gender, disability, class and race. She can also be remembered today for her pain, passion, boldness and vibrancy.
Frida Kahlo, is still followed by new generations for various reasons, for being an inspirational woman, LGBT icon as well as a Mexican Woman celebrating her culture and heritage within her art.
Personally for me Frida Kahlo will always be one of my favourite artists, I appreciate her art, the colours, the story behind her life and art but also how she builds her pain into her art for release, sharing her pain with us to allow us to see and understand. Maybe we can all learn something from the bravery Frida shows throughout her life.
Additional reading
If you would like to know more about Frida Kahlo we have a collection of her books, both those already discussed within this post but also other editions available from the library.
You may be interested in finding out about Art Therapy and how this can support pain and mental health. Check out LibrarySearch here to find more.