The Canterbury 10 mile road race saw testing conditions on 27th January. The annual event attracted a sell-out cohort of runners, with 1500 participants taking part in a difficult route across the spectacular setting of the Kent Downs.
The rolling country course also saw runners from the newly formed Christ Church Runners, University running club, all looking to take their running to the next level, many with their sights set on greater distances still.
Canterbury Christ Church University Sports Centre served as race HQ, with Christ Church Sport showcasing a variety of services including free sports massage for runners.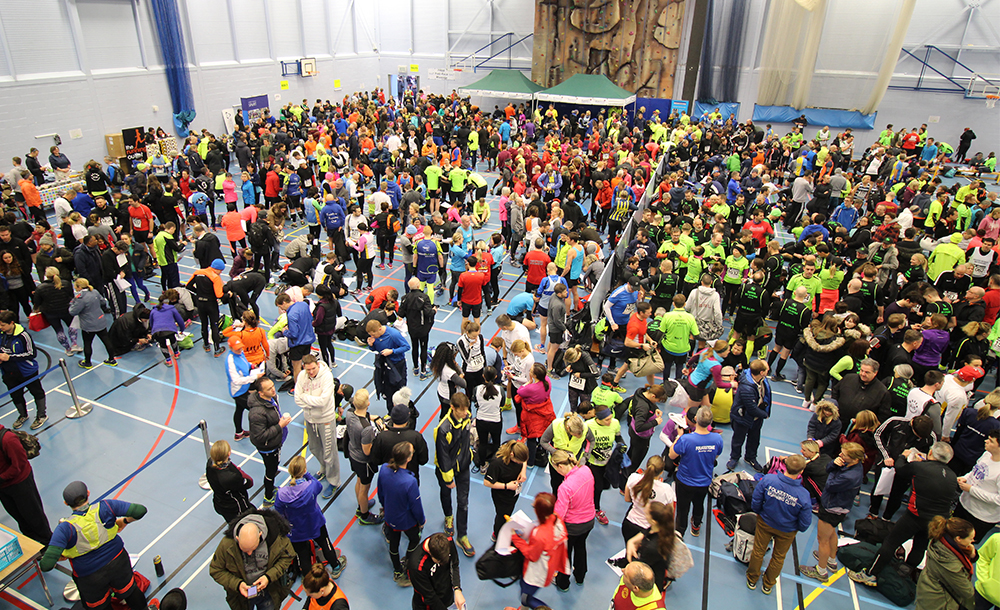 The Christ Church Runners formed in April 2018, and primarily consisted of graduates from the University's Couch to 5k programme. 10 months on the club has 81 members of all abilities, and consists of both staff and students from across the University.
Luke Dunmall, a Couch to 5k graduate, TEL Systems Developer at the University and one of the founding members of the Christ Church Runners, reviews his experiences during the 10 mile road race.
'I had never thought about running 10 miles until the opportunity was presented in the late Autumn of last year. Having completed the Couch to 5k programme at the University at the start of 2018, under the friendly and encouraging guidance of the Christ Church Sport team. The thought of moving from 5 Kilometres to around 16k seemed pretty daunting. Lots of training ensued, particularly over Christmas when the weather (and crisp/snack consumption) was at its worst, and into January. I had scouted the route a week before the event too, so we knew what to expect, the only variable we knew that we couldn't control was the weather…'
"It had been raining sideways a couple of hours previously!"
'On the day, though, everything aligned nicely with the weather behaving by the 10am start time (it had been raining sideways a couple of hours previously). I hadn't taken part in an event of that size before so had underestimated how the sheer number of people would be at first a little intimidating. Fellow Christ Church Runners Duncan, Adem, and I, soon settled into a good pace and even made a little space to run into which proved crucial for Keeper's Hill – a seemingly never ending, narrow incline at around the halfway mark, that I am convinced was specifically put there to punish people who run – as it meant that we weren't affected by other runners and could focus on doing what worked for us. I found it to be a great benefit to run as a small group as we kept each other honest, on the right pace, and could have a laugh to make the time go that little bit quicker; I had found in solo training that mental fatigue set in well before my legs would start to ache, so having two good people at my side kept that at bay. We got a good metronome-like effect going so the run felt like it took care of itself so long as we encouraged ourselves and each other to the finish line. We got in around 1hr 30 which we were delighted with.'
'In one year I have gone from not running to going a full 10 miles and have exhausted the initial goals that I set myself this time last year. The sense of achievement and pride that I felt in myself and the others in the Christ Church Runners, who either crossed that finish line or who turn up every Wednesday lunchtime for our weekly run was and is a great reward. I am looking forward to setting new goals for this year: faster times for my 5 and 10K, longer distances (is a half marathon really a good idea, Luke?), and spending more time running with others.'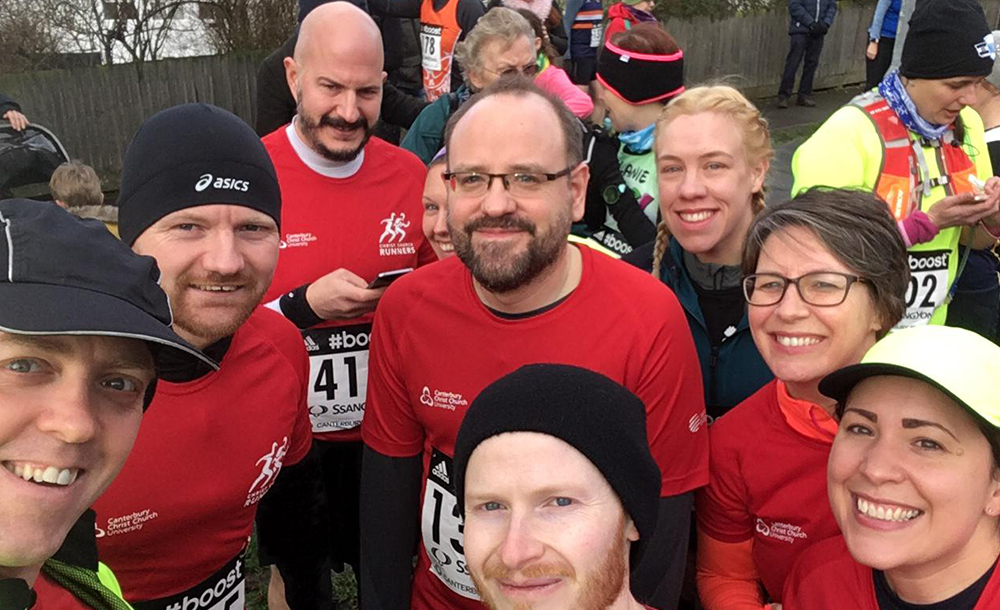 Sandra Browne another of the University's Couch to 5k graduates said 'I never thought that doing a Couch to 5k in January 2018 would lead me to do a Couch to 10 MILES in January 2019 …. And enjoy it!'
Claire Nicholson, a student of Animal science at Canterbury Christ Church University is an accomplished runner and is currently training for the London Marathon. When asked about her training and the Canterbury 10 mile road race, she said 'I'm running a Marathon to improve the lives of youngsters across the UK. I feel like as the training progresses, I'm learning the very lesson they're preaching – during Sunday's Canterbury 10 Mile Road Race, I learned a lesson I've never been taught in quite the same way before. Pace is irrelevant. I've said this before, that everyone is a runner if you run – and I might, just might, be starting to believe it! I'm also beginning to realise, more than ever, that marathon training really is the act of falling in love with the act of moving forward. One foot in front of the other and you'll get their eventually!'
"…and I didn't get wind-induced hypothermia"
'Having said that, during the race, I smashed the target I had, by quite a distance, and I didn't get wind-induced hypothermia! During the race, I met some incredibly lovely people. People who, quite honestly, couldn't give a monkeys about my pace. These were people who I ran with and we could each give each other mutual encouragement – it's amazing what that did to my pace! A special shout out has to go to a gentleman who'd previously run 5 marathons and was busy rescuing the earthworms of Canterbury in the process! These experiences and people is why I run!'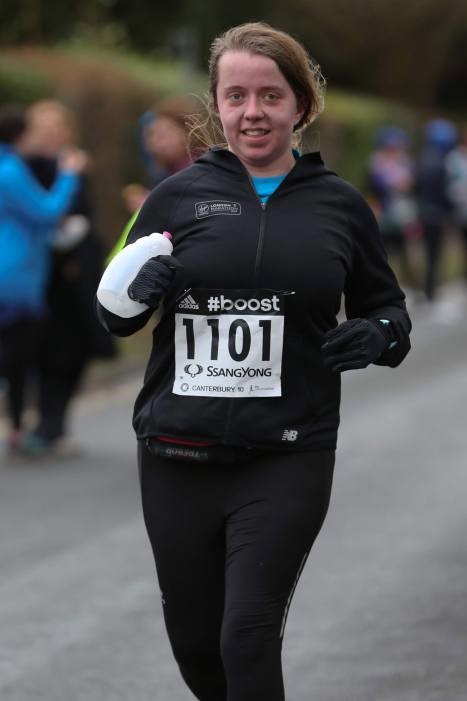 'So overall, this week has been exhausting running wise – so exhausting in fact, Strava keeps telling me to slow down! I've done 50 miles so far in 2019! But there's so much to celebrate this week. I've finished a full month of marathon training, I'm still here and still smiling!'
Would you like to support Claire's fundraising for the London Marathon? She's raising money for the Youth Sports Trust and Make a Wish UK. Donate here.
Suzanne Gough, a Senior Lecturer at the University, said 'Having seen the weather report for Sunday, I was a little worried about what to expect but I ran part of the route on a training run and so I was prepared for the many puddles, mud and blustery wind in certain places.'
'I wasn't altogether sure I was going to be able to compete the race as despite doing the training and getting myself up to the required mileage the last training run before the race really took its toll on my back. So for the week before I was forced to take it easy, therefore no running and low impact exercises at the gym with lots of Pilates to help me stretch. It paid off because I was only 3 minutes off my personal best time in 2016 and completed it in 1:30.07.'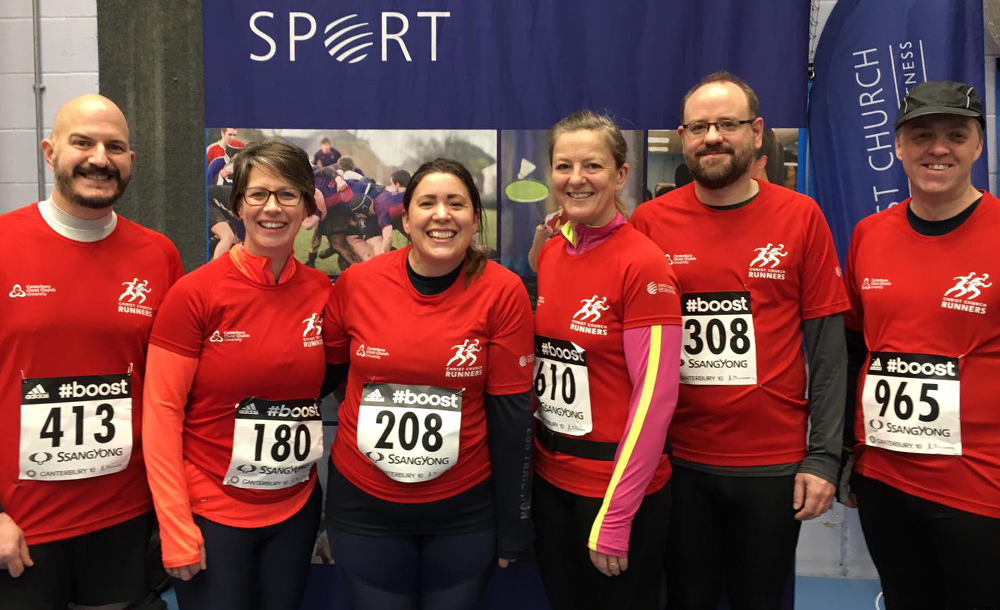 'It's a hilly course, and very busy at the start so the first two miles are very difficult as you are constantly dodging people, and pot holes. However it then settles a little and people start to spread out. The most difficult part is pacing, it's so easy to set off with other people and go too fast but I was determined to run my own race and that's exactly what I did.'
'I love this race because it's just so friendly, I found myself chatting to a friend at the start and all my nerves disappeared. The support on the roadside was also amazing and really helped me through some of those difficult spots. The support back at HQ was also good with Christ Church Sport doing a fantastic job of getting us ready before the race and welcoming us all back at the end.'
"If there is anyone out there who is interested in doing this race next year I would definitely say go for it"
'If there is anyone out there who is interested in doing this race next year I would definitely say go for it. The Couch to 5k provides fantastic basic training and its excellent preparation which you can build on. Then it's just a case of building up the miles. The lovely part is that you do the race as part of a running group Christ Church Runners a group of new and old friends who all looked amazing in their red t-shirts!'
Adem Djemil, Digital and Communications Manager at the University's Students Union, took part in Christ Church Sports initial Couch to 5k programme. He has since found a passion for running.
'One year ago I reluctantly signed up to the free Couch to 5k course for staff at Canterbury Christ Church University and it's possibly changed my life. I know that sounds sappy, but I'm fitter, happier, made new running buddies, and can now comfortably run 10 miles as witnessed at the recent Canterbury 10 Mile race.'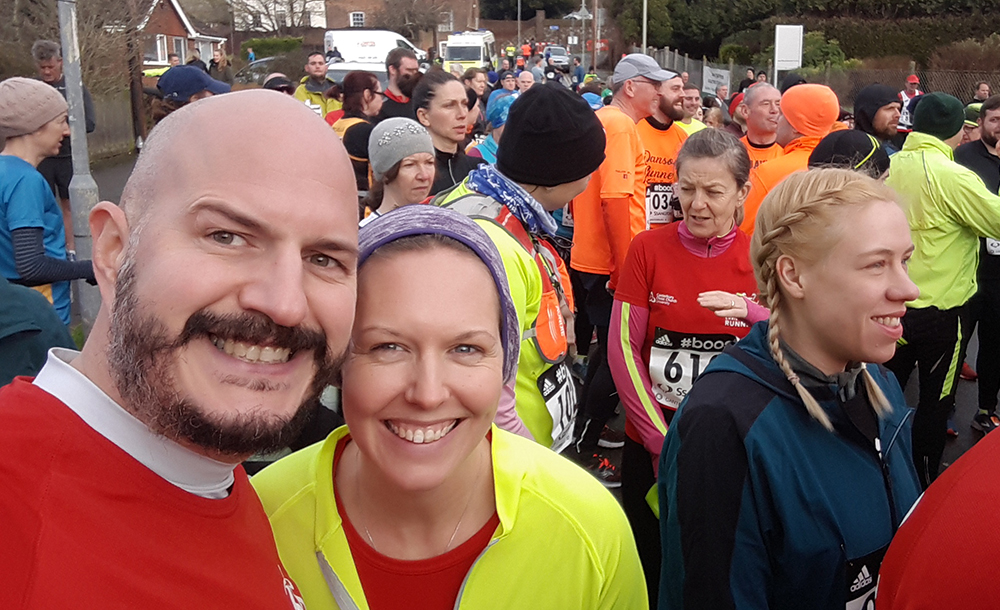 'Looking back to that first Couch to 5k session this all seemed pretty impossible, turning up in a "unique" ensemble of clothing, 3 stones heavier than I am today, and not really knowing how to run as I used to think you could only do it if you were chasing a ball!'
'This was a really great initiative by Christ Church Sport and now we have our own club 'Christ Church Runners' and I'm happy to have made so many new friends, most who were there at that first session.'
'So now I run. That's what I do and I now can't ever see myself not being a runner. I run at lunchtimes, I run parkruns, I've run three competitive 10km races, two 10 miles races and on March 24th I run the London Landmarks Half Marathon.'
Adem will be running a half marathon to raise money for Tommy's, the baby charity. If you would like to donate, please visit https://www.justgiving.com/fundraising/ademdjemil to find out more.
Couch to 5k graduate Ellie Martin highlights the significance of the University's Couch to 5k Programme, finding that running has immeasurably improved her life. She is looking forward to running a half marathon later in the year.
'A year ago, I turned up to Old Sessions House on a rainy cold Wednesday lunch time and joined a group of nervous looking staff on our first ever Couch to 5k run. We ran for a minute and walked for two minutes – the most I had ever run in my life at that point! After 10 weeks of training, we completed the Canterbury 5km Parkrun (well known for its HILLS). I did this in 36 minutes – running all the way (which was, in itself, a massive achievement).'
'From then on, my life has changed completely, and that is not an overstatement! I now run at least 4 times a week, averaging 30km a week. I do Canterbury Parkrun on most Saturday mornings now, my 5km PB has got down to 27 mins (breaking the 30 min mark was amazing and I seem to be getting quicker and quicker). I regularly run 10km distances now with a current PB of 57 mins, beating the one hour mark for that was quite the achievement! I have become an avid user of running tracking apps, have got myself a GPS watch and have worked through 3 pairs of running trainers already. Which is amazing since I didn't even own a pair of trainers a year ago!'
"What a journey, what a great bunch of people"
'And then, a year after starting the Couch to 5k programme a group of us 'graduates' entered the Canterbury 10 mile race. Yesterday's race was incredible, 1,411 runners completed the course and it was great to start with my fellow Christ Church Runners in our red tops looking like a very official running club! I have gone from not knowing a single person in Christ Church Sport to feeling at home with them and my fellow Christ Church Runners, regularly updating each other on Social Media about our training and cheering each other on both virtually and on our regular Wednesday lunch time runs together.'
'Admittedly, I was nervous and the build-up on the morning was a bit intimidating, but as soon as we got going I felt great. The course was good (a few hills – but those of us that do Canterbury Parkrun are used to hills) and the sun came out for us, which was great as it had been pouring with rain in the morning.'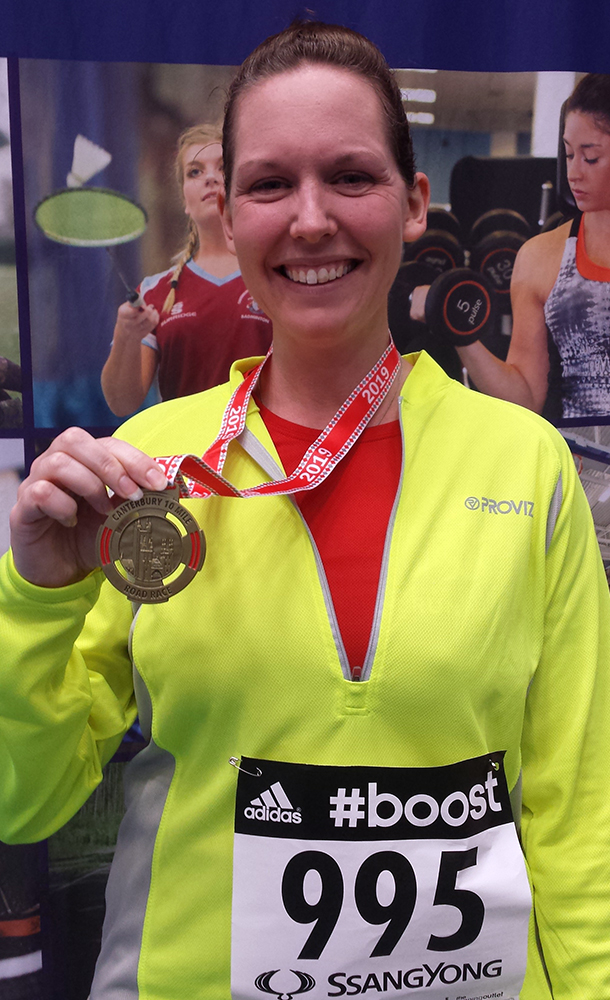 'But the best feeling of all was crossing that finish line in 1 hour 33 mins (exactly the time I wanted) and then seeing all my fellow Christ Church Runners in their red tops (faces slightly redder than when we started) but all happy to see each other, all congratulating each other and all posing for photos with our medals and big beaming smiles. I finished 788th out of 1,411 which for me felt like first!'