Tuesday 24th May saw the return of the University's Sport Scholar Awards after a two-year hiatus due to the global pandemic.
The event aims to celebrate the best of the University's sporting talent through an awards ceremony, incredible guest speakers and culminating in the presentation of three special prizes. This year's event was held at the Spitfire Ground St. Lawrence, home of Kent Cricket and featured an excellent speech from Crystal Palace goalkeeper and London solicitor Chloe Morgan on her dual career as a footballer and a lawyer. Vince Mayne, CEO of BUCS (British Universities & Colleges Sport) added a celebration of university sport, and there were some warm words of welcome and inspiration from our own Vice-Chancellor, Professor Rama Thirunamachandran.
This year's big award winners were Sport Scholars Jodie Hobson (Outstanding Contribution), Lucy Relf (Performance Scholar of the Year) and Faye Wills (Elite Scholar of the Year).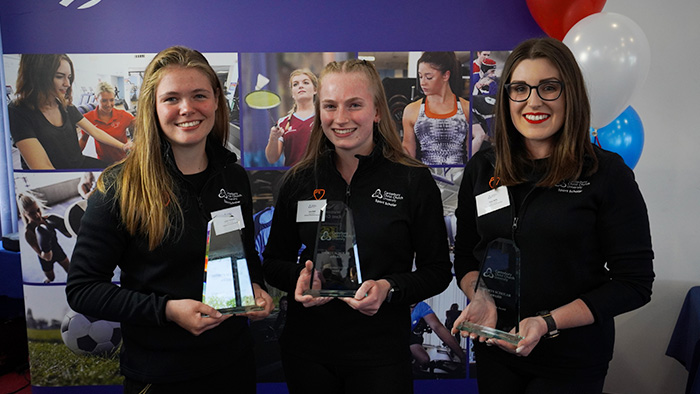 The evening was compered by Director of Sport & Active Health Paul Carney, who said:
"It's been fantastic to celebrate the successes of our student-athletes again. We have some incredible sportspeople at Canterbury Christ Church University, and it's been wonderful to give them an opportunity to shine after what has been a difficult couple of years for sport across the country."
The University's is committed to developing sporting excellence and offer sport scholarships of up to £1500 per annum in any sport.
Find out more: https://www.canterbury.ac.uk/christ-church-sport/sport/sports-scholarships/sports-scholarship-scheme.aspx