For your chance to win an Easter egg, walk, run or jog at your own pace with like-minded movers from across Christ Church University. Our UniRun events are designed to bring together staff or student runners of all abilities with an on-campus route based at the Canterbury North Holmes site.
Unirun Easter Egg Hunt…
Due to poor weather, the most chocolate-filled jog of the year has been postponed until 20th April. Join us at 12:30pm on Wednesday 20th April for our Easter UniRun on campus!!, where you'll be egg spotting with the chance to win Easter Eggs! With every runner receiving a free creme egg for taking part and top prizes for those closest to the correct number of eggs spotted on the course!
This Easter UniRun is an event for everyone, complete our short course around the Canterbury Universuty campus with friends, and colleagues or tackle it on your own. The course will take no more than 15-20 minutes if jogging or running, but there is no pressure to finish in a certain time – take as long as you need!
Book your free place using our online form and then simply come along to the Verena Holmes building on 20th April, ready to run for 12:30pm!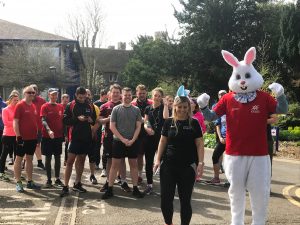 Sign-up now!
Book your free space using our online booking form now for your chance to run and win easter eggs!