5 Things I've learnt about disability and sport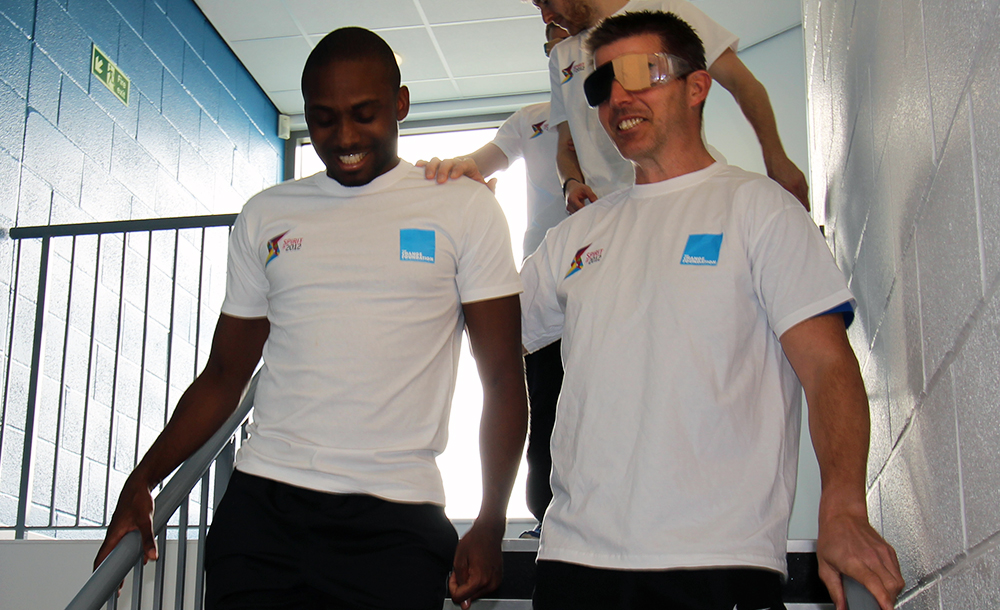 Last Wednesday I embarked on a Disability Awareness Training session to learn about engaging people in sport and physical activity. The afternoon was delivered by The Change Foundation a charity who aim to change the lives of disadvantaged young people using the power of dance and sport. The opportunity was part of the charity's roadshow – celebrating 10 years of making a lasting difference in people's lives.
The session started with half the group putting on a set of largely blacked out goggles to simulate the experience that a visually impaired person to B1 level would experience (B1 is the sight classification by British Blind Sport for the most visually impaired people, with B2 and B3 having partially more vision respectively).
"All of a sudden, touch and sound were critical to successfully navigating the stair case."
The group were put into pairs and led on a walk by a fully sighted partner. This really gave me an insight into the challenge visually impaired people have getting around and also how much more elevated your other senses become. All of a sudden, touch and sound were critical to successfully navigating the stair case, though on this occasion smell and taste were largely unrequired!
The session moved on to a game of visually impaired Cricket which had most of the group in B2 or B3 level goggles, with just one person in B1 goggles. The ball used in the game was much larger than a regular cricket ball; it was more the size of a dodgeball and had beans inside – enabling you to hear the ball when it was moving, helping to identify where the ball was and how fast it was travelling. All the other equipment was the same as you would usually find in indoor Cricket.
"Andy had an unconscious journey into an open cupboard…"
Catching the ball was tricky, mostly because it was only one part of one eye which was identifying and registering the information regarding the flight, speed and direction of the ball. Andy – who was severely visually impaired with his B1 goggles on – had a bit of an unconscious journey into an open cupboard as the ball trickled in, and he followed the sound of the ball. He managed to find his way back out of the cupboard – eventually!
The second part of the session focused on participants with learning disabilities. The group were split into two and a simple game of handball using the dodgeball sized ball was initiated. To begin with, a rule was established that stated that everybody on your team needed to touch the ball before a shot on goal was allowed. This was to ensure full inclusion within the activity so that nobody felt left out. A second rule was brought in shortly after which restricted players to only hold onto the ball for a maximum of 5 seconds before passing to a teammate or shooting. Again this was just a simple rule to speed up play
Many of the activities throughout the learning disabilities section demonstrated how colours are important when setting up equipment to ensure the participants are clear and to avoid confusion. The importance of building trust with the individuals taking part was identified as a key element. So as well as adapting activities to make them as inclusive as possible, regularly asking participants if they are okay trying an activity will give them the opportunity to feedback about how they feel about it and whether extra changes need to be implemented.
Overall it was a fantastic session and it shows that activities can easily be made inclusive without making the person with a disability stand out or needing to set up a completely separate session. It just requires a bit of creativity and continued communication with the participants. Thanks to Si, Alex, James and Ryan from The Change Foundation for delivering this session. You can see more about the work of the organisation by visiting www.thechangefoundation.org.uk or you can follow them on Facebook (@theChangeFoundationUK) and Twitter (@ChangeFdn).
Christ Church Sport has recently established its own Disability Sport and Physical Activity Working Group and are developing ways to make activities as inclusive as possible. This will include how the information about activities reaches people with disabilities as well as the experience within the activity itself. If you would like to get periodic information about the developments this group is making, or would like to help contribute to the group, please leave a comment or email sport@canterbury.ac.uk.
Written by Aidan Ainsley
PlaySport Coordinator, Canterbury Christ Church University