Volunteering is the act of giving your time to help others. It might be unpaid, but don't be fooled, it can be priceless, both for you and whoever you are helping.
Volunteering can take many forms and can:
help individuals, groups or organisations
be in person, over the phone, or online
be a regular commitment, one off events or micro activities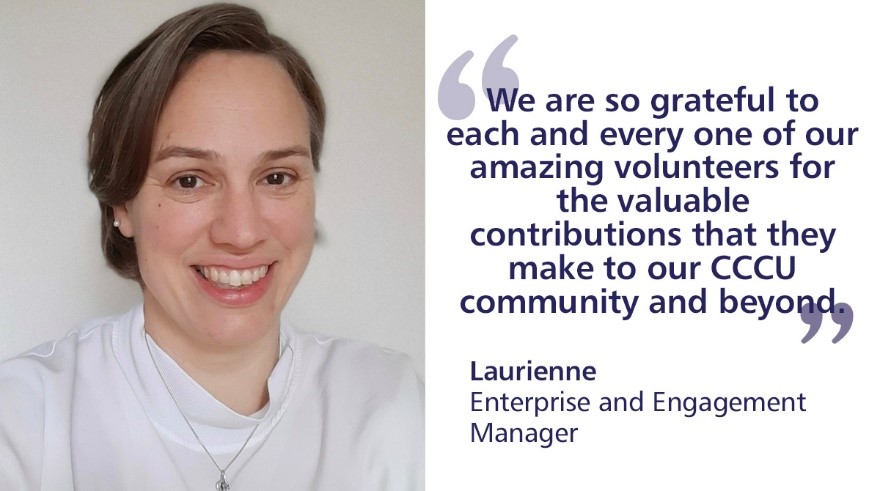 Whatever you do, you can really make a difference and you'll be in good company. This year we have seen over 110 CCCU students log more than 4000 hours of volunteering activity, which is a massive contribution to our CCCU community and beyond.
And its not just the benefits that your activities will have for others, you can get so much out of volunteering too.
Learn new skills or develop your existing skills

Volunteering can give you practical skills, as well as developing your employability skills like communication, leadership, teamwork, IT, mentoring.

Get real world experiences, boast your CV and make yourself more employable

Any activity outside of your studies can help to make your CV stand out when apply for postgraduate jobs or further study. Volunteering can also offer a great way to experience different environments and help determine what makes you tick

Meet new people help others and feel part of a community

Volunteering is a brilliant way to meet like-minded people, whether because you care about the same issues or are willing to try the same things. You will be meeting new people, outside of the university, and these connections could lead you anywhere, to new friends, a new job or prospective employer, or a new interest

Support a cause that's important to you

You really can make such a big difference, and your actions will have an effect. Whether that's using your social media skills to champion a cause, fundraising for a charity, or seeing first-hand the impact of frontline volunteering

It's good for you, and something to do

Volunteering is one way which students can positively support their mental health. Volunteering can help you feel connected and valued by the community you live in, which can help address any feelings of loneliness or isolation.

Engage in social issues

By volunteering you will have a greater awareness and appreciation of the social challenges that people face, whether that's food poverty, homelessness, social isolation or educational disadvantage. While we cant fix all these issues, you will be able to see how you can take steps to make a positive difference
Amazing things can happen when you value your time and spend it doing things you are passionate about.
There is still time to join the many volunteers at CCCU. All our current opportunities are advertised online, so register now and remember to log your volunteer hours and work towards a Certificate of Volunteering. There are 4 levels that you can achieve:
Bronze – 50 hours and 2 skills
Silver – 100 hours and 5 skills
Gold – 150 hours and 8 skills
Platinum – 250 hours and 12 skills
And don't just take our word for it…
Georgia "Since starting to take on more volunteering roles I have seen a positive impact on both my studies and standing out to potential employers. Seeing such a positive impact working with different students interested in engineering and motorsport has made me even more motivated to achieve higher grades and work harder during my university degree. Volunteering is an incredibly rewarding experience where you can see your hard work pay on and have a real impact on the lives of many. I would encourage everyone to spare some time to help others and volunteer, it will help you stand out on your CV and give you a great sense of achievement".
Megan "I'd love to encourage others to volunteer as I believe it is such an amazing thing to do and is so beneficial for everyone. Knowing that I've helped individuals in difficult situations brings me a lot of joy. It's hard to describe how gratifying volunteering is. Walking into it I just wanted to give back and I had no idea how much I would personally gain from volunteering. It has provided me with amazing friendships and multiple transferable skills as well. I've also noticed that it has helped me to stand out to employers. I have loved every minute of volunteering and will continue to volunteer to give back to the community."
Anastasia "Volunteering has always been an important part of my life because of the lessons that each volunteering experience has taught me. During the pandemic especially, volunteering has allowed me to help others and connect with others, whilst also developing new skills."
Tom "For me, my volunteering experience, has proved to be a crucial, valuable, and enjoyable part of my time at university. As well as developing key skills to achieve my future goals, volunteering is fun and rewarding. I am so glad I committed to mentoring as part of my development and university journey. I would highly recommend it!"
Getting further support from The Careers and Enterprise Team at CCCU
You can get ongoing careers support via the following ways: