In our new blog series 'UNPRECEDENTED' – we're going to be hearing from a range of people who have different experiences of this global pandemic, and lockdown. Our aim is to give you an opportunity to read, think, and find some encouragement, inspiration or just community in knowing you're not alone.
So, what does Easter on Lockdown look like when you are a priest?
Today, we have two guest blogs; one from Dave Stroud, one of our very treasured CCCU chaplains, and the other from Rev Christopher Johnson who studied Music & Theology with us.
Dave's Story:
All Vicars are priests, but not all priests are vicars.
As a chaplain in Higher Education, the rhythm of my life is very different from that of my colleagues in parish ministry. The key celebrations of Christmas and Easter are times when traditionally churches are full and ministers are at their busiest. No so for the HE campus chaplain! Our communities are gathered, transient and dictated to by the academic calendar. So as the rest of the world is gearing up for the biggest days of the liturgical year, we have already peaked, the institution is closed and our congregations have departed, rightfully so, to be with family and friends.
To some extent the bizarre circumstances we currently find ourselves in with churches closed and students and staff being encouraged to work from home, isn't something that chaplains are totally unfamiliar with.
That said it is the unknowing that is part of the biggest challenge. Since starting my professional career in education, I have taught through 9/11, 7/7, Grenfell Towers etc to name just a few. Each time the world changed for us and our communities and we were left trying to make sense of the tragedies and yet each of these events was a singular moment with life changing consequences spiralling out from them. As I sit writing this from my make shift desk at home, we have no idea of how long this will go on for, how many more lives will be lost and what new challenges we will have to face and that is one of the most noticeable challenges.
In the aftermath of Grenfell Tower we were privileged enough to be allowed to work with the Salvation Army in seeking to provide aid and support for all the residents impacted by the fire. We had a very specific role, sort through the donations, and then pack and deliver the necessary items to the residents of Grenfell.
Our role was clear and the out comes easily measured, this is what needs doing, this is what you will do to help, but with the covid19 pandemic part of the challenge is trying to ascertain what is our role and what exactly can we do.
As someone whose role is all about being present, with and to the community we are called to serve, not being with them, not being able to sit and talk and be fully present in someone else's suffering is difficult.
Yes, we can pray, but we pray anyway, that will never change, the location is different but the prayer is the same, we can meet online and share our lives on social media but it is the human contact and physical interaction that is missing.
Over the last five weeks since we have been social distancing and self-isolating, we have offered services, conversations and lectures on-line. We have talked with those who are grieving and offered support for those who are dying, but all at a distance. And this is hard especially for someone who is so used to feeding people, metaphorically and physically. That said our ministry still goes on, and one member of our team has managed to maintain that feeding element of her ministry not only offering online cooking demonstrations but as heading up the community fridge in partnership with the Baptist church and Lily's café, a venture that redistributes surplus supermarket and restaurant food to families in need across the city.
As a chaplaincy we will remain as ever as present, available and caring as we can possibly be and if you need us please just reach out:
www.chaplaincycccu.co.uk
07841615904
Email – chaplaincy@canterbury.ac.uk.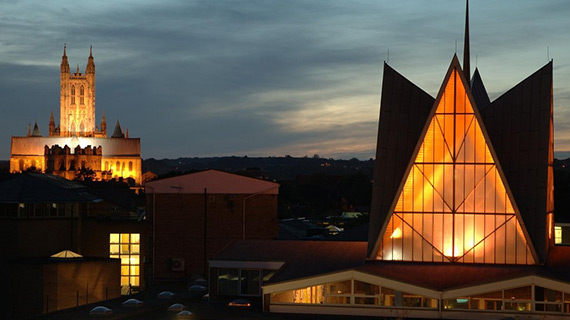 Christopher's Story:
The Revd Christopher Johnson is a Church of England priest in Wigston, Leicester. He studied BA (Hons) Theology & Music at CCCU from 2007-2011.
Despite the popular assumption that 'Christmas is your busy time, eh, Father?' The days leading up to Easter (Holy Week) and the Easter weekend itself actually have a greater intensity about them. We gather together to walk and share in the story of Easter, not just as a church congregation but as Christians throughout the world. So 2020 has probably been the strangest Easter in my ordained life thus far.
Ordinarily, the Six Nations are my cue to make sure that Easter preparations are underway and in order. The curtailment of that tournament on health grounds began to give a hint that things were going to be out of the ordinary this year. Very quickly, the full scale of those implications began to become apparent and, within a few days, the lockdown began as the severity of the global and national situation increased daily. Stuck at our desks and with a significant number of the congregation well within the 70+ age bracket, the likelihood of Easter in church faded rapidly. It then became a scramble to produce resources that people could use at home, often alone, especially if they don't have internet access. Trying to write something to be read a month in advance when you don't know how the situation is going to pan out is an interesting challenge.
There's been branching out into different ways of being church communities. Some have mastered live-streaming services and it's been amazing to see what's been achieved in a short space of time and with great creativity. My wife (Laura) and I have, at times, had to negotiate over who could dominate the bandwidth for a Zoom meeting with work or a video upload on YouTube for Messy Church families to join in with from home. The dog has relished his government-mandated exercise period but still looks confused as to why we're both around all day every day. I have great admiration for clergy colleagues who have also had to deal with juggle home-schooling alongside ministry and other family tasks and worries too.
Whilst I've been blessed to have someone at home to join with in worship, something which other clergy don't necessarily have, I've particularly missed worshiping with our congregations in person and access to the church itself. Yes, in some ways the church is 'just a building' where the community meets but it's also a very special and holy place that provides a sacred space in which to offer our worship. People have worshipped at Easter in my church without interruption since 1893. Together, its faithful people have gathered in good times and in bad to worship God and offer our prayers for the needs of the world and its people. Yet, at a time when we need it most, we've had to find new ways to do that. It's been painful and, in some ways, we've lost out on the physical and emotional journey through the story of Jesus that we share together at this time of year. That's something that's been felt keenly by parishioners and clergy alike. That being said, the pain of the changes to church life is put into context by the pain and uncertainty of the present time along with the sacrifices being made by many. It's important for Christians to cling on to the hope that the Easter message offers along with the important reminder that pain and suffering is known intimately by God through Jesus and the Cross.
My hope and prayer for Christians and the Church as a whole through all of this is that we can continue in faith and service, but especially to continue to draw on and share in the positive aspects to come out of this. There's an opportunity to make sure that we don't just revert to whatever 'normal' used to be and instead look to shape and witness to a new way of living together in the love of God and playing our part in helping to live that out in wider society.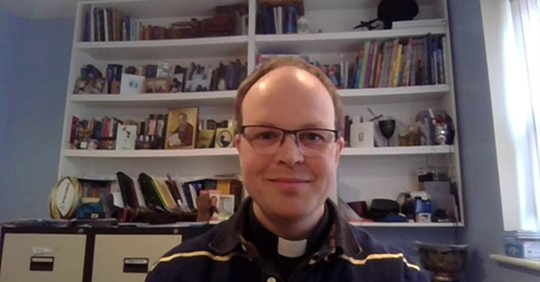 How did you make the Easter weekend feel different?
Did you take some time to rest, reflect or try something new?
We want to hear your stories! Tell us about your experience of working from home, any interviews or processes you're going through…
Getting further support from The Careers and Enterprise Team at CCCU
You can get ongoing careers support via the following ways: