You probably have more relevant experience and skills than you think. Volunteering and previous work experience, internships, placements and even course work for school or University are all likely to have equipped you with key transferable skills that employers are looking for. The trick is presenting them well on your CV.
What are transferable skills?
Transferable skills are useful across a wide range of different jobs and industries. They are the skills that help us function well within a team and provide a steppingstone for developing many other, often more job-specific 'hard' skills. Examples include:
Communication skills
Teamwork skills
Decision-making and problem-solving skills
Leadership skills
Resilience
Flexibility
Negotiation skills
Research skills
Time management skills
Language skills
How can I identify my transferable skills?
To tease out the different transferable skills you have picked up over the years it's important that you reflect on your past experiences. So, look back on that volunteering experience or part-time job and ask yourself 'what have I learned from this experience?'; 'What where the key skills I developed?'; 'What did I achieve?' Then assess which of the skills you picked up could be useful across different roles and industries: those are the ones you will want to highlight.
How do I demonstrate them on my CV?
The first thing to remember is that you'll need to tailor your CV to the role you're applying for, so scour the job description for clues of which transferable skills they're after, see where there is any overlap with your skills and highlight those.
Then it's a matter of using the right language. It's not uncommon for recruiters to only spend mere seconds looking at your CV, so your skills need to be immediately apparent. Let's compare two examples:
1. Part-time Sales Assistant at Sports Goods Store
Staffed the till
Assisted customers
Managed stock and made sure the shop was tidy at all times
2. Part-Time Sales Assistant at Sports Goods Store
Processed customer payments and managed refund procedures
Proactively engaged with customers answering queries and handling complaints
Worked closely with stockroom team to manage stock replenishment
Maintained outstanding store condition and high level of security vigilance
Helped manage customer queues and oversee fitting rooms during peak hours
While both descriptions include the core tasks and responsibilities of the role, the second one also identifies skills that are valuable beyond that specific job. For example, the second point proves this candidate has been able to practice their communication skills, while the third point indicates team working skills and the last one shows flexibility. As a result of this the recruiter is much more likely to see this job as valuable experience.
When it comes to applying for jobs it's important that you focus on the skills you have instead of those you lack and you will probably find that things aren't as bad as you thought. Start believing in yourself and going for the jobs that you want with confidence and you'll find that people are more willing to give you a chance than you may have originally thought.
You can get your CV checked via the CV360 tool on the Careers and Enterprise Online Hub.
Here is a helpful video explaining how you can start using CV360 to help you create your best CV today: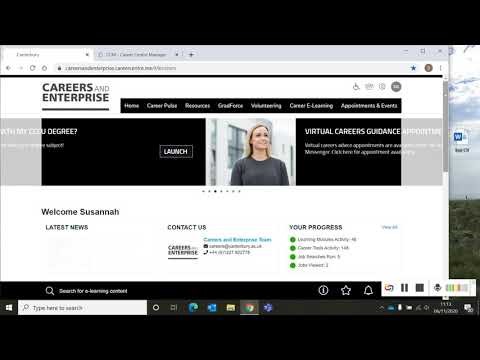 If you need any further help, you can email the Careers and Enterprise Team at careers@canterbury.ac.uk
Want to find out more about jobs that suit your skills?
Go on to the Careers & Enterprise Hub, and under 'Resources' click on 'Labour Market Information'. There, you can 'explore by skills' – just click on at least 3 skills, and it'll show you job roles that match!
If you click on the job role, it'll give you more information about average salary, what the role entails etc.