The Careers and Enterprise Hub was buzzing on 17th January with students eager to meet with CCUSA and go on a summer camp experience abroad!
Who are CCUSA?
CCUSA is the UK's top summer camp and international work adventure specialist, so you will be in the BEST hands if you are working and traveling abroad!
CCUSA have something for everyone, including working at a summer camp in America, Canada, Croatia or Russia, leading a group of children in various activities including sports, arts and outdoor adventures.
Since 1985, CCUSA have been dedicated to providing the highest level of service in summer camp jobs, work and travel experiences and volunteer adventures. Over the last 30 years, CCUSA have placed hundreds of thousands of young people in positions at summer camps and seasonal jobs across the USA, as well as in other countries around the world.
CCUSA is an American owned company whose head office is in California with three offices based right here in the UK. They have the support network, knowledge and expertise to assist you in your ultimate international adventure.
If you're ready to take off on your own overseas adventure, simply browse through our available programs and pick one that is perfect for you. CCUSA will help you do the rest!
Check out their website here – Live chat with the CCUSA team!
What did you miss?
If you were not one of the 15 students that came along to meet CCUSA on Thursday then fear not – both Sam and Matt (in the picture below) were fantastic and offered to help any students looking to apply and were unable to come along to their talk.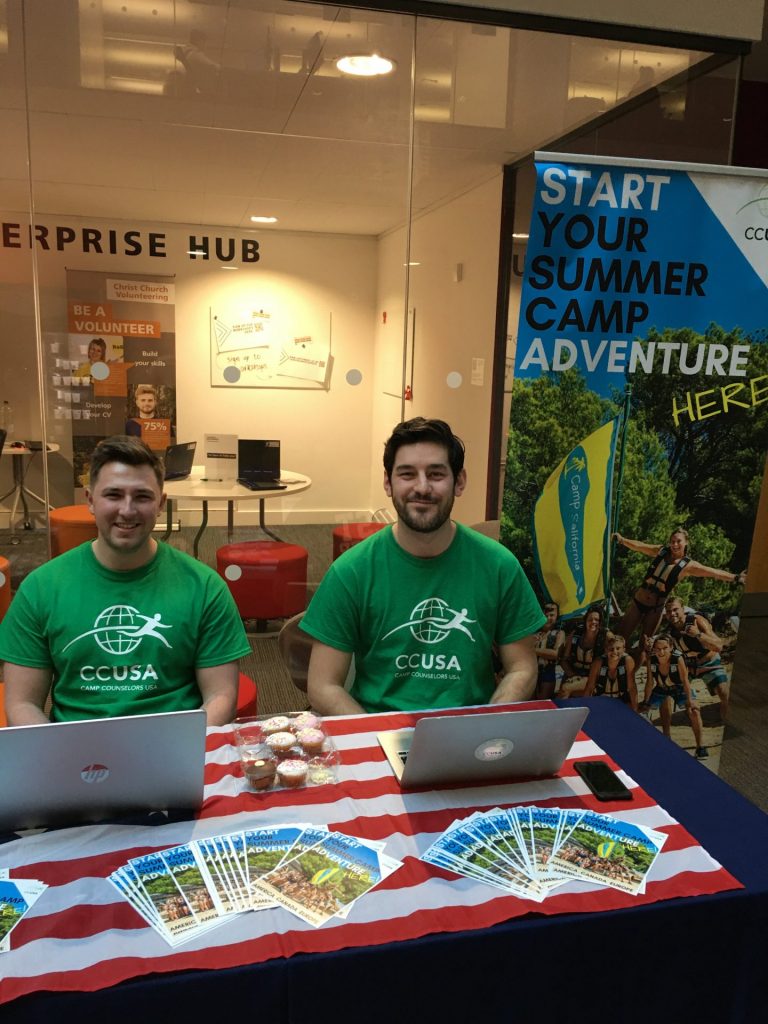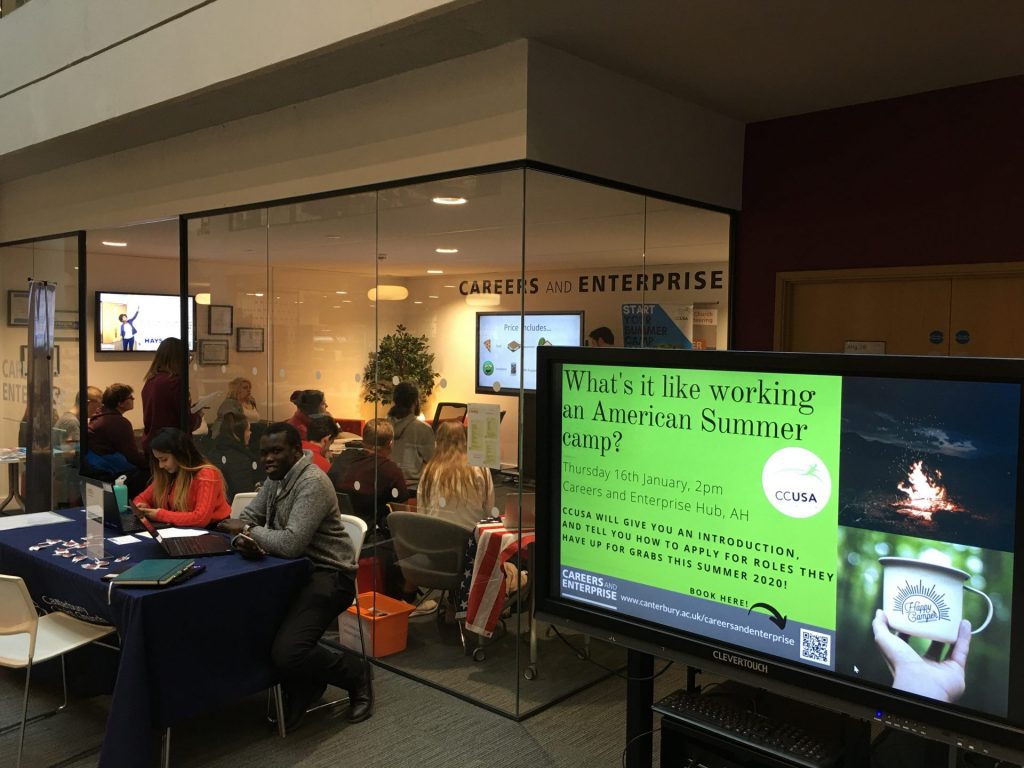 What did you think of the event?
Student feedback on CCUSA event in the Hub was incredibly positive:
'The videos about the camps were very valuable'
'Straight to the point, found out everything I wanted to know'
'Clear and concise information and videos'
The event scored 100% for quality and usefulness from student feedback which is fantastic to hear!
How could this help your career?
Going abroad for an experience like CCUSA can greatly boost your self-confidence as well as give you the opportunity to experience a completely new culture.
It may seem scary and challenging, but the experience of adapting and showing respect to new cultures is a fantastic way to show your professionalism and the ability to be self-aware.
Having the opportunity to work with groups will certainly develop your leadership and logistical skills as well as give you a great sense of independence. Ultimately, work experiences abroad look good on a CV.
Thinking of applying but need support?
Here at the Careers and Enterprise Team, we recognise that the CCUSA opportunity could really benefit you, particularly as a fantastic work experience opportunity.
Therefore, we would want to try and make sure nothing stands in the way of you applying -particularly money!
We have the Work Experience Fund that can support students obtain work experience opportunities, like CCUSA – as long as they meet the criteria.
Click here to apply to the Work Experience Fund
If you are still unsure of how such an opportunity would benefit your future career, or are struggling to know what skills would make you a good applicant to the CCUSA programme – talk to the Careers and Enterprise Team.
We can help with applications and give general advice in many ways:
Come see us at the Careers and Enterprise Hub in Augustine House. Our drop-in hours are between 10am-12pm and 2pm-4pm on weekdays.
Email us at careers@canterbury.ac.uk
Call us on 01227922775.