NEW WORKSHOP SCHEDULE! APRIL – JUNE 2021

Look at what we've got coming up… and click on the titles to go to the booking page!
All our workshops are online, and free, and just for you as CCCU students and recent Alumni (within 3 years of graduation). Do come and join us as we journey through different areas of employability, and keep an eye on our social media, as there'll be more blogs, videos, and other ways to connect with us. We look forward to coming to a screen near you!
Applications Workshop – Thursday 1st April, 2-3pm
Are you stalling at applying for a job because you don't feel confident in the application process? You're not the only one feeling this way, lack of confidence is one of the reasons candidate lose out in their job search. If you want to gain knowledge that will build confidence, join Enterprise Rent A Car as they cover the application process in full! They will cover each part from employment application, virtual interviewing to types of assessment centres and most importantly – how to succeed! It's what every graduate should know before starting an application, in a highly competitive environment with the additional bonus of hearing insider tips from a recruiter. Enterprise is a 'Times Top 100 Graduate Employer' and 'Times Top 50 Employers for Women' who hire thousands each year into their programmes.
TSAT Presentation, Q&A workshop – Wednesday 7th April, 1-2pm
Simon from the Thinking Schools Academy Trust will be sharing their teacher training opportunities. Regardless of your University degree, if you've considered teaching, be sure to come along! The Thinking Schools Academy Trust will provide a rich outline of what it is like to train with them. They will cover:
– Why teach?
– A look at a trainee Teacher's first week
– Funding options available to you
– Application advice and support

NCS Presentation, Q&A workshop – Thursday 8th April, 1-2pm
The National Citizens Service is a youth programme like no other. Designed especially for 16 and 17 year olds, the NCS experience will give teens a clearer idea of what they want from their future. Every year our national network of Partners delivers NCS across the country. As you can imagine, it takes a lot of people power to make our programmes unforgettable, and our seasonal staff are at the heart of what makes NCS so special.
We're now looking to recruit for these exciting summer 2021 jobs. And we encourage anyone (over the age of 18), who is passionate about working with young people and supporting their community, to apply.
Camera Confidence & Virtual Meeting Etiquette – Thursday 15th April, 1-2pm
We can't escape that the virtual world means you are likely to need to do online meetings, but we can support you to build confidence to be able to do these well. You're not going to be forced to have your camera on or use the microphone during this session, but we'll be bringing you some inspiration and motivation and a safe space to try it out if you want to, and make you feel more comfortable to have a go at challenging yourself! We'll also be thinking about virtual meeting etiquette, so you don't get caught offering your hand to the screen for a virtual handshake (trust me, that's not a thing!)
Your Personality, Your Career – Tuesday 20th April, 1-2pm
This fully interactive and fun workshop is designed to help you identify your True Colors™ personality type and enable you to understand how to use this knowledge in the world of work. True Colors™ helps people recognize their personality and temperament types. It evolves around four colours: Green, Orange, Blue and Gold. Each of us are a blend or rainbow, usually with one predominant colour. Identifying your colour preferences can help us in many areas of your life, career and job search.
Interview Techniques in the Digital World – Wednesday 21st April, 1-2pm
Long before the COVID-19 lockdown, Graduate Employers have been changing how they interview Graduates. With the meteoric rise of home working and virtual offerings, understanding how to navigate this landscape is essential for interview success. This hour-long workshop will run through the differences in strength and competency based recruitment, how to prepare for virtual interviews and assessment centres, CV writing tips and advice all from an employer's perspective.
Education First Q&A – Thursday 22nd April, 1-2pm
Adventure Awaits Abroad – Teach in China!
Take part in a life-changing adventure & gain international experience, all while earning a full-time salary! Each year EF helps hundreds of fresh graduates (just like you!) to begin their adventure abroad and Teach in China, one of the most culturally fascinating and exciting countries in the world! With over 300 schools across 60 cities, there are plenty of options to choose from!
Join our senior recruiter (who also taught in China after graduating) to learn more about EF, life in China, and all the support you'll get from teaching abroad with us! Learn more about our exciting opportunities by signing up NOW!
Career Wellbeing: Leaving University – Tuesday 27th April, 1-2pm
Mandy (Student Support Health and Wellbeing) and Susannah (Careers & Enterprise Hub) will be leading a session about the transition from University to the world of work in the context of your wellbeing. Come and think about how you can look after yourself as you say goodbye to one chapter, and start the next…
Sales & Recruitment Career Q&A – Thursday 29th April, 1-2pm
Talent Acquisition Manger of Phaidon International, Adeel, will be holding an immersive and interactive Sales/Recruitment Q&A. He will be delivering an insight into what a career within the sales/recruitment industry looks like whilst offering advice (and top tips!) on how to prepare yourself as best as you can for future interviews. It will be an amazing opportunity to learn more about the sales industry as a whole and the unparalleled opportunity it can offer!
MET Police Opportunities, Q&A – Thursday 6th May, 1-2pm
There are a whole range of roles available in the MET Police, and they're hiring now. Come to find out more about all the different roles available, and ask your questions about what it's like being a police officer, or working in the staff roles.
LinkedIn Support and Navigating the New Era of Work – Monday 17th May 1-2pm
Andrew from HAYS is going to share his experience and expertise. Getting the most from the business networking platform and helping stand out in this new, virtual world of work.
Professional Presentation Skills – Wednesday 26th May, 1-2pm
Do join us for a whistle-stop tour of presentation skills and etiquette. We'll be running through the components of a good presentation; communication and public speaking, body language and overcoming your worries and concerns. It's fully interactive, so come and join in the activities, meet new people and learn a really important skill for the workplace!
Teach First: Presentation, Q&A – Monday 14th June, 1-1:45pm
From Kate, the facilitator: 'The current global crisis has proven what many have known all along: teaching is a vital profession for the future of our country. A child's future should be decided by their potential, not their postcode. Help us break the cycle of inequality, by becoming an inspirational leader and teacher in schools that need your skills the most. Join Kate to learn about the graduate scheme where you will have access to expert support over our (Teach First) two year programme and receive a fully funded PGCE. Not graduating in 2022? Don't worry – we also have undergraduate opportunities for you to explore the profession and enhance your CV.'
Making the Most of Your Money – Tuesday 15th June, 12:30-2pm
Managing your money can sometimes prove challenging and for many it's a case of knowing where to start. HSBC's 'Making the Most of Your Money' presentation educates and explores ways to make the most of your everyday finances. This session will include topics such as; Understanding credit reports, Budget planning, Savings, Protection, Debt management & Fraud.
Psychometric Testing – Tuesday 22nd June, 1-2pm
Recruiters love to use different types of timed tests to assess the calibre of their applicants during their recruitment process. Practice makes perfect, so come along and see the different types of tests commonly used and have a go.
Your Career Support Workshops – (a range of dates and times)
Once a month we'll be running these workshops, where we'll give a presentation by way of introduction to our services, and the ways we can support you, and then we welcome your questions!
Microsoft Specialist Workshops – (a range of dates and times)
These are run in partnership with our IT training team, and are available in Word, PowerPoint, Excel and Outlook. The workshops are great training to understand the software better, but also prepare you to take an exam (also online, and we foot the bill) in each area if you choose to, to then gain a LinkedIn badge and add to your CV. If you pass 3 of the exams, you can call yourself a Microsoft Specialist Associate!
We're now also giving you the chance to be an EXPERT. Once you've completed 3 of the 4 exams above, you're welcome to book on to our Expert sessions – Word and Excel, and take your knowledge and skills to the next level with those to corresponding exams too!
If you're a visual person, this is what the next 3 months look like: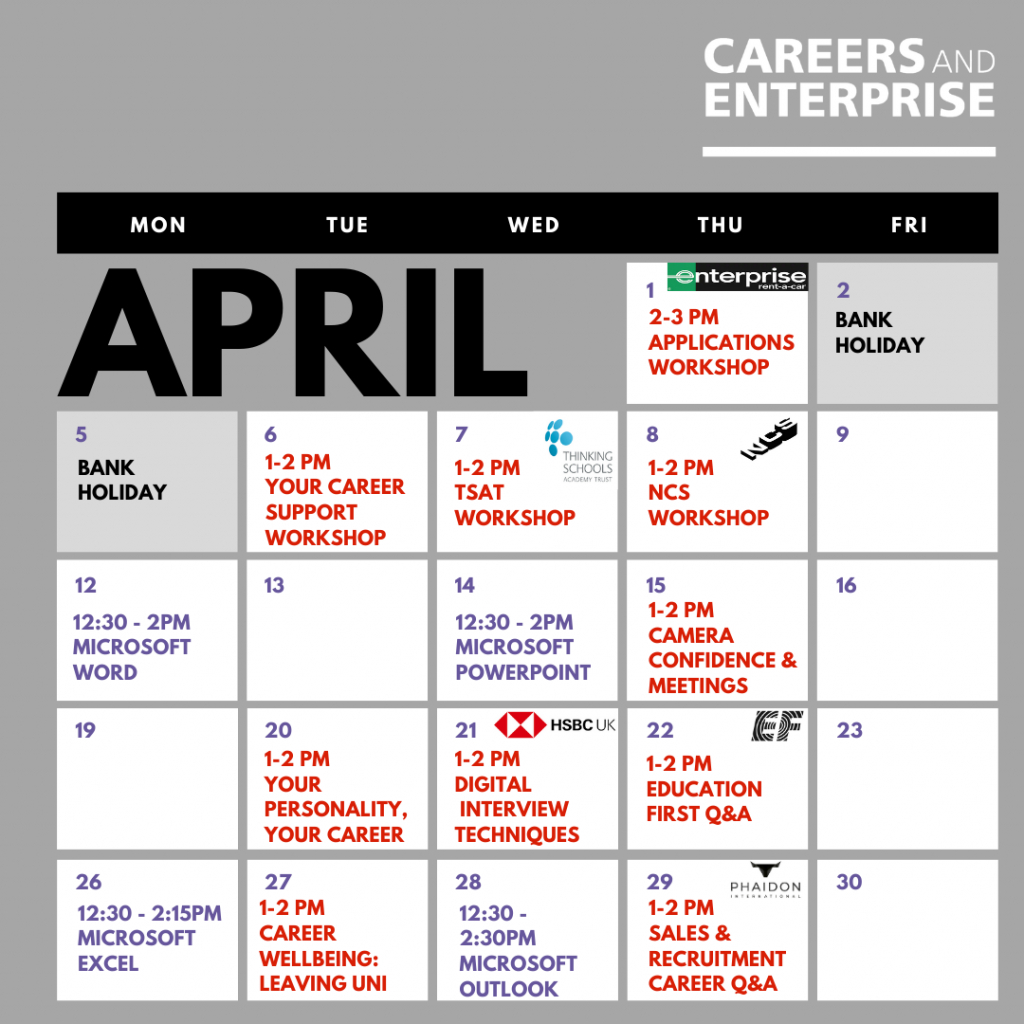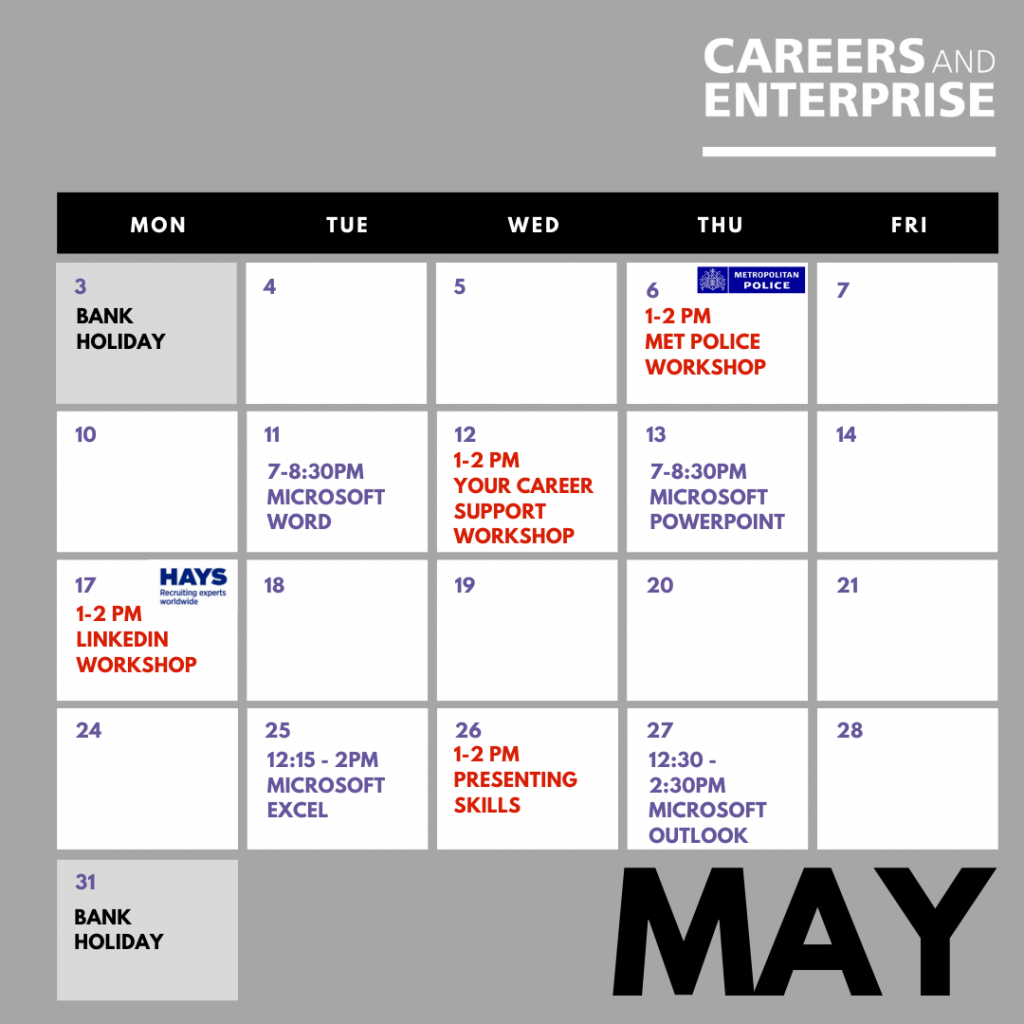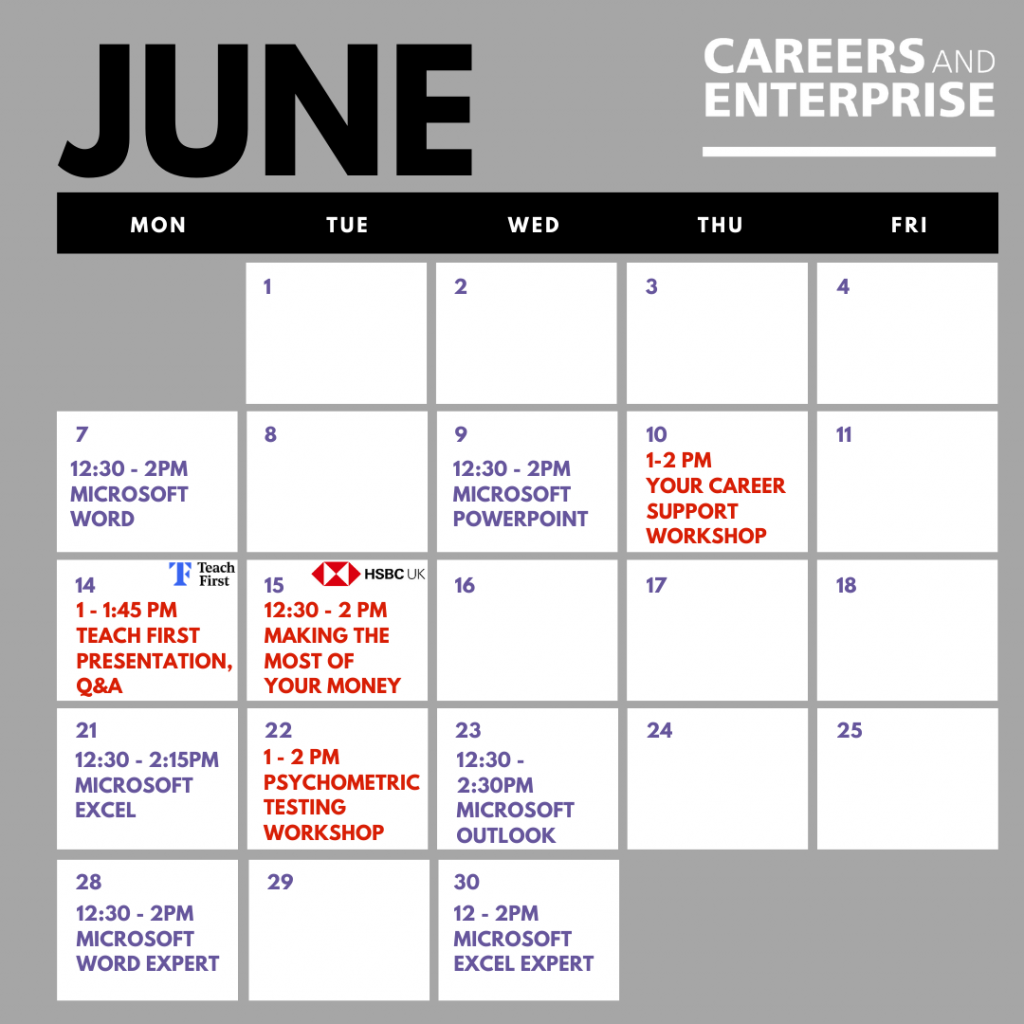 Getting further support from The Careers and Enterprise Team at CCCU
You can get ongoing careers support via the following ways: