Meet the Team: Susannah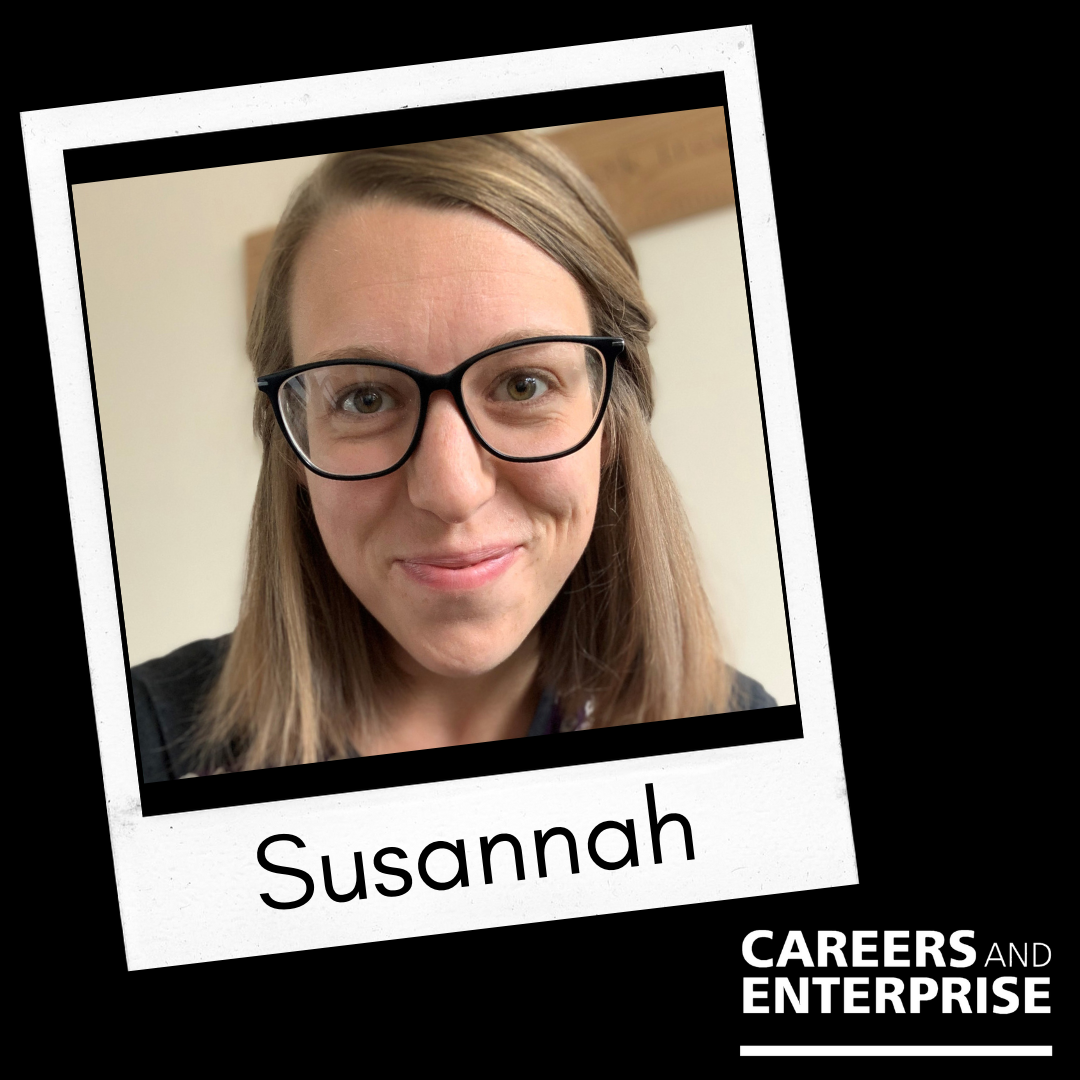 In our "Meet the Team" blog series we will be introducing everyone from the Careers and Enterprise Team and giving a short background to their roles as well as their best advice for you at this time. Today we are introducing Susannah!
When did you join the team?
I joined the team in May 2019.
What is your role in the team?
I am an Employability and Skills Officer. I have over 7 years of experience supporting people in a range of contexts since graduating from CCCU myself, and I love continuing to support students and graduates here.
I really enjoy a varied role, but what you'll probably know me best as is 'the workshop lady'! I organise all our Careers & Enterprise workshops, getting to know our wonderful facilitators, sorting out your bookings and bringing it all together. Outside of that, I am the blog writer giving you my thoughts and reflections through these crazy and unprecedented times, and you'll see my face pop up for various updates on our social media too. I support students and graduates via email and Live Chat, and always enjoying saying hello in lectures to give a reminder of our services.
I love working with other teams across the University, so I also sit on some meetings that help us join up our thinking to give you the best experience.
What have you been up to in order to keep yourself busy?
Up until November I had returned to an old love of mine – running. I have a history of being a fair-weather runner, and despite hoping to be different this year, a knee injury put a halt to that. Instead I'm giving some serious attention to some research on which supermarket gluten free mince pie is the best. The research continues!
What are your tips for students to keep focused on their career while stuck at home?
Get involved! There's loads you can access and can do if you want to.
I'm biased, but our workshops are great. Sign up and come along to one or two, and I'm sure you'll agree.
Complete the Careers & Enterprise Online Award. This is a great way for you to use this time to get career ready.
Volunteer! A great addition to your CV, and through helping others, you'll get a happy buzz too.
And don't forget the basics. Make sure your CV is tip-top with CV360, and that you're interview ready with Interview360.
(And as always, if you need our help with anything, email careers@canterbury.ac.uk)
Getting further support from The Careers and Enterprise Team at CCCU
You can get ongoing careers support via the following ways: