J is for… Job Searching

In today's blog post, we are going to talk about how our fantastic job searching tools on the Careers and Enterprise Online Hub can help you find opportunities to further your career goals. 
Staying on top of the latest student and graduate opportunities can be a challenge.
How many of these statements apply to you?
Not sure where you dream job will be?
Always too late to noticing job vacancies?
Not sure where to start?
Only know about a few employers for careers based on your degree?
Job Tracker gives you access to the best source of jobs and automatically tracks graduate employers so you never miss an opportunity that's right for you.
You can browse company profiles, including the top graduate employers, follow them to get alerted the instant they have jobs available, and find out what employees say about working in the company and industry.
Gain unique insight from a wide range of employers – from the most well-known, to smaller, less familiar ones offering great student and graduate opportunities.  
Want to know how it works? Here are a couple of short videos explaining how to use our job search tool and our job (employer) tracker tools: 
Access Job Tracker here to start your job search journey today.
As always, to stay up to date with all of our latest developments – be sure to sign onto the Careers and Enterprise Online Hub! That way you will get our weekly newsletter email on Fridays with all of our updates such as upcoming workshops, graduate schemes to apply to and more!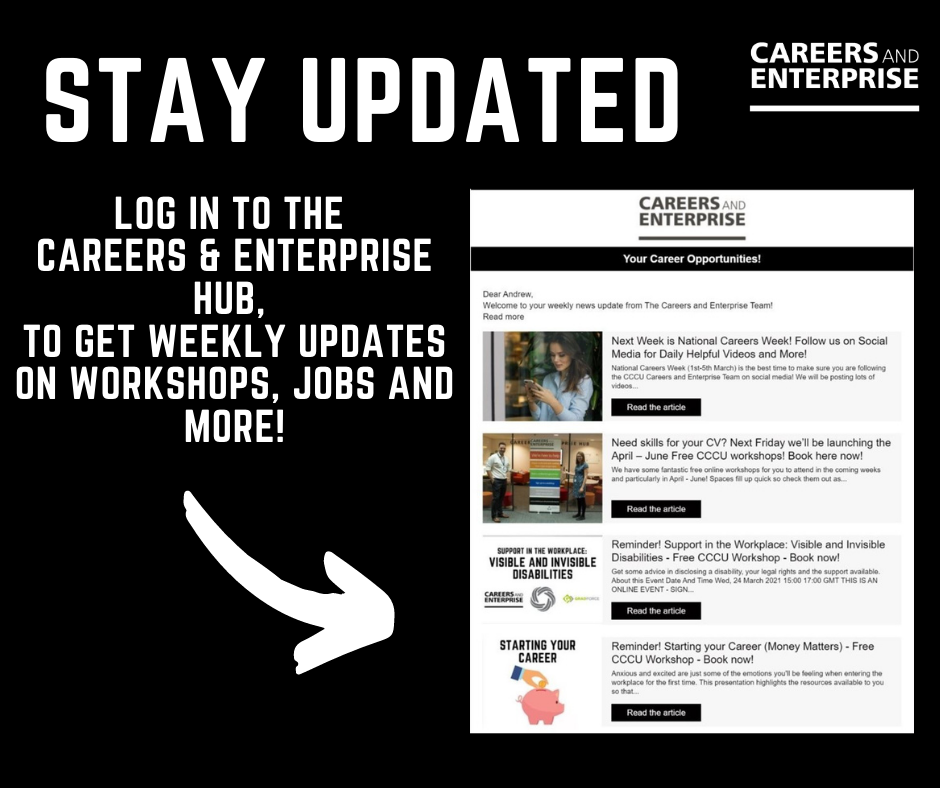 Getting further support from The Careers and Enterprise Team at CCCU
You can get ongoing careers support via the following ways: