If you are coming up to graduation, you may be concerned about finding a job following the unprecedented outbreak of COVID-19. GradForce are here to support final year undergraduates, postgraduates, and any recent alumni in securing that coveted graduate job. The best advice we can give you right now is to BE PREPARED.
It's not going to all be doom and gloom when job searching. Although we expect significant changes in the job market during the aftermath and economic recovery from COVID-19 there will be and currently are businesses that need to hire graduates. And yes, we mean graduate-level jobs!
We've been working hard to prepare a Get Hired! online bootcamp experience you can take part in this June to prepare you for the graduate workplace. The bootcamp covers skills selected by employers as vital elements of what makes a fantastic employee. By joining our Get Hired! bootcamp, you are putting yourself in an advantageous position and helping to set yourself apart from other candidates when applying for jobs!
Impress your future employer and sign up to our Get Hired! bootcamp today!
GET HIRED! Online Bootcamp
Monday 1st June – Friday 19th June 2020
Learn what employers are REALLY looking for in a good employee
Build confidence in yourself and realise what YOU have to offer an employer
Understand EXACTLY how to nail the graduate job selection process
Get Hired! events include:
Who Do You Think You Are?, Support In The Workplace: Visible & Invisible Disabilities, The Story of You, Think Like A Recruiter, The Future of World of Work, Breaking Through Glass Ceilings, Growth or Survival, Comedy for Careers, Commercial Awareness, Networks and Relationships, Question Time, Project Management 101 and Finishing Touches
N.B. We will be adding more sessions over the coming weeks.
We encourage that you book onto as many sessions as you can for a holistic experience so you can build a complete skillset ready for the graduate workplace.
Fast-track into graduate employment with GradForce.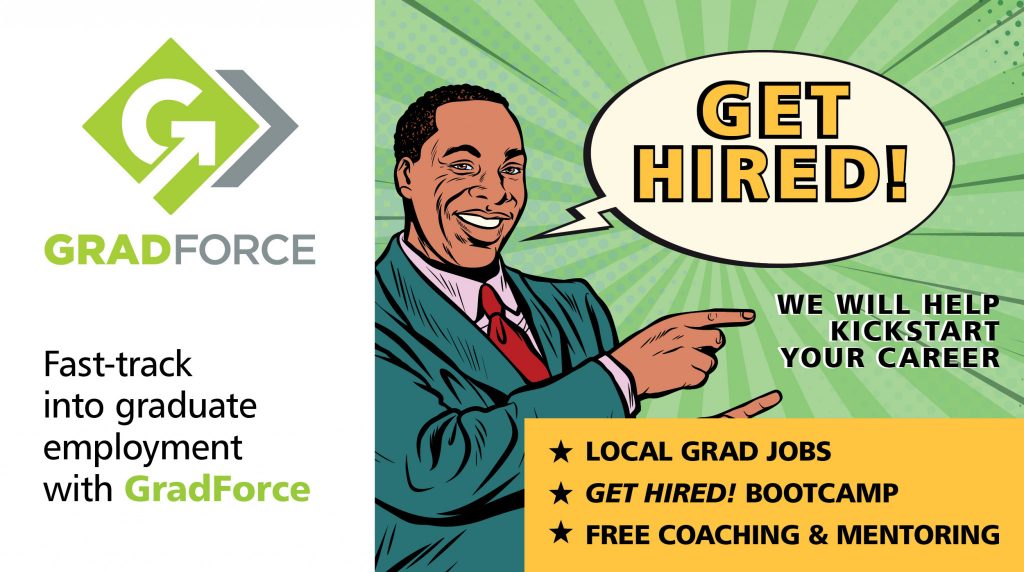 Getting further support from The Careers and Enterprise Team at CCCU
You can get ongoing careers support via the following ways: